UPCOMING GALLERY SEASON - 2020
October 5 – November 13
Lori Kella (Cleveland, OH) Erie: Lost and Found
Virtual Artist Workshop: November 7
In Erie: Lost and Found, Lori Kella explores historical, environmental, and personal connections to her home on the Great Lakes. The resulting photographs are a tableau of the changing ecology of the lake and its shores. "Together these photographic works investigate loss due to pervasive environmental threats, while offering a moment of reflection and renewed discovery." Lori Kella, Erie: Lost and Found is supported in part by a grant from FotoFocus.
NOVEMBER 22– JANUARY 3
ERIN HOLSCHER ALMAZAN (Oakwood)
&
KATE SNOW (Cleveland)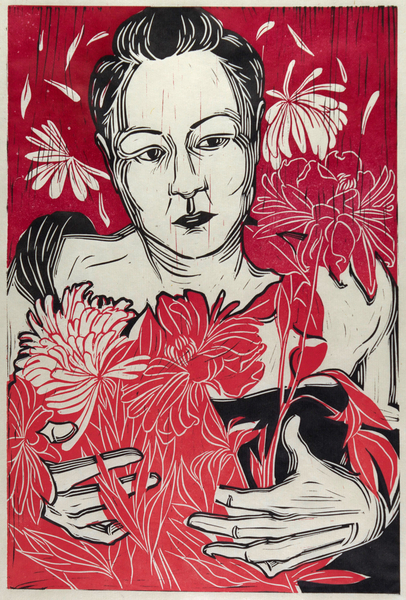 Erin Holscher Almazan's presents a series of linoleum cut prints and paintings that "explore the depths of women's relationships with one self and one another."
Kate Snow "tackles the tenuous world of order and chaos and the desire to control the uncontrollable" with her gouache and print-making ink paintings.
ABOUT ROSEWOOD GALLERY
Rosewood Gallery is sponsored by the City of Kettering Parks, Recreation and Cultural Arts Department, with support from the Kettering Arts Council and the Ohio Arts Council. The Gallery is located in Rosewood Arts Centre, 2655 Olson Drive in Kettering.  For more information, call (937) 296-0294 or visit our website: playkettering.org/gallery.
COVID-19 Safety Information
Patrons may enter Rosewood through the Main Front Door Entrance (by the flag pole) or at the Accessibility Doors on the North side of the building. A key to the gallery must be checked out in the front office.
Six patrons will be permitted in the gallery at any one time.
Patrons are requested to keep gallery doors closed while they are viewing the exhibitions.
• Do not use the Rosewood facility if you have symptoms of COVID-19
• By order of the Ohio Department of Health, patrons are required to wear a facial covering when in common areas. A covering will be provided by Rosewood staff if requested.
• Maintain 6 feet physical distance from other individuals
• Clean all equipment after each use
• Sanitize hands regularly
• Do not move tables, chairs or equipment
• Do not use equipment that has been unplugged to allow for distancing
• Limit time spent socializing