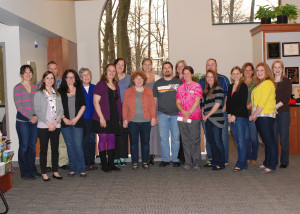 Want to make a positive impact on parks, recreation and cultural arts programs in your community? The 2019 Kettering Program Advisory Committee needs your voice! This volunteer group of residents is focused on providing feedback and evaluation for programs and services that the Parks, Recreation and Cultural Arts Department provides on a yearly basis.
This committee not only helps us improve our programming, but it's also a fun way for you to learn new skills, meet people with similar interests and discover how much the Kettering community has to offer.
Here's what we ask committee members to do –
Register or drop in to programs, events or facilities to evaluate all aspects of the experience and fill out online surveys about it. You also have the freedom to contact a Park Board member and/or Leadership staff associated with the area to discuss any aspect of your experience.
Each quarter, you'll have a special concentration area that we would like you to review and evaluate in more depth. You'll provide a comprehensive evaluation associated with that experience, which means you'll need to register for programs, drop in to open activities and visit facilities or parks. All evaluations are kept confidential.
You'll attend three PAC committee meetings throughout the year. During the meetings, all PAC members share feedback regarding their experiences and provide input for our Park Board and staff. Each quarter, your comments and suggestions will be reviewed and analyzed by the PRCA Innovation Team.
Terms are for one year with the option to renew for an additional year. Enjoy a $400 household credit, plus a complimentary individual fitness pass during your term on the committee!
Make a difference in Kettering while taking time to PLAY – Apply Now!