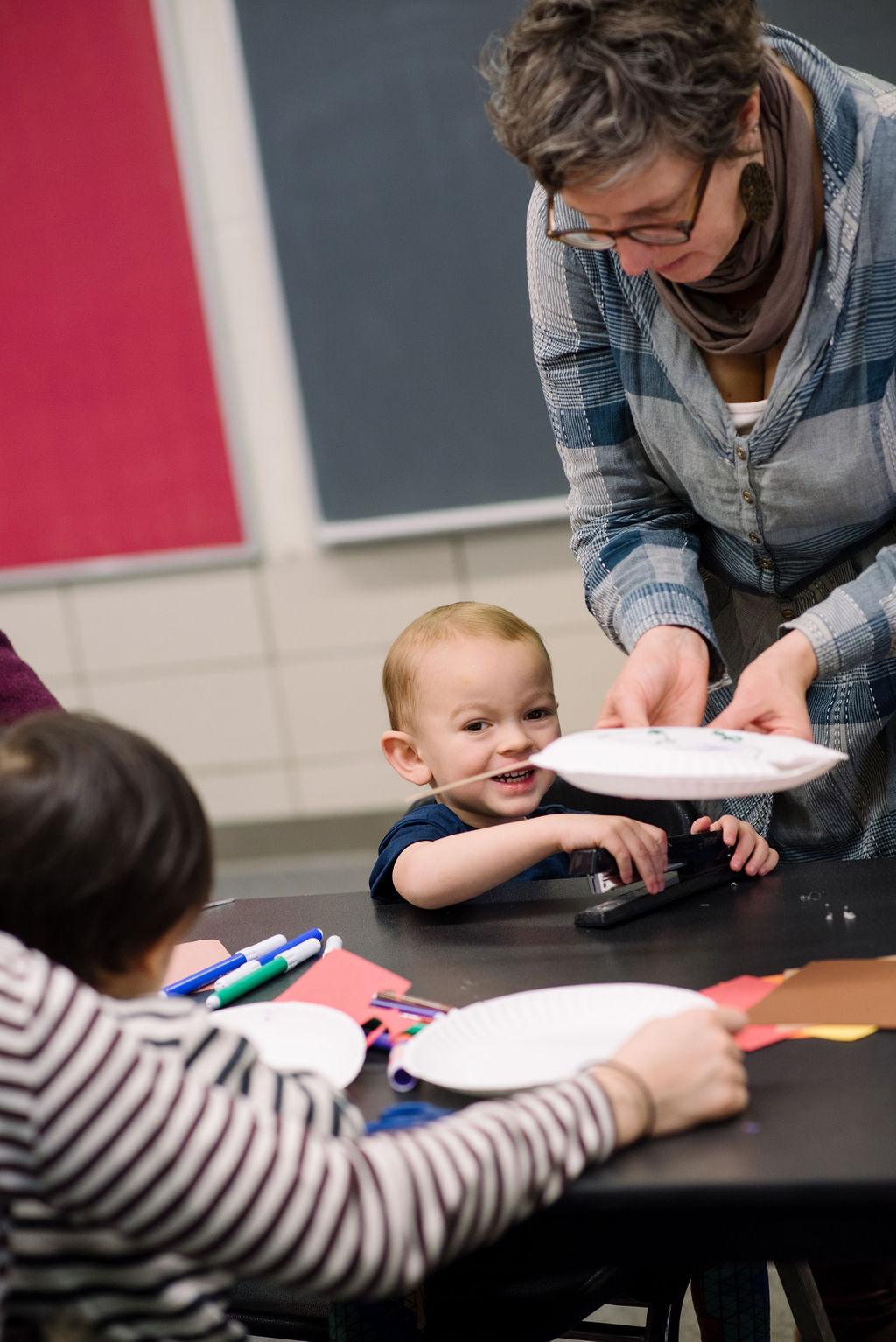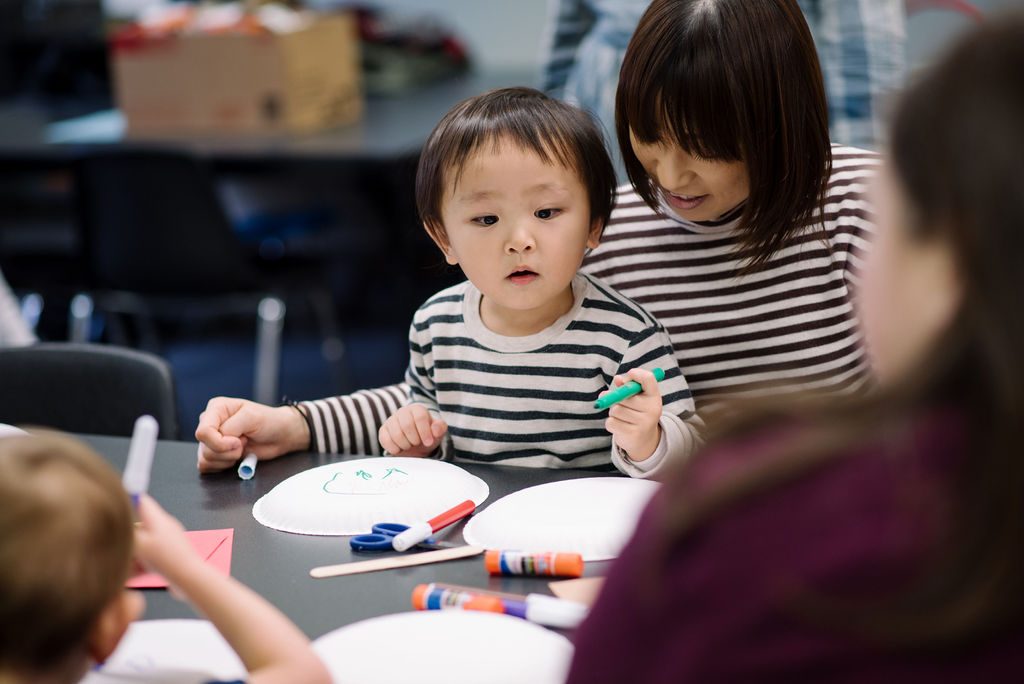 During Art Start Preschool Story Time, parents and educators gather to explore a theme through both art and literature. For January's lesson on emotions, Melissa from Dayton Metro Libraries took a group of kids ages 3 to 6 through four books that explored feelings in a fun, accessible way. Games and chats between books kept the kids engaged, even on a snowy day when cabin fever was running high.
"The program allows us to combine our expertise in great stories with Rosewood's expertise in wonderful art, so it's the best of both worlds," Melissa said. "And picture books are also the first art that kids are exposed to."
After story time, everyone switches rooms for the art making portion of the program. Led by Rosewood instructor Kate, the art projects are process oriented and reinforce the concepts learned from the books. This time, the kids made masks representing different emotions.
"It's our first time here, and we were especially looking forward to blending art with literacy," said Kandice, who attended with her son and daughter.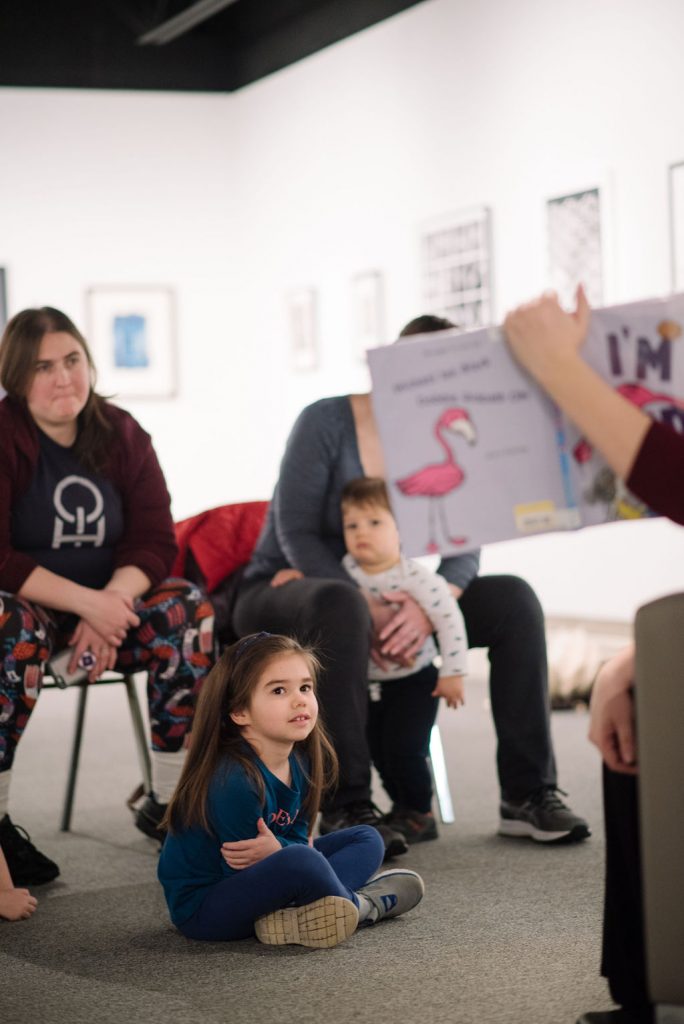 Yukari attends the program frequently with her young son, who enjoys having the run of the gallery and painting. "We really enjoy the program," she said.
Mom Kathryn is also a frequent participant with her own son. "I like that it brings us to the gallery," she said. "I love exposing my children to artwork, and this is a great excuse to come to the Rosewood building, to have an event to come to."
Both art making and reading are crucial to preschool age kids, whose brains are developing at rapid rates. Each activity helps to develop neural connections and executive function, which is related to complex decision making, memory and self-control.
"It's really important for little people to have exposure to a gallery, which are rarely child-friendly spaces, and to explore art techniques," Kate said. "I feel strongly about using process-oriented projects with kids so that they can feel comfortable." What is process oriented art? It's using art materials and learning techniques without worrying about the finished product. Preschoolers love creating art in the moment!
Interested in exploring stories and art with your child? Art Start Preschool Story Time takes place one Monday per month in Rosewood Gallery, 2655 Olson Drive. Visit the gallery programs page for details. (Occasional changes to the schedule are announced in advance. Sign up for Rosewood's monthly email newsletter to receive these updates.)