Environmental Education Programs for Youth
The Habitat Nature Center allows all ages to learn about nature. How we all impact our world and how to make a difference in it. 
We offer year-round programs, so be sure to check out what we're offering this season.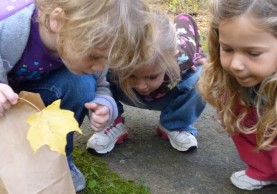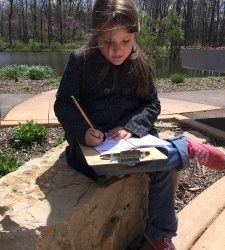 Upcoming Programs
Some of our upcoming programs are highlighted below. You can view our entire program offering by clicking the Activities Guide Link.
Curious about the benefits exploring nature has for kids? Check out our recent blog post!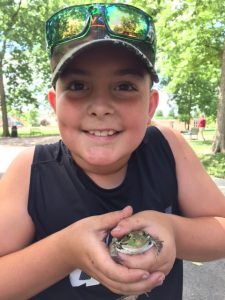 Habitat Rangers 
Ages: 6 – 10
In each 5-week session kids will experience fun and educational nature-themed lessons. The Habitat "Rangers" program will encourage exploration and inquiry through hikes, games, experiments, crafts, animal encounters, and more.
Sessions are held on Wednesdays from 4 – 5:30 p.m.
150538-A: January 10 - February 7
150538-B: February 14 - March 14
Fee: $35/Kettering resident; $40/nonresident. Preregistration required. View the registration page and enroll now!
Wiggle Worms
Ages: 3 – 5
Calling all preschoolers! The first winter series of Wiggle Worms Preschool Explorers begins on January 12. Each week of the four-week session, we explore a new topic through hands on activities, outdoor discoveries, and more. Join a Habitat naturalist and introduce your child to the wonders of the natural world in this guided program. Wiggle Worms is designed for children ages 3-5 and they must be accompanied by an adult.
Sessions are held on Fridays from 10 - 11am
150507-A: January 12 - February 2
150507-B: February 23 - March 16
Fee: $25/Kettering resident; $30/nonresident. Preregistration required. View the registration page and enroll now!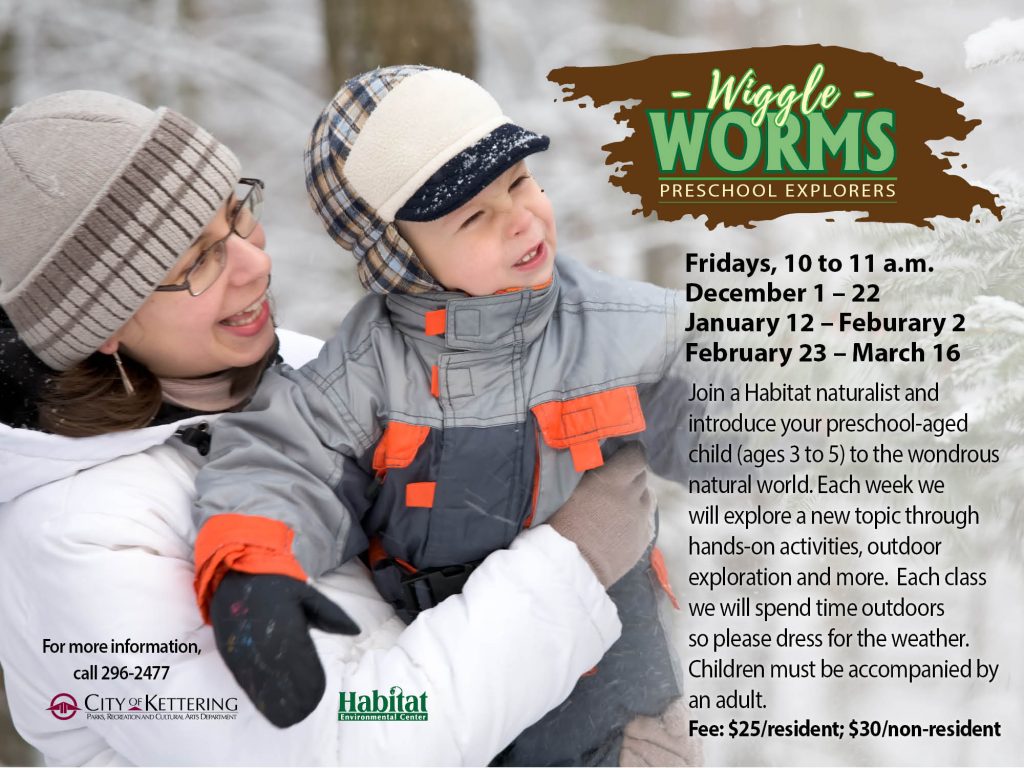 Art in the Wild
Bring out the nature-loving artist in your child with this unique spring break camp! A collaboration between The Habitat Environmental Center and Rosewood Arts Centre, Art In The Wild will provide daily activities to immerse your child's senses in the great outdoors, while also providing opportunities for creative expression with art. Campers will need to bring their lunch each day and dress for going outdoors. Ages 7 - 11. Preregistration required.
Monday - Friday, March 19 - 23, 9am - 4pm
Fees: $120 Kettering residents; $130 nonresidents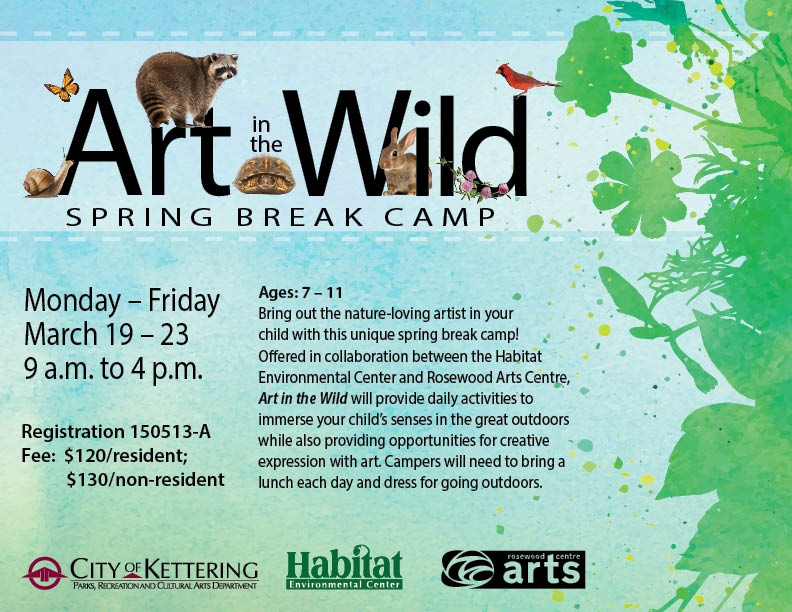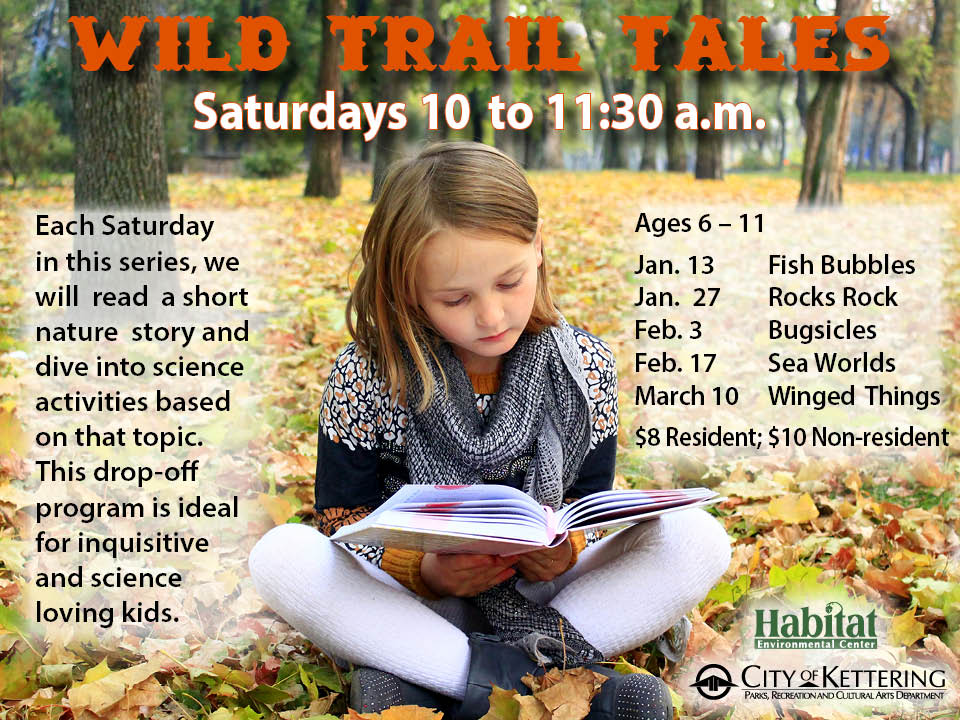 Wild Trail Tales
Age(s) 6 – 11 
Each Saturday in this series, we will read a short nature story and dive into science activities based on that topic. This drop-off program is ideal for inquisitive and science loving kids. 
150532-A Sat. 10 - 11:30 a.m. Jan. 13, Fish Bubbles 
150532-B Sat. 10 - 11:30 a.m. Jan. 27, Rocks Rock 
150532-C Sat. 10 - 11:30 a.m. Feb. 3, Bugsicles 
150532-D Sat. 10 - 11:30 a.m. Feb. 17, Sea Worlds 
150532-E Sat. 10 - 11:30 a.m. March 10, Winged Things 
Fee: $8/Kettering resident; $10/non-resident. Register in advance. View the registration page and enroll now!
As always, we will do some of our activities outside, so dress for the weather!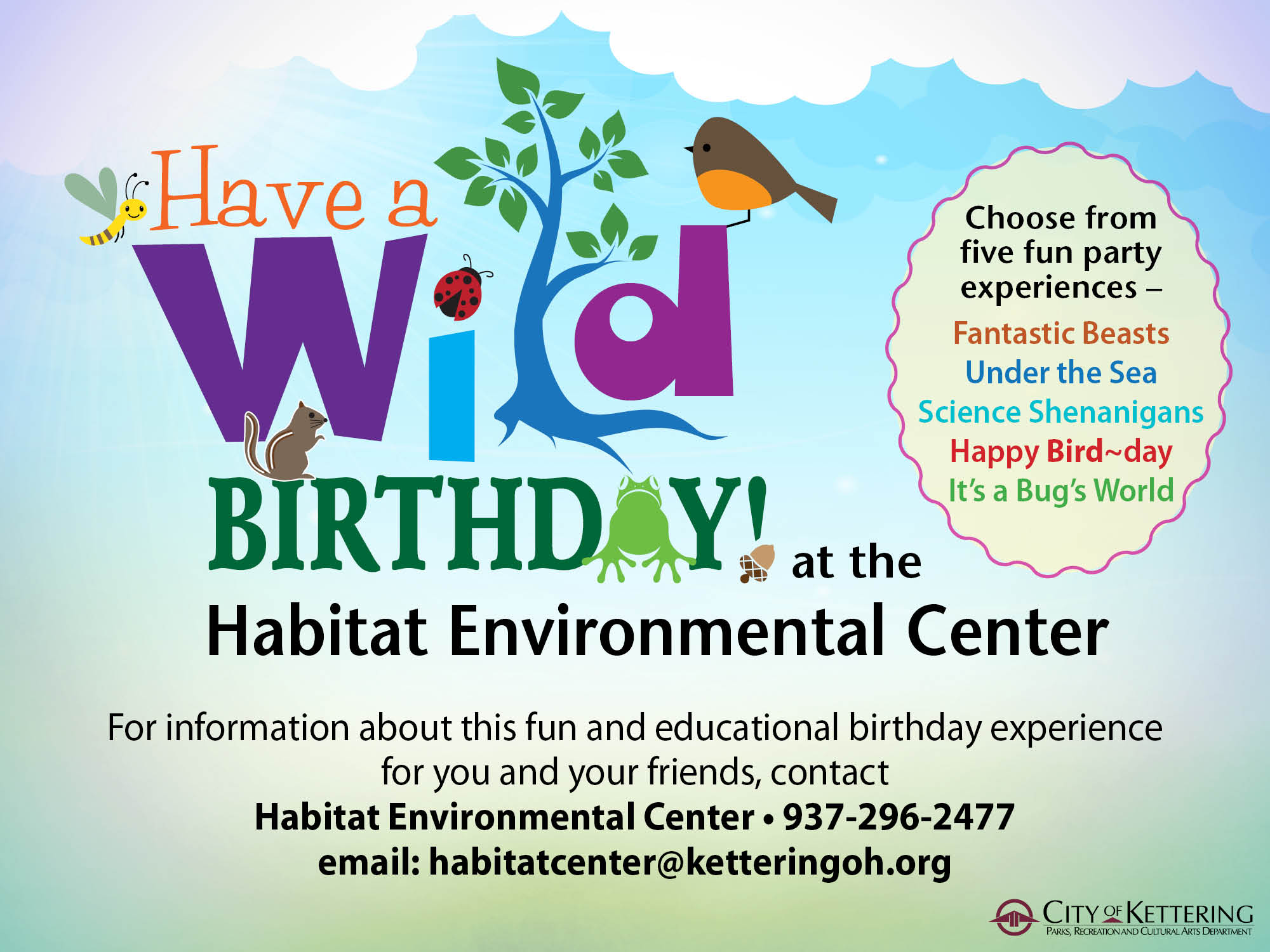 Looking for a fun, unique way to celebrate your child's next birthday? Try a Wild Birthday at the Habitat Center! Learn more about pricing, structure and party options on the Wild Birthdays homepage.
Habitat Adventures
The Habitat Environmental Center offers programming opportunities for groups including overnights, badge fulfillment, service projects and more.