2nd Chance Senior Prom: "Shake, Rattle and Roll into the Kettering Diner!"
6:00pm - 8:00pm
Charles I. Lathrem Senior Center
2900 Glengarry Drive, Kettering, OH 45420
Add to calendar 2019-03-26 18:00:00 2019-03-26 20:00:00 +00:00 2nd Chance Senior Prom: "Shake, Rattle and Roll into the Kettering Diner!" We are providing a special opportunity  for our seniors to give prom a second  shot. Join us for a formal evening with  a date, bring friends or attend solo!  Get your dancing shoes ready because  we will have plenty of music provided  by an onsite DJ! We will also have a  delicious catered meal featuring  chicken kiev, beef tips over  noodles, whipped potatoes, family  vegetable blend, tossed salad, rolls and  a delicious dessert! Last but certainly not least, be  sure to take advantage of  our fun photo booth, raffle  prizes and to finish off the evening,  we will hold the annual coronation of our new Lathrem Center King and Queen!Registration Deadline: March 20  Cost: $18/CIL Member ; $20/Kettering Resident Individual; $25/Non-Resident Individual $28/CIL Resident Couple; $32/Kettering Resident Couple ; $38/Non-Resident CoupleView the registration page and enroll now!

Thank you to our generous sponsors!

   2900 Glengarry Drive, Kettering, OH 45420
---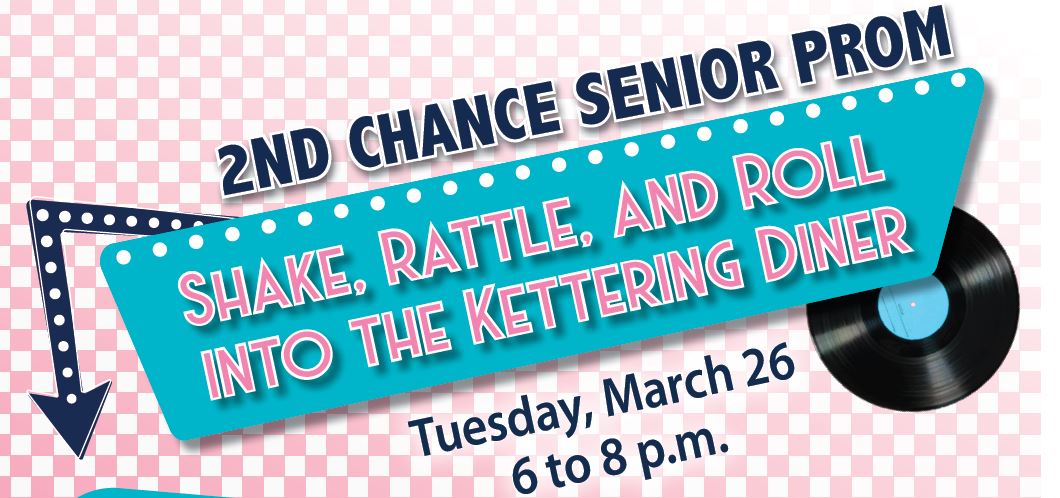 We are providing a special opportunity  for our seniors to give prom a second  shot. Join us for a formal evening with  a date, bring friends or attend solo!  Get your dancing shoes ready because  we will have plenty of music provided  by an onsite DJ! We will also have a  delicious catered meal featuring  chicken kiev, beef tips over  noodles, whipped potatoes, family  vegetable blend, tossed salad, rolls and  a delicious dessert!
Last but certainly not least, be  sure to take advantage of  our fun photo booth, raffle  prizes and to finish off the evening,  we will hold the annual coronation of our new Lathrem Center King and Queen!
Registration Deadline: March 20 
Cost: $18/CIL Member ; $20/Kettering Resident Individual; $25/Non-Resident Individual
$28/CIL Resident Couple; $32/Kettering Resident Couple ; $38/Non-Resident Couple
View the registration page and enroll now!
Thank you to our generous sponsors!