11:00am
Rosewood Arts Center
2655 Olson Dr., Kettering, OH 45420
Add to calendar 2017-05-13 11:00:00 2017-05-13 11:00:00 UTC Art on the Playground

Saturday, May 13, 2017, 11am – 3pm

Habitat Environmental Center, 3036 Bellflower Street, Kettering 45409 FREE parking at Southdale Elementary School, 1200 West Dorothy Lane Rosewood Arts Centre proudly presents the award-winning Art on the Playground, an interactive art festival for kids of all ages. Art on the Playground takes place rain or shine at the Habitat Environmental Center in Kettering, OH. The event is FREE and all are welcome! Fun for all ages, Art on the Playground features a range of hands-on, make-and-take art activities. From ceramics demonstrations to creating your own beaded jewelry, our youth-oriented artists will help kids make their very own masterpieces to take home! Art on the Playground is organized by Rosewood Arts Centre and sponsored in part by Habitat Environmental Center with support from the Kettering Arts Council. Free parking is available for guests at Southdale Elementary School, located at 1200 West Dorothy Lane (view map). Call Rosewood at (937) 296-0294 for more information! 2655 Olson Dr., Kettering, OH 45420
---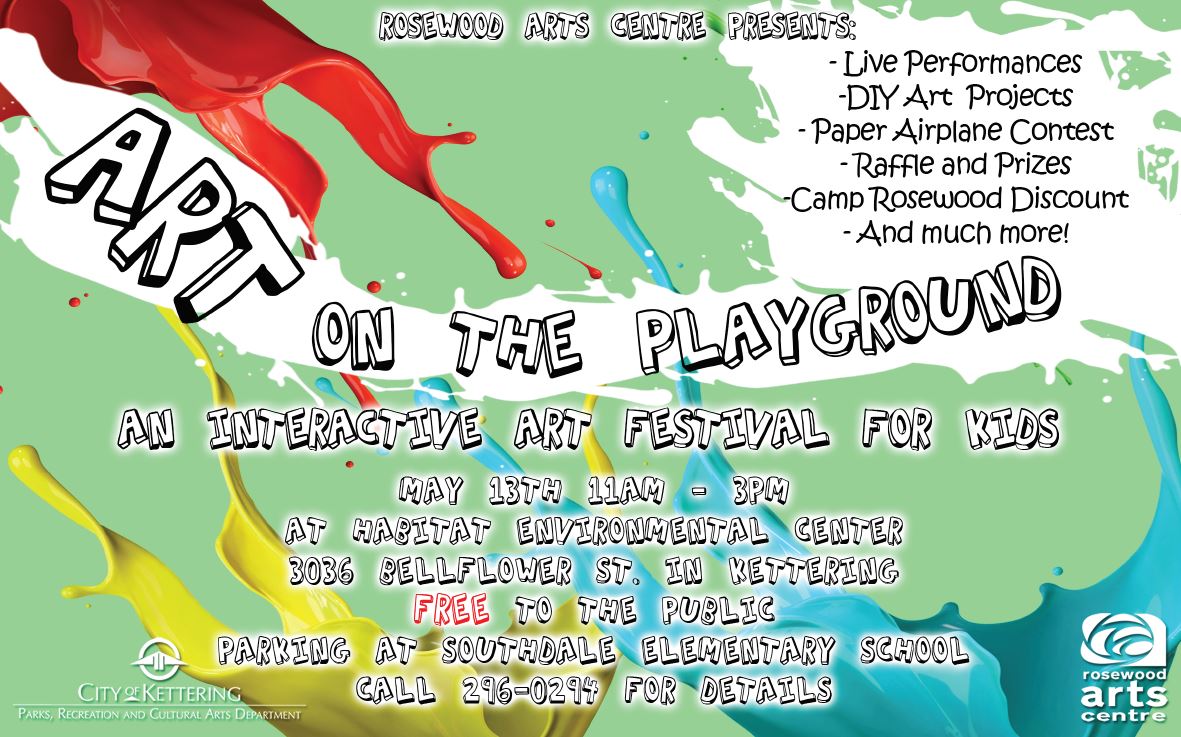 Saturday, May 13, 2017, 11am – 3pm
Habitat Environmental Center, 3036 Bellflower Street, Kettering 45409
FREE parking at Southdale Elementary School, 1200 West Dorothy Lane

Rosewood Arts Centre proudly presents the award-winning Art on the Playground, an interactive art festival for kids of all ages. Art on the Playground takes place rain or shine at the Habitat Environmental Center in Kettering, OH. The event is FREE and all are welcome!
Fun for all ages, Art on the Playground features a range of hands-on, make-and-take art activities. From ceramics demonstrations to creating your own beaded jewelry, our youth-oriented artists will help kids make their very own masterpieces to take home!
Art on the Playground is organized by Rosewood Arts Centre and sponsored in part by Habitat Environmental Center with support from the Kettering Arts Council.
Free parking is available for guests at Southdale Elementary School, located at 1200 West Dorothy Lane (view map). Call Rosewood at (937) 296-0294 for more information!