Flashlight Easter Egg Hunt
8:00pm - 9:00pm
Charles I. Lathrem Senior Center
2900 Glengarry Drive, Kettering, OH 45420
Add to calendar 2019-04-19 20:00:00 2019-04-19 21:00:00 +00:00 Flashlight Easter Egg Hunt Grab your flashlight, basket, and the family for this special egg hunt. We'll start the evening with a small craft. As soon as it is dark, the hunt will begin. Eggs are filled with toys, candy, or coupons. Join us back inside after the hunt is over to enjoy an Easter cookie bar and refreshments. Plus, golden eggs will have tickets to be redeemed for a chance to win the GOLDEN EGG Basket raffle while we enjoy our cookies and drinks. An adult must accompany child(ren). Every person must register and pay in advance. Space is limited.All agesFriday, April 19 from 8 - 9 p.m. (02-20584-D)Fees: $7/ resident child + $1 resident adult; $8/nonresident child + $1.50 nonresident adult*Every person attending must register and pay in advanceView the registration page and enroll now! 2900 Glengarry Drive, Kettering, OH 45420
---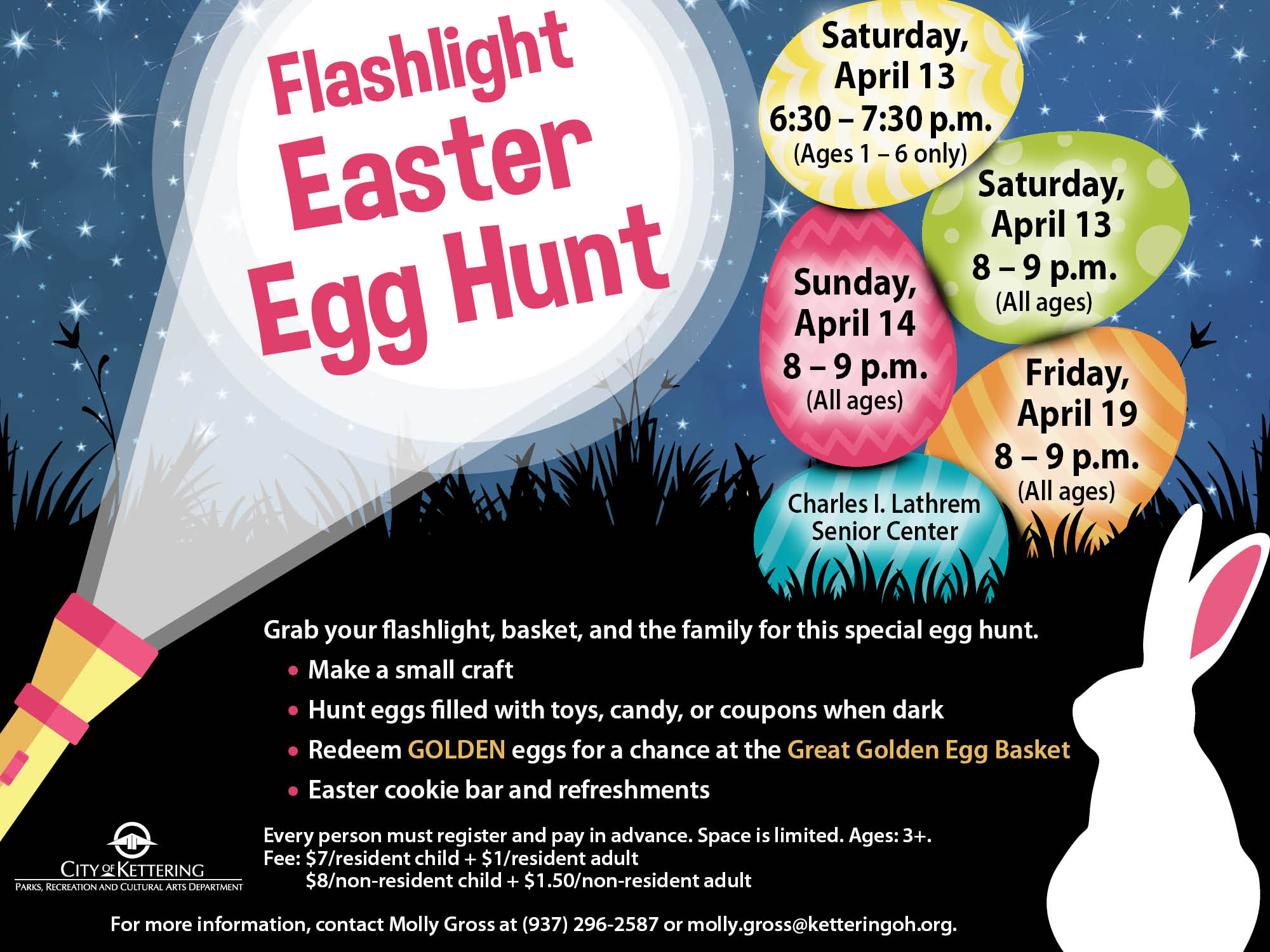 Grab your flashlight, basket, and the family for this special egg hunt. We'll start the evening with a small craft. As soon as it is dark, the hunt will begin. Eggs are filled with toys, candy, or coupons. Join us back inside after the hunt is over to enjoy an Easter cookie bar and refreshments. Plus, golden eggs will have tickets to be redeemed for a chance to win the GOLDEN EGG Basket raffle while we enjoy our cookies and drinks. An adult must accompany child(ren). Every person must register and pay in advance. Space is limited.
All ages
Friday, April 19 from 8 – 9 p.m. (02-20584-D)
Fees: $7/ resident child + $1 resident adult; $8/nonresident child + $1.50 nonresident adult
*Every person attending must register and pay in advance
View the registration page and enroll now!