Kettering Community Garage Sale
9:00am - 2:00pm
Kettering Recreation Complex
2900 Glengarry Drive, Kettering, OH 45420
Add to calendar 2019-04-27 09:00:00 2019-04-27 14:00:00 +00:00 Kettering Community Garage Sale

Attention Applicants! At this time, all of our regular Garage Sale vendor spaces are now full. We do still have a few spaces available for our Baby/Children's Sale. If you send in an application for the regular garage sale, we can add you to our wait list and follow up if a spot opens. 

We are here to help with your spring cleaning or treasure hunting! Clean out your closets, craft rooms and basements to get ready for this one-day event. Buy gently used baby/kid items and garage sale items! Areas will be marked for easy shopping.Community Garage Sale  Looking for a reason to get organized and gain back your space? Turn those unused items into cash by being a vendor! Items may include anything from craft supplies, decorations, books, outdoor gear or simply anything miscellaneous! After all, one person's junk might be someone else's treasure!Children's and Baby Sale  Have extra toys, books or gently used clothing taking up space in your home? Become a vendor at the Kettering Community Garage Sale in our Children/Baby Sale Section! All clothing must have no visible stains or tears and must be freshly laundered.Interested vendors:  All spaces are 10' x 10' and a limited number of spaces are available. For General Community Garage Sale Vendors: please contact Brittany Kilburn, 296-2480 or brittany.kilburn@ketteringoh.org For Children's Sale and Shop: please contact Molly Gross, 296-2587 or molly.gross@ketteringoh.org Cost: $15/CIL Members; $20/Kettering resident; $25/nonresident; $5/Extra TableDisclaimer: Please note that this event does not allow direct sales.View and download the Kettering Community Garage Sale application. 2900 Glengarry Drive, Kettering, OH 45420
---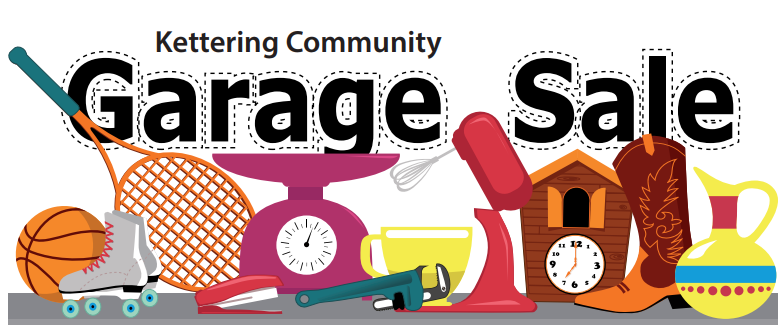 Attention Applicants! At this time, all of our regular Garage Sale vendor spaces are now full. We do still have a few spaces available for our Baby/Children's Sale. If you send in an application for the regular garage sale, we can add you to our wait list and follow up if a spot opens. 
We are here to help with your spring cleaning or treasure hunting! Clean out your closets, craft rooms and basements to get ready for this one-day event. Buy gently used baby/kid items and garage sale items! Areas will be marked for easy shopping.
Community Garage Sale 
Looking for a reason to get organized and gain back your space? Turn those unused items into cash by being a vendor! Items may include anything from craft supplies, decorations, books, outdoor gear or simply anything miscellaneous! After all, one person's junk might be someone else's treasure!
Children's and Baby Sale 
Have extra toys, books or gently used clothing taking up space in your home? Become a vendor at the Kettering Community Garage Sale in our Children/Baby Sale Section! All clothing must have no visible stains or tears and must be freshly laundered.
Interested vendors: 
All spaces are 10' x 10' and a limited number of spaces are available.
For General Community Garage Sale Vendors: please contact Brittany Kilburn, 296-2480 or brittany.kilburn@ketteringoh.org
For Children's Sale and Shop: please contact Molly Gross, 296-2587 or molly.gross@ketteringoh.org 
Cost: $15/CIL Members; $20/Kettering resident; $25/nonresident; $5/Extra Table
Disclaimer: Please note that this event does not allow direct sales.
View and download the Kettering Community Garage Sale application.