Mayor's (Virtual) Christmas Tree Lighting
5:15pm - 6:00pm
Add to calendar 2020-12-04 17:15:00 2020-12-04 18:00:00 +00:00 Mayor's (Virtual) Christmas Tree Lighting The 2020 Mayor's Christmas Tree Lighting will be a virtual experience! Emceed by Kettering's own Jamie Jarosik, the Countdown to the Mayor's (Virtual) Tree Lighting will start at 5:15 p.m. on Channel 6 and on PlayKettering's Facebook page.The Countdown will feature Kettering's hometown favorites, including performances by incredible Fairmont High School musicians, fun activities from the Parks, Recreation and Cultural Arts Department, and even a Christmas story read by the Mayor! At 6 p.m., viewers will see Mayor Patterson light up the Mayor's Tree and Lincoln Park and Civic Commons.On December 4 at 5:15pm, tune in to Channel 6 or visit the PlayKettering Facebook page for holiday performances, arts & crafts, and even a visit from Santa as we count down to the virtual tree lighting. See you then!P.S. Want to create a fun holiday craft with us? Make sure you have these items ready to go:

Paper Plate
2 toilet paper rolls
White paper
Colored paper
Foil
Scissors
Markers or Crayons
String
Glue/tape
Optional Decorations (stickers/pom-poms, etc.)
---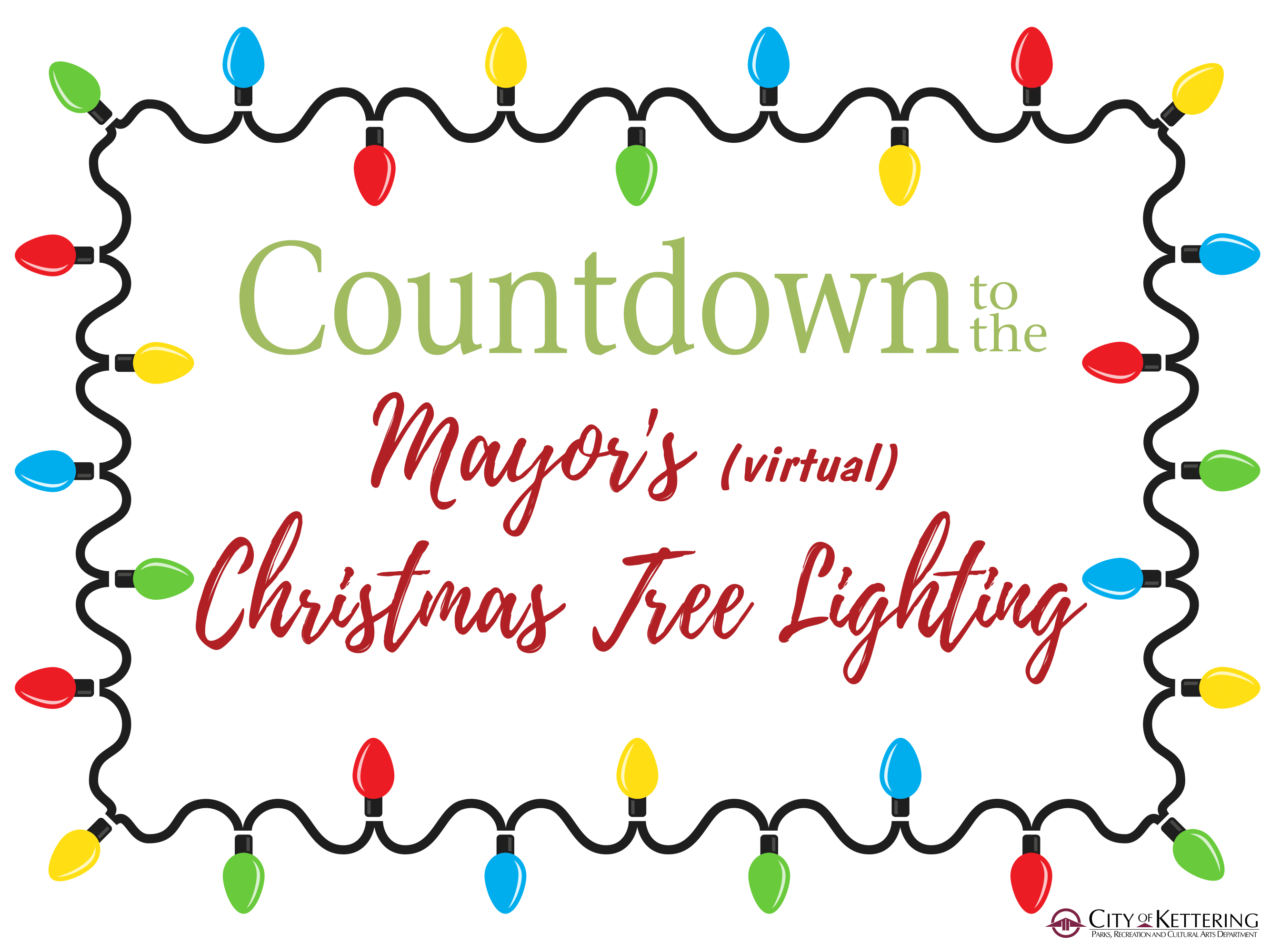 The 2020 Mayor's Christmas Tree Lighting will be a virtual experience! Emceed by Kettering's own Jamie Jarosik, the Countdown to the Mayor's (Virtual) Tree Lighting will start at 5:15 p.m. on Channel 6 and on PlayKettering's Facebook page.
The Countdown will feature Kettering's hometown favorites, including performances by incredible Fairmont High School musicians, fun activities from the Parks, Recreation and Cultural Arts Department, and even a Christmas story read by the Mayor! At 6 p.m., viewers will see Mayor Patterson light up the Mayor's Tree and Lincoln Park and Civic Commons.
On December 4 at 5:15pm, tune in to Channel 6 or visit the PlayKettering Facebook page for holiday performances, arts & crafts, and even a visit from Santa as we count down to the virtual tree lighting. See you then!
P.S. Want to create a fun holiday craft with us? Make sure you have these items ready to go:
Paper Plate
2 toilet paper rolls
White paper
Colored paper
Foil
Scissors
Markers or Crayons
String
Glue/tape
Optional Decorations (stickers/pom-poms, etc.)