11:00am - 1:00pm
Kettering Recreation Complex Soccer Fields
2900 Glengarry Drive, Kettering, OH 45420
Add to calendar 2017-10-28 11:00:00 2017-10-28 13:00:00 UTC Wag-O-Ween - FREE!

Wag-O-Ween Update:

In anticipation of the "ruff" weather tomorrow morning (get it??), we've made a few adjustments to the Wag-O-Ween event:

-  The outdoor play area will be open.

- There will not be a Walk & Wag trial at 11 a.m.

- All other activities will continue and have been moved inside the Kettering Recreation Complex, in the multi-purpose room.

- Zombie Dogs will be at the event, in front of the Kettering Recreation Complex. 

So come and check out the vendors and don't forget the Costume Contest at 12:30 p.m.! 

Join us for a fun afternoon of celebrating Halloween with your pup! 

Trick AND treat with your pup on the walk and wag trail and enter the pet costume contest. Participants will receive a complimentary "doggy" bag. **This event will be held at the Kettering Recreation Complex Soccer Fields.**

• Pet Adoptions by SICSA and The Humane Society of Greater Dayton

• Food Trucks featuring Zombie Dogz

11 a.m. Trick AND Treat the Walk and Wag Trail

11:30 a.m. Introducing Pets for Adoption

Noon K9 Unit Demonstration

12:30 p.m. Doggie Costume Contest

For more information, call 296-2587. 2900 Glengarry Drive, Kettering, OH 45420
---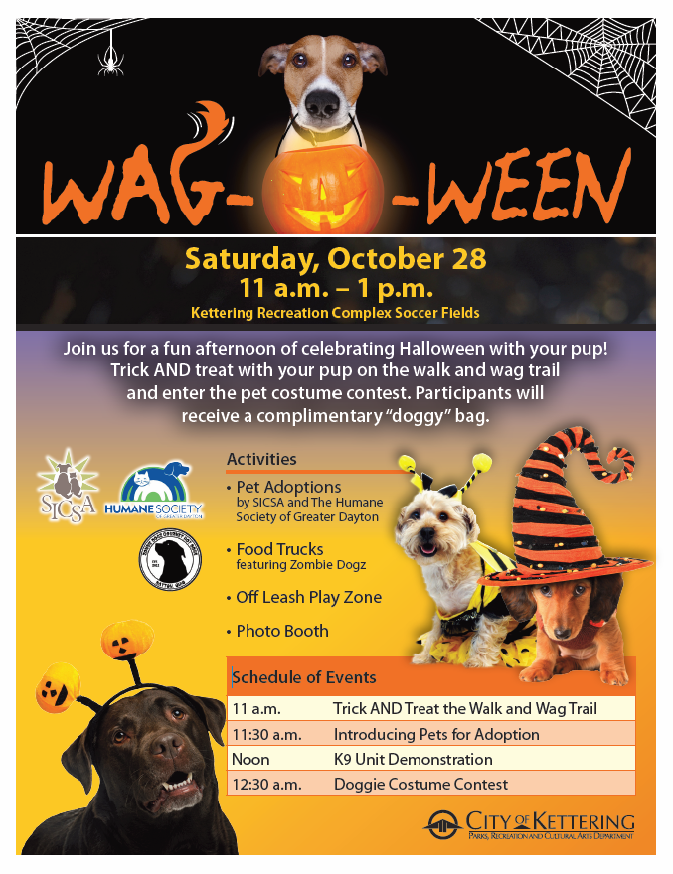 Wag-O-Ween Update:
In anticipation of the "ruff" weather tomorrow morning (get it??), we've made a few adjustments to the Wag-O-Ween event:
–  The outdoor play area will be open.
– There will not be a Walk & Wag trial at 11 a.m.
– All other activities will continue and have been moved inside the Kettering Recreation Complex, in the multi-purpose room.
– Zombie Dogs will be at the event, in front of the Kettering Recreation Complex. 
So come and check out the vendors and don't forget the Costume Contest at 12:30 p.m.! 
Join us for a fun afternoon of celebrating Halloween with your pup! 
Trick AND treat with your pup on the walk and wag trail and enter the pet costume contest. Participants will receive a complimentary "doggy" bag. **This event will be held at the Kettering Recreation Complex Soccer Fields.**
• Pet Adoptions by SICSA and The Humane Society of Greater Dayton
• Food Trucks featuring Zombie Dogz
11 a.m. Trick AND Treat the Walk and Wag Trail
11:30 a.m. Introducing Pets for Adoption
Noon K9 Unit Demonstration
12:30 p.m. Doggie Costume Contest
For more information, call 296-2587.