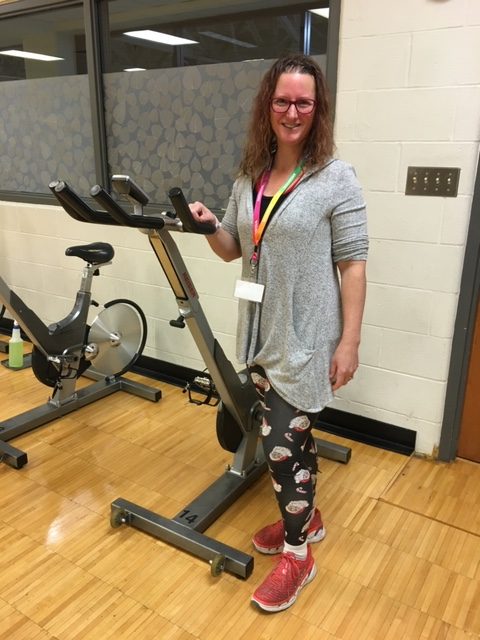 The 12 Days of Fitness continues! You've met two of our patrons – now meet one of our instructors. JJ Kunkle teaches group exercise classes at the Kettering Recreation Complex. Read what she has to say about finding the right exercise program for you, overcoming obstacles and how fitness helped her recover from an injury.
"My name is JJ Kunkle, and I have been an ACE certified instructor/trainer since 2002. I enjoy teaching any class that doesn't require me to have rhythm! But seriously, I tend to enjoy smaller classes, whatever the format, so I have a chance to really get to know my patrons. I've been with the Kettering Recreation Complex for about eight years, and I've been with many of the same patrons for all of that time.
We offer a wide variety of classes from a wide variety of instructors, and a TRX class from one instructor may be completely different than a TRX class from another instructor. That's a positive thing because everybody is different. If one class doesn't work for you, another just might be perfect!
If you are new to exercise, I think group fitness is nice because having a group to motivate you can keep you coming back for more. You might also want to consider booking a few one-on-one training sessions. A trainer can go through the basics with you and keep an eye on your form.
If group exercise just isn't your thing, I think the key is to find something you enjoy. If you dread your workout, you won't stick with it. Do you like to walk outside? Go to one of our many parks and
enjoy the trails
. There are so many ways you can be active. If you hate running, don't choose that as your way to get fit. Dance, bike, climb, jump, whatever you enjoy most!"
Kunkle knows firsthand what it's like to experience a roadblock on your fitness journey. "I recently suffered a fairly serious injury. It put me completely out of commission for two months. I am just now starting physical therapy so I can get back to an active lifestyle. It's frustrating. I gained weight from being sedentary for eight weeks and well…from doing some emotional/convenience eating. But every day I see improvements. One thing I am very thankful for is that I was in good shape when I got hurt. It will make my recovery easier. And, having upper body strength made life much easier while I was down. Upper body strength allowed me to get in and out of the tub when I couldn't use my right leg at all. It helped me get up and down off the floor (lying on the floor was the only way I could get dressed)."
She stressed that being in shape is essential for both general health and unforeseen situations. "When patron/clients (typically women) tell me they don't have any upper body strength, I really try to encourage them to work on that. The only way you'll get upper body strength is to work on it!"
Want to learn more about the variety of classes we have to offer? Start your fitness journey on our
Fitness & Wellness page
.
*Please consult your doctor before beginning any exercise program.