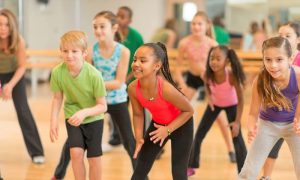 Childhood obesity has been on the rise for decades. A third of kids are now overweight or obese, according to the American Heart Association. Health conditions like heart disease, high blood pressure and Type 2 diabetes are becoming more common in children as a result. Although poor nutrition plays a big role in the epidemic (and genetic factors are sometimes at play), lack of physical activity is a major underlying cause.
Summer camp is already a great way to make sure kids get plenty of exercise during the day. The staff at the Kettering Recreation Complex is going even further to make sure their summer campers have the tools they need to support a healthy lifestyle. During Get Moving Wednesdays, kids participate in fun fitness activities.
This summer, Get Moving Wednesdays features Zumba for summer campers! These Zumba classes help them incorporate fitness as a natural part of their lives by making fitness fun. With Zumba's easy-to-follow moves, the campers also improve coordination and increase self-confidence. "Our campers love dancing around and being silly at Zumba! We hear them singing the songs and doing the moves all week long. We even get to Zumba to current songs on the radio, which the campers love," said camp counselor, Morgan.