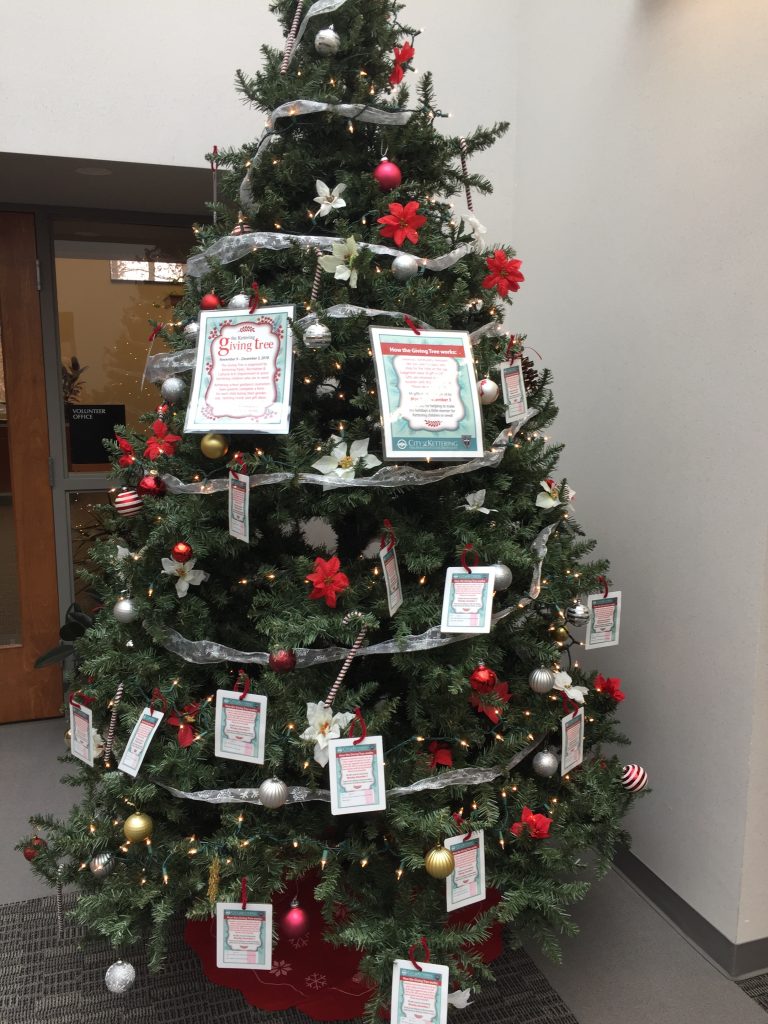 Have you seen the Giving Trees in our facilities? Curious about how the program works and whom it helps? We talked to Program and Youth Development Supervisor, Addie Weaver, who coordinates the program. Read on to learn more and hurry out to pick up a tag! Gifts are due by December 3.
For people who are not familiar with the program, how does the Giving Tree work?
We take referrals from the guidance counselors in the Kettering Schools.  This is the only source of referrals we accept. Students must be on free/reduced lunch to qualify for this program.
We work with guidance counselors to have parents fill out a form for each child listing their gender, age and gift ideas. The last several years, requests for basic clothing and warm coats have grown and needs for these items are also included on the tags. We work diligently to coordinate our efforts with other donation programs to avoid duplication of efforts.
We create a unique tag for each student and distribute the tags to partner sites throughout the Kettering.
Generous members of the community select a tag or tags. They shop for the child on the tag and then return the gift, unwrapped, to a listed collection location.
Volunteers work to sort the gifts and package them by family. They are then delivered back to the Kettering schools so that the parents can pick them up from the guidance counselor. This allows a parent to wrap the gift and enhances their pride and ownership in giving it.
How/why did the program get started?
A need in Kettering to help supplement Christmas presents for families in need. We work with the school counselors to help get families a better Christmas for their children!
Who does the Giving Tree help?
Kettering families that are in the Kettering City School District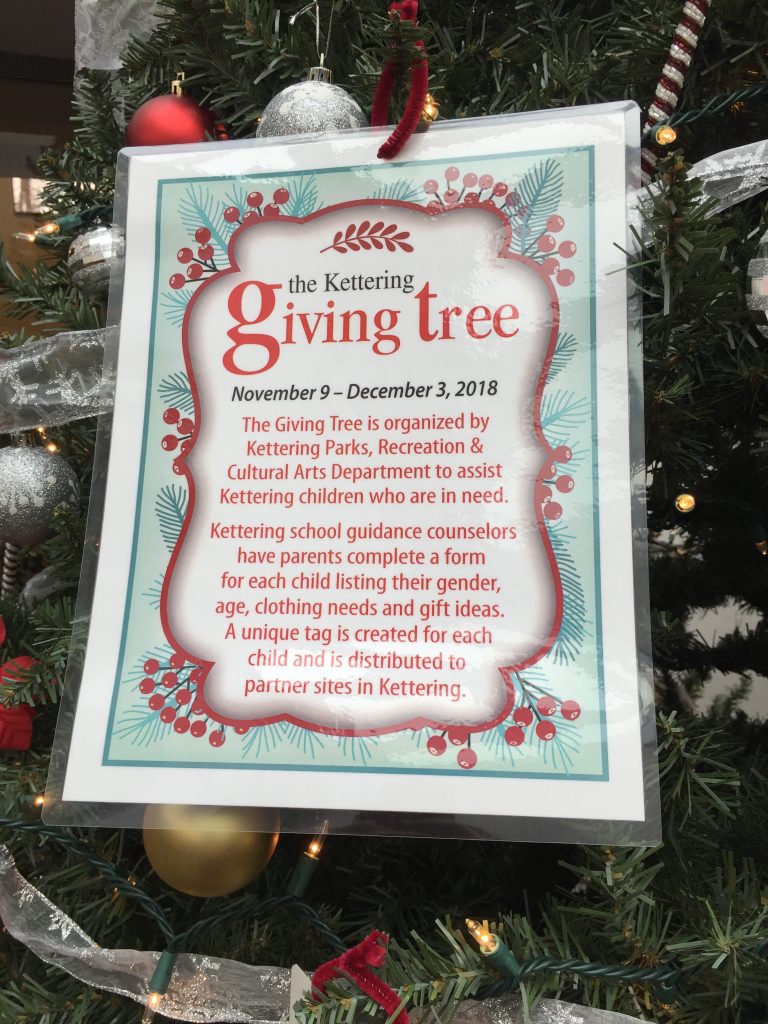 Who can pick up tags from the trees?
ANYONE and everyone!
Where are the trees located? 
The Charles Lathrem Center, Kettering Recreation Complex, Kettering Fitness and Wellness Center, Rosewood Arts Centre and Kettering Government Center (North and South Buildings)
What's the most rewarding part of the program for you as the coordinator?
Good people, doing good things. This event is truly an all hands on deck effort. The schools gathering information from the families, the preparation from so many City departments helping to host a tree, the community getting into the giving spirit, the volunteers and staff who help sort and deliver make this a full circle team effort for the City of Kettering! I LOVE this program that gives so much back to families, in the humblest of ways. Doing good for our Kettering community with no recognition from anyone who gives – good people, doing good things.