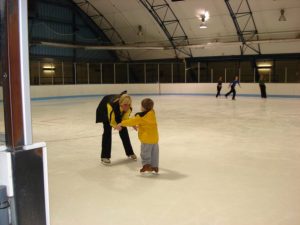 For our third KIA spotlight, we caught up with longtime arena manager and former professional figure skater, Angie Riviello!
How long did you compete as a figure skater?
I competed for 11 years prior to turning professional and leaving to perform in an ice show in Japan.
What do you feel were your greatest achievements as a skater?
As a skater, I am very proud that I was able to train and compete through the United States Figure Skating Association. I am also very proud that I was able to perform in professional ice shows all over. As a coach, I am proud that I have coached hundreds of skaters through the past 30 years and been able to share my passion for the sport with others. I also am very honored to have served on the Board of Directors of the Professional Skaters Association for 12+ years, five of those years as the President of the organization.
How long have you worked at the Kettering Ice Arena?
27 years
What's your favorite part of your job?
Watching patrons smiling and enjoying the experience that we are able provide and the joy on kids' faces when they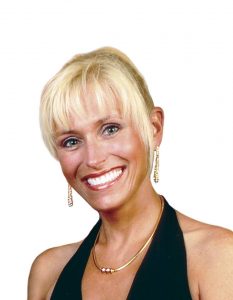 are skating. Being able to interact with so many different people that enjoy our facility.
What are some affiliations the ice arena has?
KIA is a member of US Figure Skating, USA Hockey and the Professional Skaters Association. We are home ice to the following: Dayton Hockey Association (Stealth), University of Dayton Hockey Team, Beavercreek Varsity Hockey, Alter Hockey Team, Huff n Puff Men's League, Wonderleague, Dayton Fangs, Wright-Patt Air Force Base Hockey Club, Ice Force Synchronized Skating Teams and South Dayton Figure Skating Club.
What advice would you give to aspiring/beginner skaters and hockey players?
Enjoy the journey! Learn basic skills first, then work hard to achieve your goal. Pick the right equipment, take care of your equipment and always try your hardest. Skating is an amazing sport and can bring a lifetime of joy.
Why should people learn to skate?
Skating is a great workout and uses every muscle in your body. Skating helps you learn discipline, patience and perseverance. It's a fun way to stay in shape, and the skills you build along the way are priceless. It's a fun family activity that families can enjoy together.
What makes the KIA unique among local/national ice facilities?
We offer a diverse programming with everything from adult only open skates, stick time, mixed freestyle sessions, open skates and more! Our coaching staff is also very strong. We currently have four Master Rated Level coaches on staff. A Master Rating is the highest rating you can achieve through the Professional Skaters Association, so to have four currently at the KIA is very impressive. Our staff and coaches are dedicated to making skating safe, fun and a great experience for all of our patrons, and I believe that sets us apart.
What exciting things are coming up at KIA?
In 2018, we are producing an Ice Show at the KIA; it's called "A Glide Through Time". The show will start in the Roaring 20's and take you on a journey to modern day. We are very excited to be able to showcase our local, talented skaters. The show takes place May 4 and 5, 2018.