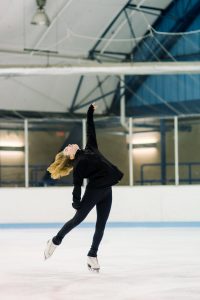 Kettering Ice Arena Spotlight: Lillian, age 12, figure skater
Curious about the people who practice at Kettering Ice Arena? We're catching up with our figure skaters and hockey players to learn why they love their sports, how they practice and more fun facts about them!
What's your favorite thing about skating?
Learning double jumps and feeling like I'm flying. I also started pair skating, and I really like that.
How often do you skate?
5 to 6 days a week for 1 to 3 hours. I take a couple of lessons with my regular coach, I take ice dance lessons with another coach, and I take pairs lessons with another coach and a partner. I also take jump, spins and edges classes. I also skate on Ice Force, a synchronized skating team.
What level are you skating at right now?
Juvenile free skate and Juvenile moves in the field.
[The levels are set by the US Figure Skating Association and are:  Pre-Preliminary, Preliminary, Pre-Juvenile, Juvenile, Intermediate, Novice, Junior and Senior. Moves in the field are the edges and turns a skater must learn, and free skate tests elements like jumps and spins. The tests are taken separately.]
What do you hope to achieve with skating? What level are you working towards?
I would love to do more pair skating. I would like to make it all the way up to senior level. I would also love to skate with Disney on Ice one day.
How do you move up to new levels?
Practice and then testing in front of judges.
What jumps can you do? What's your favorite/best move?
All single jumps and double Salchow, double toe loop, double loop. Favorite/best move is the Axel jump.
What music do you use for your program? Do you have a favorite program you've ever done?
For regionals this year, I will skate to the Chronicles of Narnia, "The Call." Favorite program was when I skated to "Silent Night" for the holiday show as my solo.
What kind of skates/blades do you have? How often do you replace your skates and get the blades sharpened?
Riedell bronze star boots and pattern 99 evolution blades. I get my blades sharpened around every six weeks and my skates replaced when my feet grow or when they get broken down.
What kind of other equipment do you take to the ice arena with you?
Jump rope, athletic shoes, yoga mat, a spinner board, water, my skate bag, skate guards, towel and blade cover soakers.
How did you get started skating? How old were you?
My mom was a figure skater, and she took me to the rink when I was still in diapers. I started private lessons with my coach when I was four.
Is it ever hard to balance skating and school?
No, I am homeschooled.
Do you do any off ice training or take ballet/dance classes?
Yes, I take ballet and pointe classes with the Dayton Ballet School. I also do off-ice strength training, like using an elliptical machine, jumping rope, stretching, spinning on my spinner, jumps practice on the floor and practicing pairs lifts with a partner.
Who are your favorite ice skaters? Who do you think will win the Olympics figure skating?
Favorite ice skaters: Mirai Nagasu, Jeremy Abbott, Scott Hamilton. Olympics 2018 prediction: Probably Nathan Chan.