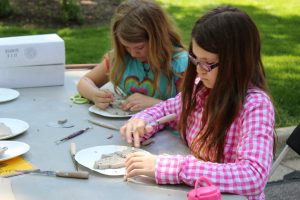 It's National Parks and Recreation Month, but in Kettering, we're not just Parks and Recreation. That's right, we're the Department of Parks, Recreation and Cultural Arts! Although originally founded as the City of Kettering Department of Parks and Recreation, the name was later updated to reflect the city's unique arts offerings. This week, we're taking a look at the many benefits Cultural Arts brings to our community.
Public Art – If you've been out and about in places like Lincoln Park, you know that Kettering has a vibrant, robust public art program. What's so great about public art? People interact differently with artwork outside the museum setting – they're more likely to touch it, walk around it and think about how it functions in the space. Plus, people who would never set foot in a museum get a chance to encounter artwork in a way that's more approachable.
Classes and Special Events – With more than 400 classes annually, over 100,000 visitors per year, five types of drop-in studios, 12 gallery exhibitions per year and at least five yearly special events, Rosewood Arts Centre is a bustling place. The staff works hard to bring meaningful creative experiences and make the arts accessible to the entire community. Events like Art on the Commons and the award-winning kids festival, Art on the Playground, bring the arts to a wide variety of audiences.
Fraze Pavilion – Dedicated in 1991, Fraze quickly rose to become southwest Ohio's premiere neighborhood outdoor entertainment venue. Hundreds of performers have graced its stage – artists like Earth, Wind & Fire, Jewel and Nobel laureate, Bob Dylan. The venue regularly appears on lists of the top amphitheaters in the nation.