Every summer, hundreds of local youth enjoy Kettering's many traditional day camps, specialty camps, art camps, nature camps and sports camps. Summer camp is always a fun and exciting time – but it's actually much more, too. So, what are some of the benefits of sending kids to summer camp?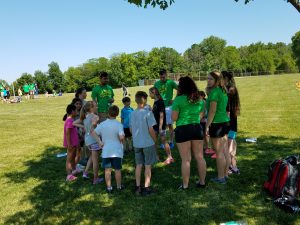 Social development: From getting along with their peers to interacting with camp leaders, opportunities for social interaction abound at camp. 2017's weekly Kindness Challenges give kids concrete goals and help these interactions stay positive.
Self-esteem: The title of the camp may be "Clay Day" or "CSI Camp," but the real lesson is always on building healthy character traits. Kids' newfound skills, ability to problem solve and to think outside the box are all ingredients for building good self-esteem.
Staying active: Whether they're swimming, running, skipping or kicking a soccer ball, kids at camp are always engaged in PLAY! Camp is a great way to guarantee that your child gets plenty of physical activity each day, spends the summer off the couch and keeps away from screens.
Independence: Summer is a wonderful time for family togetherness, but it's also a great time for kids to pick up resiliency skills outside the school environment. Camp offers a nurturing place for kids to step outside their comfort zones.
Critical thinking: Camp is all about learning though fun! Whether your child wants to cook, paint or master the rules of tennis, he or she will need to stay focused and engaged in the experience of learning something new.
Curious about this year's summer camp offerings? Get all the details in our 2018 Summer Camps Guide.