We take great pride in Kettering's 21 beautiful parks. Full of fishing ponds, walking trails, playgrounds, dedicated sports areas and much more, parks are one of the core elements that go into creating a community of choice. What is it that makes parks so important?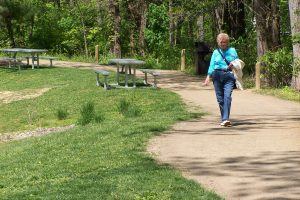 Environment: Parks offer proven benefits to cities' groundwater quality, air quality and wildlife protection efforts. Most people know that trees help to reduce air pollution, but did you know that their roots also help to filter water pollution before it reaches storm sewers? Trees and unpaved areas also help manage stormwater runoff. Thanks to the efforts of our Habitat Environmental Education Center staff, we've taken conservation a step further and are committed to helping keep the region clean and green.
Social Impact: According to the National Recreation and Park Association, access to parks has been shown to decrease rates of crime and juvenile delinquency. Parks also provide common meeting spaces for citizens and areas for families to play or unwind together. Although parks have benefits for all people from all walks of life, studies show that the more at-risk or low-income a person is, the more beneficial access to a green space can be.
Healthy Lifestyle: A healthier community starts with a great parks system. Simply visiting a park can potentially reduce stress and high blood pressure, says a study by Penn State University. And of course, parks provide a place to be physically active to everyone in the community, free of charge. They're the perfect safe place to walk, ride, fish, play and relax.