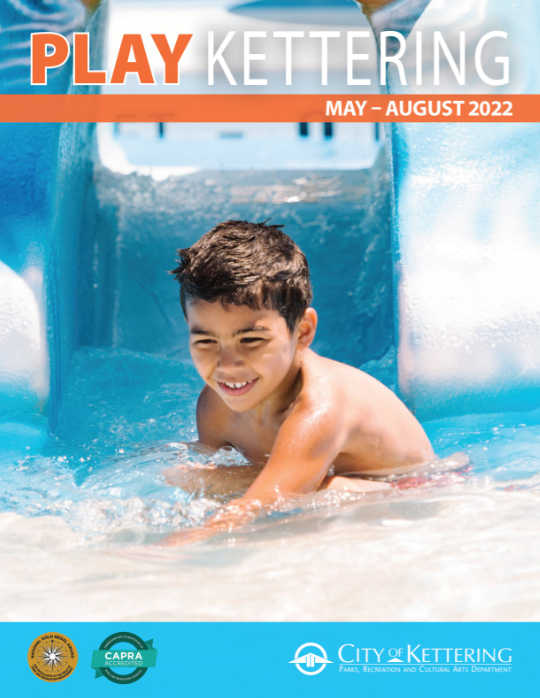 Whether it's snowing or 80 degrees (which can happen in the same day, of course), we can't wait for all the fun that's in store in our Summer 2022 program guide. Registration for summer programs will open for Kettering residents on Monday, May 2 and for non-residents on Monday, May 9.
Use your summer downtime to reconnect and relax with the family. The chance to play a game, enjoy Glow Golf, watch a family-friendly movie and break a world record are just a few of our Family Recreation opportunities on the schedule for the upcoming season.
Our summer calendar of youth programs features offerings in Sports, Environmental Education, visual arts and dance with Rosewood Arts Center, and Youth and Preschool Recreation. Stay learning and keep in touch with friends during these months outside the classroom. Our 2022 Summer Camps are also currently enrolling.
Of course, summer isn't all about the kids. Our Adult Recreation team can't wait to share their many opportunities for adults to get out and enjoy the warmer weather. Choose from a mix of informational presentations, parties, games and evenings on the town. We're also looking forward to our popular summer adult sports leagues, including basketball! The summer is a great time to start a creative hobby – check out Rosewood Arts Center's program offerings to start painting, drawing, dancing or sculpting.
A brand-new round of registered fitness programs, including the return of some favorite outdoor classes, will be kicking off, too!
Browse the digital guide for more ways to enjoy the endless summer fun in Kettering. You can enroll directly from the guide by using the blue 'enroll now' buttons to navigate to our registration site.