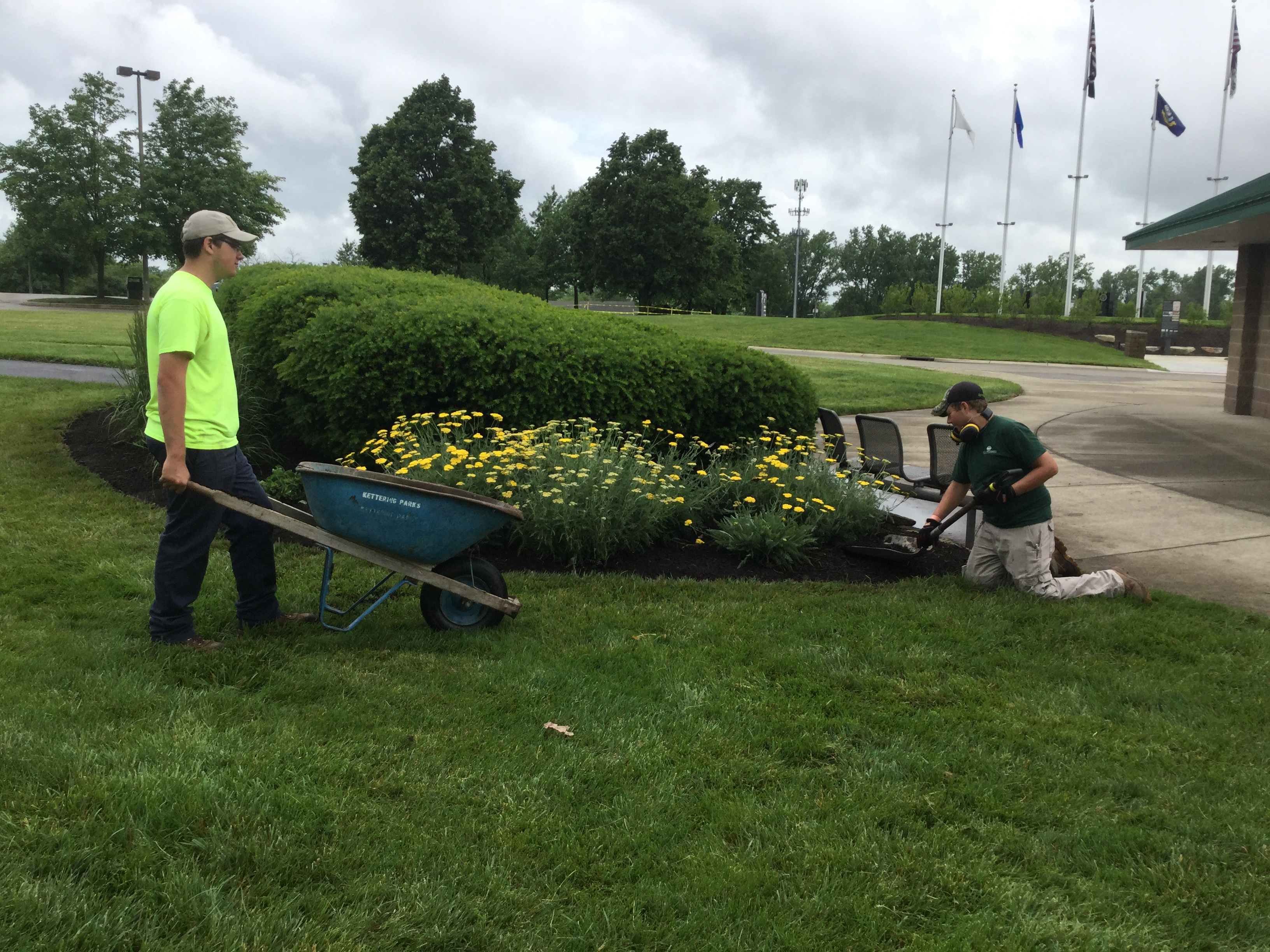 Delco Park is currently undergoing a variety of updates to its landscaping, accessibility and park entrances. If you see crews working at Delco in the coming weeks, here's what they'll be up to:
Updating landscape and signage – The current landscape was installed in 1999, so it's due for a fresh look and a modern irrigation system. "This work is being contracted out, which includes the reworking of all the beds at the Delco Park Drive entrance, the southeast/southwest pedestrian entrances and surrounding the concession/restroom building," explained Parks Superintendent, Gary Schussler. "The new landscape will include trees, shrubs and perennials that are more consistent throughout the rest of our parks. New benches …are included for the southeast pedestrian entrance and surrounding the restroom/concession building. Lastly, updated signage at the southeast pedestrian entrance and at the Delco Park Drive entrance is planned."
Improving the concrete areas – The pathways at the concession building and at Veterans Plaza will be realigned for ease of use. "When the Veterans Plaza was constructed, the path that leads to the entry drive was not in alignment with the walkway to the concession/restroom building," Schussler explained. "We are removing the existing path and curb ramp on the concession/restroom building side of the path and pouring new concrete to eliminate this issue. The other improvement is along the southwest pedestrian path. This path currently isn't very large and when groups are utilizing this area as a means to congregate before passing over Dorothy Lane at Valleywood Drive, it inevitably becomes a messy mud pit, so we are expanding the hardscape and path in this specific area."
Ensuring the park is ADA compliant – "Currently, the curb ramp that is being removed is not in compliance with ADA standards as it relates to the path mentioned above," Schussler said. "This was a deficiency that we knew about and that was identified in the most recent ADA audit the city completed in 2017." The new concrete path and curb ramp will conform to all current standards set forth by the Americans with Disabilities Act.
The updates are anticipated to be completed by June 1 (timeline is weather dependent), just in time for you and your family to enjoy the new landscape, extra benches, improved walkways and greater accessibility this summer.