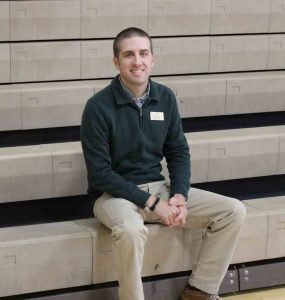 We're excited to be launching a new series of profiles on our talented Kettering PRCA team members. Learn what inspired them to choose careers in parks and recreation and what they love about working with the community.
First up:  Sports Supervisor, Jacob Hensel
What led you to a career in community sports?
I've always had a passion for sports in general. I played many sports growing up and continue to stay involved today as a High School football and basketball official.  I also consider myself a leader with a passion to help others, so this career seemed like a perfect combination.
Growing up in sports and being involved with them as an adult, I've seen sports programs fail due to lack of planning, not enough gym space, poor communication, etc. This motivates me to not let that happen. Looking into a disappointed kid's eyes or talking to a frustrated adult whose game has just been cancelled due to lack of management is really disheartening.  One of the main goals I have in my current position is to properly plan and manage programming to make sure all games and activities get played.  We want to make sure that both the kids and adults always have a positive sports experience.
What's your favorite part of your job?
Game days – seeing all the work that all the staff puts in come forth is really rewarding.  Most people don't realize how much work behind the scenes goes into planning large leagues and events: dividing up teams, finding coaches, making sure staff and officials are scheduled, booking facilities, ordering proper equipment, etc.  It is incredible to see all the hard work come together on the game days.
Can you describe your most rewarding experience as sports supervisor?
Seeing youth progress in their skills and knowledge of a sport is very rewarding.  Many kids come in not knowing much about the sport they are playing.  When you see them at the end of the year not only understanding the game but really enjoying it and coming back the next year that is really what it is all about.
What are you looking forward to right now?
I always look forward to Winter Kettering Youth Basketball, which is one of the largest programs in the area. It's great to see how many kids and families come through the KRC and how much of an impact we make. Providing them with a safe and positive environment is valuable for the community.