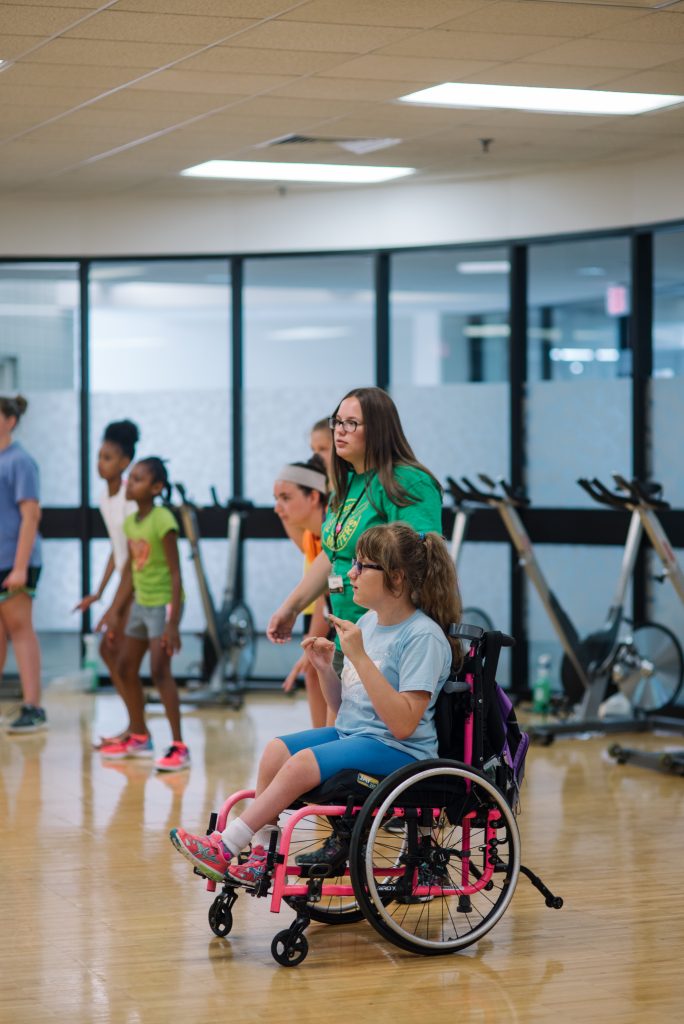 The Kettering Parks, Recreation and Cultural Arts Department strives to provide accessible, inclusive programs and facilities to anyone who would like to take part in what we have to offer. In order to give everyone the best experience possible, PRCA staff turns to the City of Kettering's Compliance and Inclusion Manager, Anna Breidenbach, who works with staff on monitoring the city's ADA Transition Plan and on inviting people with disabilities to participate in programs, classes, meetings, facilities and parks.
The Compliance and Inclusion Manager role was created in early January 2018 to assist with inclusion efforts citywide. For PRCA, Breidenbach works with staff and patrons to ensure that reasonable modifications are made for people with disabilities. "The department has fantastic programs and classes for everyone within our community. PRCA strives to be inclusive within their programming, meaning that people with disabilities are participating alongside individuals without disabilities," Breidenbach said. "One of the first steps to being successful within inclusion is to have a request for modification process. A request for modification is someone letting staff know that they or their child has a disability and may require some additional supports to attend our programs. An example of additional supports that we have provided are lowering counselor to participant ratios within our summer camps by providing additional staff."
So, what's the request for modification process? It's easy and definitely no cause for concern. "The sooner we know about your disability or your child's disability, the easier it is to implement steps that will assist in participation. We do not want anyone to delay in registering for a class or program because you are concerned about a modification," Breidenbach explained. "Register first so that you are sure you have a spot in the class, then fill out the Request for Modification form. This form can be found at any of the PRCA facility front desks or online. Once the modification request has been received, I will reach out to the participant or the participant's parent/guardian and discuss the request.  If you are interested in a program or class that does not have a registration (such as a drop-in class), please reach out to me in advance of the program."
Participants of all ages have benefited from the department's proactive approach to inclusion. Several of our 2018 summer campers were able to enjoy new experiences as a result of working with Breidenbach and PRCA staff for modifications. "We were able to schedule and utilize accessible transportation for a camper that hasn't had a field trip experience before.  She uses a power wheelchair and was fully integrated into the camp including the field trip and all activities," Breidenbach said. "Not all disabilities can be easily seen; therefore we implemented some modifications within the camps themselves. Summer camp staff utilized timers and clocks to assist many participants with transitions that may otherwise be unsettling for the participant. We also created quiet spaces for some children that may become over-stimulated."
It's not just summer campers who benefit from the modification process – the process is used to help participants of all ages participate in opportunities across all city departments. "The engineering department held a public meeting at the Lathrem Senior Center about upcoming road improvements. With advance notice from a couple of participants, we had multiple sign language interpreters present, so that all involved could fully participate," Breidenbach said.
Are you interested in a PRCA program, service, park or facility and in need of a modification? Please contact Anna Breidenbach at anna.breidenbach@ketteringoh.org or 937-296-2439.