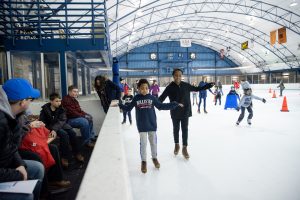 Whether you or your child are interested in learning to maneuver around the ice during open skate with friends, spin and jump like a figure skater or playing hockey, we have a class for you!
Ice Skating Classes
The Kettering Ice Arena is proud to welcome you to the Learn to Skate USA program, a nationally recognized ice-skating program. This program offers standardized curriculum designed to help skaters of all ages and abilities master the basics of ice skating. Classes are taught by US Figure Skating certified professionals.
Learn to Play Hockey
Want to improve your hockey skills? The Learn to Play Hockey program will help skaters develop necessary skills beneficial to playing hockey. Learn to Play Hockey is instructed by our certified professionals.
Youth Hockey
The Kettering Ice Arena is home to several hockey organizations. The Dayton Hockey Association is open to boys and girls from ages 5 to 15 for beginners to advanced levels. For more information about the DHA, contact 937-296-2587 and ask to leave a message in the league's voicemail box #4869 or visit their website at www.daytonstealth.com