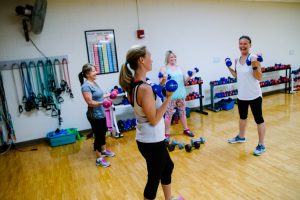 We offer a variety of fitness classes for all ages! With our certified and knowledgeable staff you are sure to get in a great workout while learning about fitness and health.
Ladies Group Training
Ages: 18 +
Intimidated by weights and the typical Fitness Center image? Unsure of how to progress in weight training? Concerned that weight training will make you big and bulky? Our certified personal trainers will work you through these concerns and more in our 4-week group strength-training program for women. This program offers the same benefits of personal training at a fraction of the price, and with an added bonus of camaraderie. Exercise specialists and personal trainers will lead participants through a twice a week results-oriented, challenging, metabolism-kicking, and fun strength training program. Designed for both beginners and intermediate exercisers, goals and physical challenges will be established each week. Class is limited to six participants per session.
03-20209-C M,W 6:30 - 7:30 p.m. July 8 - 31
03-20209-D T,Th 6:30 - 7:30 p.m. July 9 - Aug.1
03-20209-E M,W 6:30 - 7:30 p.m. Aug. 5 - 28
03-20209-F T,Th 6:30 - 7:30 p.m. Aug. 6 - 29
Fee: $100/resident; $125/non-resident
Location: A;C;E: Kettering Recreation Complex Fitness Center
B;D:F: Kettering Fitness and Wellness Center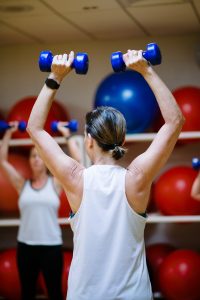 Intro to TRX - Cycling Combo
Ages: 13 +
This class will introduce participants to both TRX (suspension training) and indoor cycling forms of exercise. Prior experience is not necessary. Participants will develop a comfort level with both types of exercise in a non-threatening environment while experiencing a good workout.
03-20202-B T 7 - 8 p.m. Aug. 6 - 27
Fee: $25/resident; $35/non-resident
Location: Kettering Recreation Complex Studio A