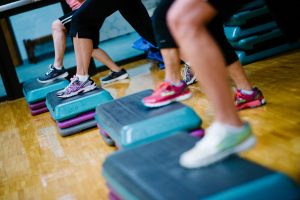 We offer a variety of fitness classes for all ages! With our certified and knowledgeable staff you are sure to get in a great workout while learning about fitness and health.
NEW! August - October Fitness classes are registering now. Explore class offerings by clicking on the digital guide below and registering for opportunities in:  Gentle Stretch Yoga, 20/20/20, Adult Tai Chi, Tai Chi Chaun, Ladies Group Training and Battle Rope Boot Camp.
Registration for September and October classes is now open for Kettering residents and opens Monday, August 10 for non-residents.
Here's what we're doing to keep patrons safe! Learn more about our response to COVID-19 by visiting our COVID-19 Information Hub.