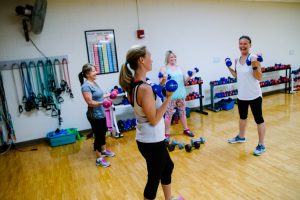 We offer a variety of fitness classes for all ages! With our certified and knowledgeable staff you are sure to get in a great workout while learning about fitness and health.
Ladies Group Training
Intimidated by weights and the typical Fitness Center image? Unsure of how to progress in weight training? Concerned that weight training will make you big and bulky? Our certified personal trainers will work you through these concerns and more in our 4-week Ladies Group Training program for women. This program offers the same benefits of personal training at a fraction of the price, and with an added bonus of camaraderie. Exercise specialists and personal trainers will lead participants through a twice a week results-oriented, challenging, metabolism-kicking, and fun strength training program. Designed for both beginners and intermediate exercisers, goals and physical challenges will be established each week. Class is limited to six participants per session. Age(s): 18 +. 
Registration Number(s): 111380C - 111380F
Location: Kettering Recreation Complex and Kettering Fitness & Wellness Center
Date/Time: 
Monday / Wednesday, Tuesday/Thursday, 6:30 p.m. – 7:30 p.m.
Fee: $100/resident; $125/non-resident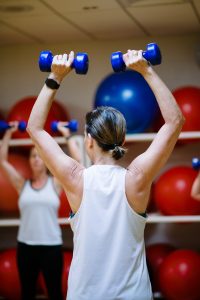 Strollers in Motion
Strollers In Motion classes are created for moms and caregivers to workout WITH their little one. Moms utilize strollers as a fitness tool to get fit. The classes are safe and effective total body workouts geared for new and experienced moms based on Strollercize. The workouts include warm up, cardio, strengthening, and a mix of styles such as yoga, barre, resistance strengthening and more. is a great way to bond with other active individuals in the community and your child. You will instantly feel the physical and psychological benefits; and your children will learn healthy habits from including them in your fitness routine.
111716-A, Tuesdays, January 9 - February 6, 5:45 - 6:30pm
111716-B, Wednesdays, January 10 - February 7, 10:30 - 11:15am
111716-C, Tuesdays, February 20 - March 20, 5:45 - 6:30pm
111716-D, Wednesdays, February 21 - March 21, 10:30 - 11:15am
$25 Kettering residents/$35 nonresidents. View the registration page and enroll now!