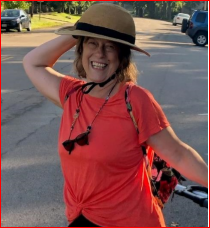 Mary Crockett is a newer member of Team Rosewood. Stop by the front desk and say hello if you haven't met her yet! We caught up with Mary about working at Rosewood, her impressive career in community development and what she enjoys outside the office.
How long have you been at Rosewood? What do you enjoy about it?
I've been at Rosewood Arts Centre as a regular part-time facilities coordinator since mid-June of this year [2019] and am thoroughly enjoying the staff, the patrons and the atmosphere. I'm a great believer in the arts as a prescription for economic, individual, and community health, and in my short months here, the Rosewood has offered a balm to my spirit. Being here gives me a sense of homecoming, in part because I've found so many old friends as well as new friends among Rosewood's regular attendees, teachers, board members, class participants, artists, performers and staff who have made me feel so very welcomed and enlivened! From my experiences here, the Kettering Rosewood  Arts Centre certainly exemplifies Quality Service Focused on Community and is an amazing asset to not only Kettering, but to the entire region.
Can you tell me about your background in community development?
I've been in community development, especially in housing, most of my professional life. I've worked in housing and community development for the cities of Dayton, Springfield, and Xenia, as well as for state and federal housing organizations and non-profits. In Xenia I enjoyed over a decade's worth of community development initiatives including work on their bicycling and hiking trails, revitalization of their historic downtown, and strengthening of their arts and neighborhood organizations.
I am especially proud to have launched the partnership and found initial funding for one bistro (o.n.e. stands for Our Neighbors Eat) a pay-it-forward café that transformed a vacant Main Street storefront into an award-winning and delicious dining experience utilizing both philanthropic volunteers and clients of Toward Independence, Inc.  a growing five-county organization that works with the developmentally disabled and their families. In 2016,  I was delighted to see one bistro win the OCCD Presidents' Award for Innovation in Government, and in 2017, I was honored with the Heritage Ohio organization's "Ohio Leader in Revitalization Award" for my Xenia efforts. I had a great time and worked very hard to make Xenia a better place before semi-retiring in November, 2018. Now at Rosewood, I enjoy a little slower pace (or at least fewer work hours!) and a workplace closer to home.  Other background:  My undergraduate degrees were in Music (vocal performance) and interdisciplinary studies from Miami University, and a Masters in Business Degree from Antioch's McGregor School. I served two years for the U.S. Department of Housing and Urban Development (HUD) as a Community Builder Fellow, where I studied briefly at the Harvard Government School and at HUD headquarters in Washington, DC. I recently completed the Economic Development Finance Professional certification training through National Development Council. I love to learn, and believe in life-long learning – another reason I was attracted to Rosewood Centre.
We hear you're also a theatre performer and musician – can you explain a bit more about that part of your background?
Well, an important part of my life has always been theatre, music, and the arts. Both of my parents were strong amateur musicians, and At Miami U., I sang the lead of Rosabella in Most Happy Fellow, and was even voted "Miami University's most promising singer" my senior year. While in Xenia, I worked with the newly-formed X*ACT theatre by helping them procure grants and loans for outdoor façade and indoor improvements including a grant-funded mural for their Detroit Street-facing wall.  In addition to my official work with X*ACT, I performed in fundraisers with other civic-minded volunteers in X*ACT's 'Community Readers' Theatre, finally playing Darlene Richards in their fund-raiser You Know the Old Slaying. Caesar's Ford Theatre, Inc., closely affiliated with X*ACT, and organized to use outdoor theatre as a medium to inform the public about Ohio's rich history,  put out a call for short and one-act plays concentrating on historic characters from Southwest Ohio and Ohio overall. They received some 30 submissions this spring. The board narrowed the field down to 17 plays and one musical and decided to have all 18 works performed in September over two weekends in two different outdoor amphitheaters with over 50 readers. I was honored to perform as Mrs. Ulysses S. Grant in Lawrence Dukore's Unlikely Hero and had a line or two in new works that included both Adam Alonzo's Counting All our Tears and Lucy Wang's Thurberific. As importantly, I was able to recruit some Kettering performers who acted/read in these new works, including a Musical Dream of Wings written by Vince Corozone.  Hopefully, we will one day see full-stage performances of some of the exciting new works debuted from Caesar's Ford History in ACTion 2019 Readers Theatre.
And of my singing?  Over the past decade, it has consisted mostly of accompanying my mother to Kettering's Polen Farm to sing Christmas carols with her Dayton Music Club friend and keyboardist, Raymonde, along with scores of other area residents. My family traditionally grumbled at Mom for disturbing our post-turkey stupor, but once we arrived at the magical Polen Farm with its beautifully decorated rooms, hot cocoa and delicious food aromas, we found ourselves enthusiastically calling out the caroling book numbers, and singing ourselves hoarse!  2018 was the first Christmas without my mother (and my father), and it appears I will now take up her duties of cajoling everyone to join us at Polen Farm for Christmas afternoon festivities and singing. )So – what are YOU doing Christmas afternoon this December?)
Any fun facts about yourself you'd like to share? Family, pets, favorites?
I live with my husband of two decades, Michael Crockett, and am glad to have my two siblings within an hour's drive and in close proximity to our son, Nathan Rogers, who lives in Kettering with his young family. Fun Fact 1:  I am an avid reader, and for over 20 years have traveled to Columbus, Ohio once a month for my book club. Fun Fact 2:  I love to bicycle!  After retiring from the City of Xenia in 2018, I bought an electronic-assist bicycle (e-bike) at Kettering Bicycle Shop — the same place where my teenage self purchased my first Schwinn!). In fact – bicycling brought me to Rosewood- albeit indirectly.  I first met Cultural Arts Division Manager, Shayna McConville, on a Pedal for the Arts event she led. I found Ms. McConville to be a force of positive energy, and despite the October snow (yes snow!), I had a warm and wonderful time and was greatly impressed to discover that the City of Kettering was a regional leader in the arts AND in bicycling.  Several years later, when I learned of a part time opportunity for a facilities coordinator position at Rosewood, I met and interviewed with Ms. McConville's warm and wonderful staff and the perceptive Kettering Parks Recreation and Cultural Arts Director, Mary Beth O'Dell, and voila- here I am! I've been riding my e-bike nearly every sunny day since.  I love the exercise and the destination, and have joyfully logged nearly 500 miles in just under five months.
My mother and father, Ruth and Bill Hager, (both deceased in 2018), lived in Kettering for most of the last decade of their lives.  They were music lovers, art lovers, educators, historic preservationists, and "place-makers." My mother especially loved Rosewood Arts Centre. I know she would be delighted to know that I was revisiting my artistic and musical roots, riding my bicycle, and embarking wholeheartedly on my next life's journey at the Kettering Rosewood Arts Centre.
But enough of me! If ever you are at the Rosewood Arts Centre and see a bright tangerine-colored e-bike parked outside, come in to the office and introduce yourself.  While you're at it, come in and register for a class or workshop, check out our galleries, volunteer for events, make art, or just say "hello " to me and my fellow staffers. We will be glad to see you here at the Rosewood Arts Centre.  I'm sure that you, like me, will find that Rosewood offers the quality service and warm community that is "just what the Doctor ordered" for a happier, healthier life.