Semi-finalist interviews are underway for the Schantz Avenue Bridge Project! Finalists will be announced soon.  Check back here for more information.
REQUEST FOR QUALIFICATIONS
Schantz Avenue Bridge/Dixie Highway Public Art Project
Kettering, Ohio

DEADLINE FOR SUBMISSIONS: MARCH 31, 2017
ESTIMATED BUDGET: $250,000
DOWNLOAD IMAGES AND SITE RENDERINGS (PDF)
The City of Kettering CitySites Public Art Program is seeking artists, artist teams, designers or architects to design a site‐specific public artwork for the Schantz Avenue Bridge and the adjoining Dixie Highway corridor.
Project Description and Location
The CitySites Public Art Program is seeking an artist or artist team with experience creating a site-specific art installation that integrates into a suburban environment and a transit corridor.  The artwork should utilize enduring materials that can withstand a dynamic streetscape with substantial vehicular traffic and minimal pedestrian traffic, exposure to vehicular pollution and can be easily cleaned and maintained in the event of graffiti or other defacing. The Committee is seeking artistic excellence and innovation in past artwork, especially examples in similar settings.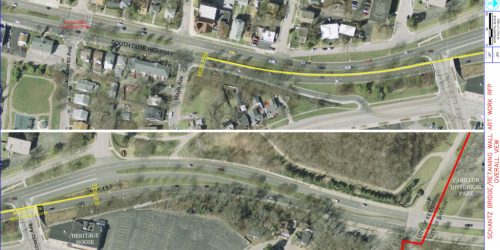 The City of Kettering is replacing the existing Schantz Avenue Bridge over South Dixie Highway, with construction planned for 2019.  The CitySites Public Art Program is working with the City of Kettering's Engineering Department during this process to integrate art into the area.  The artist or artist team will coordinate their work with the Engineering staff and consultants to meet the deadlines in place for the bridge replacement project.
South Dixie Highway is a major arterial carrying approximately 19,500 vehicles per day and has no pedestrian access.  The northbound side of South Dixie Highway, which travels under the Schantz Avenue Bridge, is a two-lane, one-way thoroughfare, with a significant retaining wall that separates it from the south-bound traffic at a higher elevation. The textured concrete wall spans over 968' in length, and ranges from 4-1/2' to almost 19' in height. It is anticipated that the northbound lanes will be closed during the bridge replacement construction project.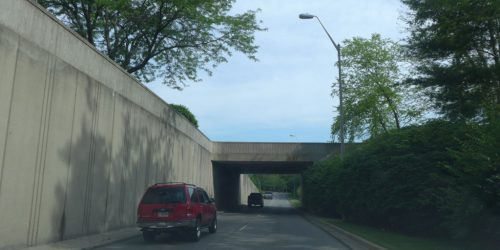 Schantz Avenue is classified as a minor arterial, carrying approximately 3,000 vehicles per day and limited pedestrian usage with sidewalks on both sides.  The existing structure, constructed in 1943, is a single span concrete slab bridge with reinforced wall abutments.  The replacement will include the pavement, deck, beams, abutments, footings, wing walls, parapet, and have a span of about 31′ and width of about 70′.
CitySites is interested in artwork being incorporated into this project, with the potential to be integrated throughout this corridor between the boundaries of Mayo Avenue (south), City of Kettering boundary (north, along Carillon Park property), and following South Dixie Highway/South Patterson Boulevard.
Neighboring organizations and facilities include Dayton History, owners of Carillon Park and the Heritage House.  Calvary Cemetery and the mid-century modern office of architect Eugene Betz are within .25 miles of this site.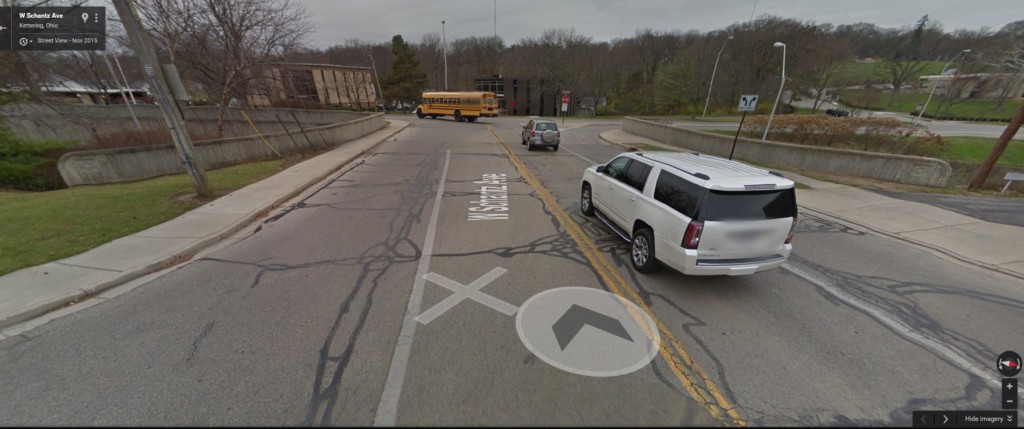 Kettering's CitySites is a percent for art program recognizing artistic excellence, accessibility to the arts for all people, and the positive impact of creativity on our community and quality of life in the City of Kettering.
The goals of integrating art into the bridge replacement project and surrounding area include:
The artwork should be highly visible both day and night.
The artwork should be a signature piece for the Kettering community and enhance the experience of transit riders and residents of this neighborhood.
The artwork should relate to the surrounding environment, including neighboring landmarks such as Dayton History.
The artwork must be properly scaled to surroundings.
The materials used must be able to withstand extreme weather and heavy traffic.
The artwork should appeal to a mass
The artwork should be structurally sound and require low upkeep and minimal maintenance
Budget
Up to five semi-finalists will be paid an honorarium of $2,500 to develop and present site specific proposals over the two visits. This honorarium will cover all proposal expenses. Travel, lodging and per diem will be arranged with the City of Kettering.
The budget for this artwork is up to $250,000 and is inclusive of all costs associated with the project, including but not limited to: artist expenses, administration, sub-consultants, travel/lodging, artwork fabrication (including materials, details and specifications), storage, transportation and installation, related permits, licenses, taxes and insurance. Any expenses that exceed the contracted amount will be the artist's responsibility.
The artist will be responsible for submitting an artwork maintenance manual upon completion.
Eligibility
Artists and/or artist teams must have previously created public art, large‐scale works, or exterior projects. If artists are applying as a team, the team should be declared on the Application Form, and specify a team leader as the point of contact. The artist must carry personal liability insurance for the duration of the project and be willing to meet all contractual obligations.
The artist must have completed two permanent public artworks with budgets of at least $50,000. Three references (names/contact information) are required from prior public art projects.
Employees of the City of Kettering and members of the Art in Public Places Committee and the Kettering Arts Council are ineligible to apply.
Artist Selection Process
Phase I
Parks, Recreation and Cultural Arts staff will review the RFQ submissions and work with an Artist Selection Committee, including members of the Art in Public Places Committee and local stakeholders, to select semi-finalists.
January 31, 2017       RFQ Released
March 31, 2017          Deadline for Submission of Packets
May 2017               Tentative Selection of Semi-Finalists
Semi-finalists will be selected with the following criteria:
Experience of artist in successfully designing, fabricating, administering, and completing public art projects and/or custom architectural elements on time and in budget;
Quality and scale of past work, demonstrated technical competence (materials, lighting, installation, maintenance);
Demonstrated ability to manage projects of similar scale and complexity on time and within budget;
Experience incorporating artwork into the architectural elements of a construction project;
A proven ability to coordinate and collaborate with project managers, design professionals and community stakeholders.
Phase II
The Committee will select up to five (5) semi-finalist artists or artist teams for a site visit, interviews, and artwork proposal development.
Semi-finalists will tour the site and meet with representatives from the City of Kettering, Art in Public Places Committee and the Artist Selection Committee. The site visit will be an opportunity for semi-finalists to ask questions to inform the artwork proposal.
June – July 2017         Site Visits (2 – 3 days)
The semi-finalists must agree to the following:
The artist shall retain intellectual property rights.
At its sole discretion, the City of Kettering shall have the unconditional right to retain the proposal materials as part of the proposal commission. Full credit will be given to artist or artist team if proposal is disseminated by print or digital means.
If utilizing the proposal for future RFQ and RFP background materials, the artist shall give credit to the City of Kettering project whether or not the artwork is selected for implementation.
Proposed artwork must be original and unique to the Schantz Avenue Bridge project.
Phase III
Semi-finalists will return to the City of Kettering approximately 6 weeks after the first site visit.  Each semifinalist artist or artist team will individually present their artwork proposal to the Artist Selection Committee, City of Kettering representatives and at a community meeting.
The Art in Public Places Committee will review the concept proposals for final selection of an artist. Upon final selection, the City of Kettering will provide a contract to the artist. The artist will work with relevant City of Kettering staff to meet the deadlines for installation. The artist will be present to assist and supervise the installation of the artwork after completing its fabrication.
The artwork proposal must include the following:
A written description of the artwork proposal
Site-specific rendering of proposed artwork, including dimensions
Proposed budget
Proposed timeline
Recommended fabricators
Anticipated maintenance requirements
August – September 2017      Semi Finalist Visit and Artwork Proposal Presentation (2 days)
October 2017                         Artist Selected and Contract Developed
Please note that all dates are subject to change.
Artwork Evaluation Criteria
The following is the evaluation criteria to be used by the Artwork Selection Committee.
Artistic Excellence: The aesthetic significance and quality of the artwork, including the artworks transformative and distinctive qualities.
Context: Artwork's appropriateness to surrounding architecture, topography, local history, and community attitudes and concerns of both the City of Kettering and the surrounding community, as gathered in Site Visit 1.
Durability, Safety and Permanence: The artwork is resistant to weathering and high vehicular traffic as well as structural sustainable. The artwork must be examined for unsafe conditions, materials, or factors, as well as the potential for excessive maintenance.
Technical Feasibility: The artist must provide convincing evidence of his or her ability to complete the artwork as proposed.
Past Performance: The Review Committee will consider the artist's performance under previous contracts including success in meeting established timelines and budgets.
Cost Feasibility: The Committee will consider the cost feasibility and determine if the project is realistic within the specified project budget.
Selection and General Production Schedule (all dates are subject to change)
| | |
| --- | --- |
| RFQ Posted | January 31, 2017 |
| RFQ Application Deadline | March 31, 2017 |
| Artist Selection Committee selects semi-finalists | April 2017 |
| Semi-finalists Notification and Invitation to Submit a Proposal | May 2017 |
| Site Visit 1: Artist Meetings and Tour | June – July 2017 |
| Deadline for Semi-finalist Questions | July 31, 2017 |
| Deadline for Responses to Semi-finalist Questions | August 15, 2017 |
| Site Visit 2: Artists Proposal Presentations | August – September 2017 |
| Selection Committee Review & Selection, Contract | October 2017 |
| Commission Award Announced | November 2017 |
| Artwork Development | November 2017 – June 2018 |
| Artwork Fabrication | June 2018 – 2019 |
| Anticipated Artwork Installation / Bridge Construction | April – December 2019** |
| Artwork Completion | December 2019** |
**Please note, by submitting the application materials, the artist or artist teams understand the time sensitive constraints of the specified commission and agree to adhere to the timetable set by the City of Kettering, with consideration of potential changes in schedule during the Bridge Replacement Project.
Submission Procedures
Artists may apply online through CODAworx, an online application system for RFQ submissions. You will need create a free account. There is no fee to submit qualifications. Applications will not be accepted after the March 31, 2017 11:59 p.m. (EST) deadline. Please note that City of Kettering staff will be available to answer questions until 5:00 p.m. (EST) on the deadline date.
https://www.codaworx.com/rfp-toolkit/rfp/schantz-avenue-bridge-project-rfq
Submission Procedures
To submit qualifications for this commission you must apply through the CODAworx RFP portal:
https://www.codaworx.com/rfp-toolkit/rfp/schantz-avenue-bridge-project-rfq. You will need to sign up for a free account to submit your information. This allows you to save and come back to your application at any time. To login and return to your application, click the portal link above. You may also return to the application by logging in on CODAworx, clicking your name in the top right, and selecting "RFP Toolkit".
The following information will be required to apply to this commission:
1. Letter of Interest. This should NOT yet be a site-proposal. Please include the following:
-Artist Name, Address, Telephone, Email Address and Website. If applicable, include Artist Team Members and contact information as listed above.
-Your interest in this project and your experience working on comparable projects, including your experience with architectural and engineering project Include your philosophy on public art, its integration into surrounding environment and how your work and experience will complement this project.
-Please describe your eligibility with the multiple criteria for this project as defined in Eligibility section of this RFQ.
-References, to include at least three (3) art and/or design professionals who have detailed knowledge of the artist's work and working methods, including fulfilling deadlines, working with the community, etc. Include contact name, organization, address, telephone number, and e-mail for each reference.
2. Résumé or CV. Submit a brief, current résumé that includes all contact information and website plus a list of previous public art commissions, design team experience, exhibitions, awards, grants and education, if applicable. If submitting as a team of artists, compile all résumés into a single document.
3. Work samples. Two options for submission:
-You may submit images and information for up to 5 past commissioned projects through this RFQ application. To do that, please include the main image, title of the artwork, the medium, the dimensions, and date created or installed.
-If you have more images, information to share about your submitted projects, or a video to share, please go to your account to publish a "project" to your profile on CODAworx. This allows you to have up to six total images per project, a more detailed write-up about the project, and a video. In the more detailed write-up please list the following: the commissioning organization/agency; budget; date of completion; and project manager (with email). Include a brief project summary, and, if you were part of a team, indicate the extent of your contribution. We recommend this option for a more robust RFQ submission.
-Please submit JPEG images with a minimum of 620px wide, and a maximum file size of 5mb. Horizontal images are preferred. Slides, prints or any physical submissions of artwork will not be accepted.
This RFP is administered and managed using the CODAworx RFP Toolkit, an innovative new platform that streamlines the commissioned art process. Questions may be addressed to Stefanie O'Keefe at stefanie@codaworx.com or by calling the CODAworx office, (608) 467-3040.
CODAworx is a global online platform to showcase design projects that feature commissioned artwork in interior, architectural, and public spaces. The CODAworx RFP Toolkit is designed to aid commissioning bodies in the process of promoting Requests for Qualifications and Proposals and to guarantee an applicant pool containing top artists and designers in the industry.
More Information
Additional site images and frequently asked questions will be posted here through the RFQ submission deadline.
APPLICATIONS MUST BE RECEIVED BY 11:59 PM (EST) ON MARCH 31, 2017, THROUGH CODAWORX.
VIDEOS OF SITE

Video of South Dixie Highway, Northbound.
Video of South Dixie Highway, Southbound.
Video of Schantz Avenue Bridge, Westbound.