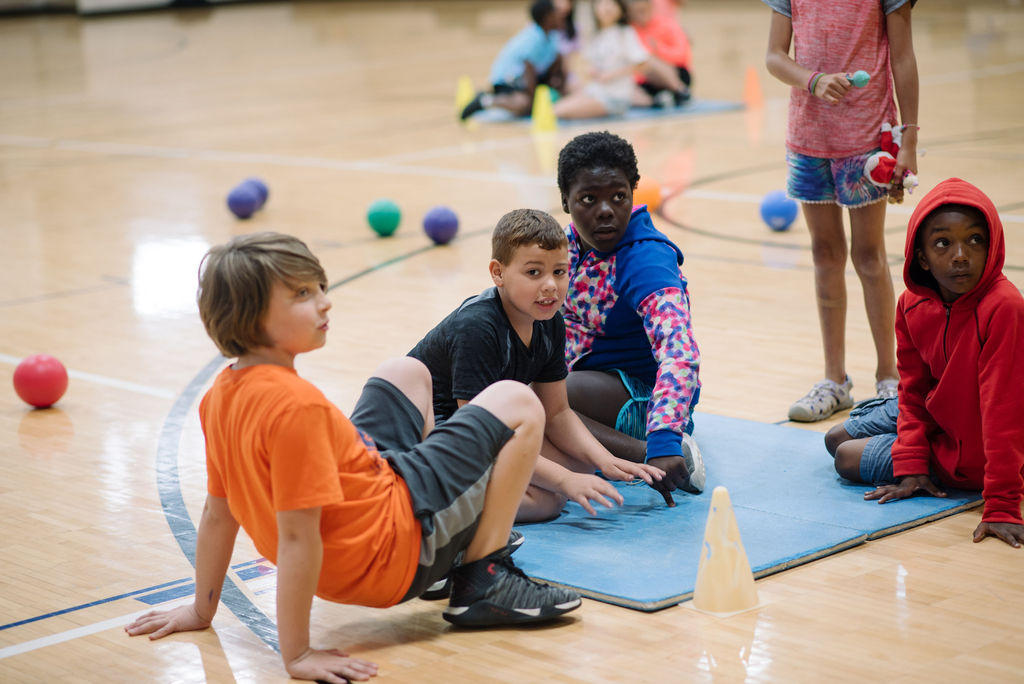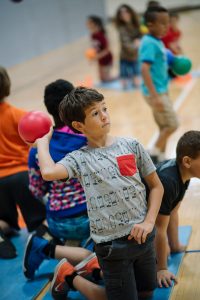 Does your child love games and sports so much, they can't pick just one? Our Sports Fun Camps mix it up and keep things interesting with fun, fast-paced play. Campers experience everything from basketball to kickball to Capture the Flag.
New this year are two age levels for these camps – Junior Sports Fun Camp is for ages 6 through 9, and Senior Sports Fun Camp is offered for kids ages 10 to 13. When we dropped by, the Junior Sports campers were enjoying a friendly game of kickball. The kids cheered each other on – indoors on a rainy day, but still having a blast.
The Senior Sports campers play games with more complicated rules, in this case a variation of the classic Capture the Flag. "They really seem to love it, that's for sure," said counselor Cheyann. "It gets pretty intense, but they have fun. Everyone is really into it."
"This is the first time we are doing separate sports fun camps based on age, and it's really helping," said Junior Sports Camp instructor Kendra. This is Kendra's second year as a camp instructor. "It's hard to have a 6-year-old and a 13-year-old play dodgeball. All the kids are working very well together this year."
Speaking of dodgeball, it is a definite fan favorite at this camp. Junior Sports camper Kobe said he signed up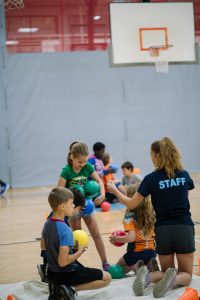 because he wanted to "play dodgeball and learn other games, too." Senior Sports camper Brody agreed: "My favorite thing so far has been dodgeball, and I'm looking forward to playing it again and swimming."
Brody said he wanted to take Senior Sports Fun Camp because, "I love playing sports and going outside. I play sports during the school year, too – basketball and football." He enjoys getting to play a variety of games during the camp week and sampling several different sports.
Senior Sports Fun counselor Cheyann, who is back teaching sports camp for a third year, is an education major at Malone University in Canton and loves using what she's learning in school to make the kids' camp experience great.
"The best thing about sports fun camp is getting to create bonds with the kids," Cheyann said. "I love teaching them games like basketball and watching them improve over the course of the week, seeing them grow and take risks."
Both Junior and Senior Sports Fun Camp are offered weekly through August 9. Check out the full schedule and register.