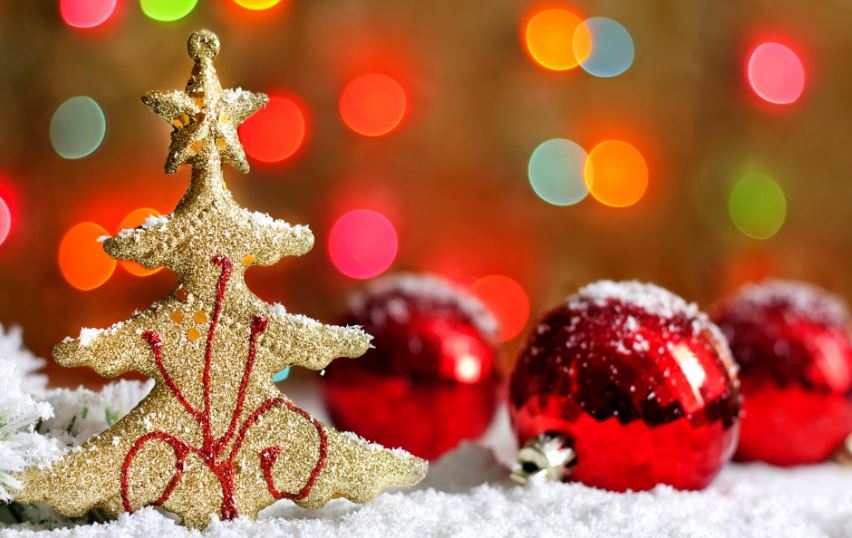 The weather might be trying to make up its mind, but there's no getting around it – the holidays are on their way! Our 2020 holiday programs have been carefully planned to ensure that each guest has as fun and safe an experience as possible. Visit our COVID-19 Information Hub to learn more about all the ways we're keeping you safe and scroll down to find opportunities to make seasonal memories with us!
1. The Mayor's (Virtual) Christmas Tree Lighting, December 4
The 2020 Mayor's Christmas Tree Lighting will be a virtual experience! Emceed by Kettering's own Jamie Jarosik, the Countdown to the Mayor's (Virtual) Tree Lighting will start at 5:15 p.m. on Channel 6 and on PlayKettering's Facebook page. The Countdown will feature Kettering's hometown favorites, including performances by incredible Fairmont High School musicians, fun activities from the Parks, Recreation and Cultural Arts Department, and even a Christmas story read by the Mayor! At 6 p.m., viewers will see Mayor Patterson light up the Mayor's Tree and Lincoln Park and Civic Commons. Learn more and find out what you need for our holiday craft!
2. Flashlight Candy Cane Hunt Express, December 4, 5 and 6
Pull in, wait in your car and when you see the lights, come out and line up around the Candy Cane start line! After all candy canes are found, come into the barn to see Santa! Santa will be in his chair, a Christmas tree to provide a safe distance and then your chair on the other side to safely visit this year! We ask you wear masks while indoors, may take off for the picture only, while seated. This event is only 30 min. with very limited attendance at each time slot, please register early to save your seat! Visit the registration page to view fees, the full schedule of time slots and to pre-register!
3. Santa Stops, December 5 and 6
No time for breakfast or brunch this year – we need to see Santa, and we mean business! This year, you will enter through the patio of the Polen Farm HOUSE and line up social distanced style to see the main man, SANTA! Santa will be in his chair, with a Christmas tree to provide a safe distance and then your chair on the other side to safely visit this year! Each family will get an opportunity to visit with Santa in the front room one on one! We hope this season can help continue some of our favorite holiday memories safely! We ask you to wear masks while indoors, may take off for the picture only, while seated. Space is VERY limited for each time slot, so please register in advance. Everyone must register. View complete schedule, fees and pre-register for Santa Stops on the registration page.
4. Kettering Giving Tree, gifts due December 6
The Kettering Giving Tree is a seasonal program organized by the City of Kettering Parks, Recreation and Cultural Arts Department to assist children who are in need in the Kettering community. Starting the week of November 9, stop by the Kettering Fitness and Wellness Center, Kettering Recreation Complex, Rosewood Arts Centre, Kettering Government Center, as well as various partner sites throughout Kettering to pick up a tag. Then shop and then return the tag and unwrapped gifts to the same location no later than Sunday, December 6, 2020. Learn more about the program.
5. Best in Snow, December 1 through January 31
This winter, we want to see how good your snowman game is! From December 1 through January 31, we want you to build the best snowman ever! Any time you have one to share, snap a picture and send it to: prca@ketteringoh.org. We will gather all of the pictures, and have a Facebook voting contest to see who has the Best in Snow in Kettering 2020! The top finalists will receive signs
for their yard and the winner will be crowned "Best in Snow 2020"! LIKE Play Kettering on Facebook to make sure you
are all set and ready for the fun, look for the Best in Snow event to join in the fun!
6. Snowman Science, December 29
Have you wondered how snow forms and what a single snowflake looks like? Science will take on a seasonal and holiday twist as we explore what happens to water when it changes into frozen form and becomes the makings of a snowman. This fun and educational program will be held with or without snow. Dress for winter, including boots. Hot chocolate by the fire will be included! Learn more and register.
7. Santa Calls, December 8, 14, 16 and 17
Don't miss your opportunity to talk to Santa this year! To keep everyone safe, we are letting Santa make some CALLS this year! Make sure you are home and by the phone during your registered time, have your list ready and Santa will call you to see if you've been naughty – or nice! *Please make sure to answer ANY call during your time slot as Santa's number may not be recognized! Learn more and register.
8. Holiday Treats, December 6
Tis the season! We love holiday treats especially when made with wholesome ingredients. This fun class will turn some of your holiday favorites into HEALTHY holiday favorites! Learn more and register.
9. Christmas Tree Cake, December 15
Participants will assemble and decorate their own personal 4 inch layered Christmas tree themed cake. Techniques learned will include stacking layers, frosting cakes, and piping designs. Learn more and register.
10. Ice Skating at Kettering Ice Arena, ongoing (view the calendar)
Nothing says winter wonderland like a day at the ice rink! Bring your family and join us for open skate this holiday season. Don't know how to skate? We can help with that – new Learn to Skate programs are starting in January! Visit our KIA homepage for details on open skate, including fees and times.
11. Winter Art Camp, December 28 – 30
Kids use winter break to get creative and acquire new skills! From clay to painting and more, Winter Art Camp moves beyond the standard art classroom to expand your child's creative horizons. Learn more and register.
12. Countdown to Noon, December 31
No bed time worries here! This pre-school New Year's Eve Bash will have all of the fun for all the little ones, at 3-2-1 – NOON, Happy New Year! An inflatable to jump in a place to play inside, a countdown craft to make and a dance party for all to lead into our very own countdown, to NOON! Please register in advance by Sunday, Dec 27 or until full. Children must be accompanied by adult. Learn more and register.