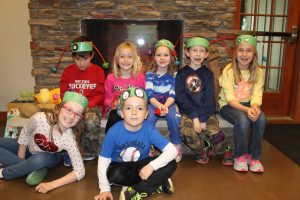 Did you know that the months with the highest birthrates each year are usually August and September? Chances are good you know someone with a birthday coming up! Need a party plan? The Habitat Environmental Center has revamped their Wild Birthday themes with a fresh batch of party experiences. Here's what's new:
Fantastic Beasts: Discover the slithering, crawling, and gnawing beasts of the forest. We will learn about those animals that do exist and also maybe new 'beasts' that only exist in our imaginations.
Under the Sea: Discover the magical blue world that captures our hearts, including sea turtles, dolphins, sea shells and more!
And here are the returning favorites:
Happy Bird-Day: Learn about our feathered friends for your birthday. These amazing flying animals are special in so many ways. We will enjoy some bird watching!
It's a Bug's World: Some people think insects are creepy. We LOVE insects here at the Habitat. Come and celebrate your birthday with some of our smallest friends and learn how important they are to the earth.
Seasonal Shenanigans: In every season there are mysteries to uncover in nature. We will explore what the animals and plants are doing during the season of your birthday…Spring, Summer, Winter, Fall…here at the Habitat, we love them all.
A Wild Birthday is a fun and educational option for kids ages three through 12 and includes crafts, nature activities and much more. Check out the Habitat Environmental Center's page for full details on pricing and hours.