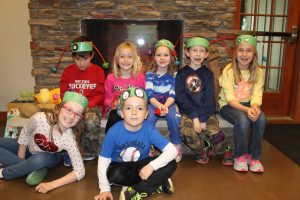 Did you know that the months with the highest birthrates each year are usually August and September? Chances are good you know someone with a birthday coming up! Need a party plan? The Habitat Environmental Center has revamped their Wild Birthday themes with a fresh batch of party experiences. Here's what's new:
• Amazing Animal World: Visit with the animal ambassadors at the center and we will also celebrate your child's favorite animal (including dinosaurs).
• Under the Sea: Explore the magical blue world that captures our hearts, including sea turtles, dolphins, sea shells and more!
• NEW Ooey Gooey Science: Our activities will bring out the inner mad scientist in your child and guests! Experiments will be based on age of birthday child.
• NEW Out of This World: The moon and stars are within reach for your child's birthday. Activities will be out of this world.
• Seasonal Shenanigans: Nature reveals itself in every season. Choose from Bugs and Blooms, Harvest Fun, or Winter Wonderland.
NEW – An INFLATABLE ARCHERY PARTY is also available for ages 8 and older. Please email or call for more information.
A Wild Birthday is a fun and educational option for kids ages three through 12 and includes crafts, nature activities and much more. Check out the Habitat Environmental Center's page for full details on pricing and hours.