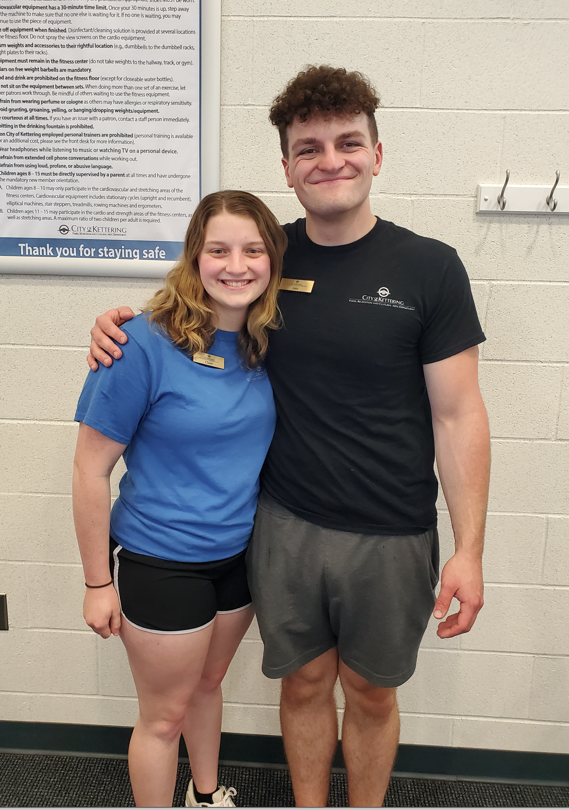 Say hello to Claire Robinson Fitness Specialist and Jake Radloff Personal Trainer! We are featuring them together since they work several shifts together. Great job Claire and Jake!!
Jake has been training clients for over a year and a half now. He was inspired to become a trainer after his own weight loss journey. After completing his weight loss goal, he realized he wanted to be able to help others reach their own goals! He really enjoys being able to get to know clients and help them achieve their goals. It is very rewarding for him to see people make positive changes in their lives and in their fitness journey.
His favorite type of clients to train is someone who is willing to put in the work necessary to achieve what they want. This makes each session fun and exciting! One of his favorite training moments was when he showed a client the weight numbers they started at versus where they are currently. This always leads to a priceless face of joy or excitement when they realize how much progress they made! He hopes to have many more of these moments in the future!
Claire has been working at the Kettering Fitness and Wellness Center for almost 2 years. Her favorite part about working at the KFWC is being able to talk and make connections with all of the patrons. She also loves the people that she works with. Her favorite memory while working at the KFWC is when a patron brought in ice cream sandwiches for her and the person she was working with. It was such a nice thing to do and made them smile!