Citizen Tree Program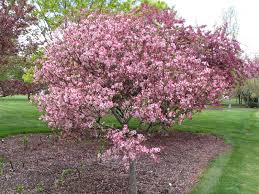 To encourage the planting of quality street trees throughout Kettering, the Parks, Recreation and Cultural Arts Department will make available a limited number of trees to Kettering residents. These trees are offered on a first-come, first-served, shared-cost basis.
The trees are available to Kettering residents, businesses, churches and others, but will be limited to one tree per person, per address. The trees are planted by the Parks Division with all further maintenance being the responsibility of the owner.
Interested Kettering residents or property owners can sign up for a tree in person at the Parks Maintenance Center. Payment must be made at the time of registration.
Tree options for the Citizen Tree Planting Program include: Prairifire Crabapple, Honeylocust Skyline, or Bur Oak. Photos and pricing can be found below.
Living Tree Program
The Living Tree Program is designed for those persons or organizations desiring to commemorate a particular event by the planting of a tree. The event might be an anniversary, birthday, wedding, birth, reunion, graduation, retirement or death of a loved one.
The person or group chooses a tree from the designated list. The prices listed are the City's expected cost for that tree. The tree will be planted by the Parks Division. Larger trees or other park items are available.
Tree options for the Living Tree Program include: Hawthorne Crusader, Autumn Blaze Maple, Coralburst Crabapple, White Oak or Honeylocust Skyline. Photos and pricing can be found below.
REGISTRATION
Interested persons or groups must order and pay for a tree in the Parks Maintenance Center located at 3170 Valleywood Drive, 8 a.m. to 4 p.m., Monday through Friday. Those purchasing a tree will need to meet on site with parks personnel to pick the exact planting location and variety. It is often easier to meet before the registration form is completed and payment is made.
Civic Commons Park has been a popular Living Tree site since it was developed. All available tree locations have been planted except for a few large trees or designating an existing tree.
PLANTING
The tree will be planted in Kettering on public land including areas such as parks, medians, churches, hospitals or public buildings. The tree may not be planted on residential property, businesses or other areas private in nature. The donor may request a particular planting site which will be followed if possible. The Parks Superintendent may make any necessary changes.
The trees will be ordered and planted in the spring or fall by the Parks Division. An effort will be made to contact the donor when the tree is planted and the plaque is installed.
PLAQUES
Bronze 8" x 10" plaques may be ordered for ground level installation next to the Living Tree. The cost will be borne by the purchaser. The plaque will be installed   by the Parks Department. Cost for plaque is $365. In order to provide consistent quality and aesthetics, only plaques purchased through the City will be allowed.
TREE CARE
Parks personnel will care for the tree after planting. This includes watering, fertilizing, mulching and trimming as needed. Bulbs and flowers can be planted in the mulch at the base of the tree. All bulbs and flowers must be approved before planting. If a particular flower variety and color is being planted in that park, all other flowers will need to match. The planting, watering and care of the bulbs and flowers will be the sole responsibility of the person(s) planting the flowers.
DECORATIONS
Many Living Trees are planted in memory of loved ones who have passed. While the tree may seem like a memorial, the trees may not be decorated with ornaments, flags, figurines or other decorations. Bulbs and/or flowers may be planted at the base of the tree, as described in the Tree Care section.
TREE LIST
Listed below are frequently chosen tree varieties and sizes. We also need selected trees in larger sizes and other park amenities such as benches, play equipment, sports equipment and other park items. If these or other items are in keeping with your commemoration, please call for further information.
           Hawthorne  Crusader  $265.00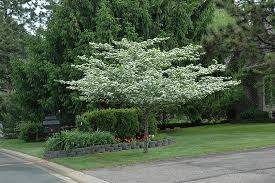 Excellent small ornamental with glossy green foliage. White flowers in the spring with orange fall colors. A thornless specimen, which produces abundant fruit.
---
                                                   Autumn Blaze Maple  $280.00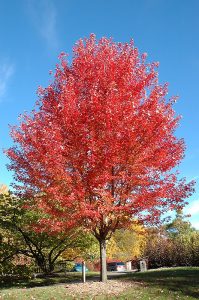 Hybrid between the red & silver maples combining the best features of each parent. Small red spring flowers with brilliant orange-red fall leaves.
---
Crabapple Coralburst $260.00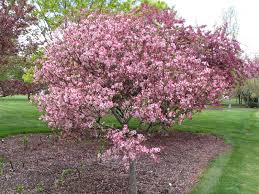 Slow growing maintaining a dense rounded head. Double rose flowers with a ½" bronze fruit. It's leaves are small and narrow, giving it a unique appearance.
---
                                                                                White Oak $325.00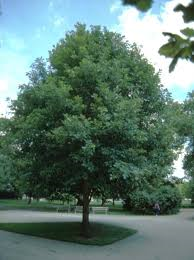 A majestic, long-lived versatile tree. Slow growing with a broad rounded outline and spreading branches. Foliage is retained late into the season, often turning a wine-red color.
---
Honeylocust Skyline $265.00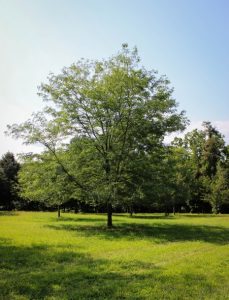 A uniform pyramidal habit makes this Honeylocust very popular. Green foliage with nice yellow fall color.