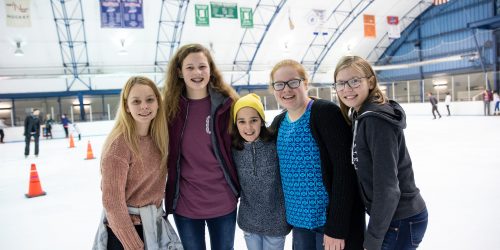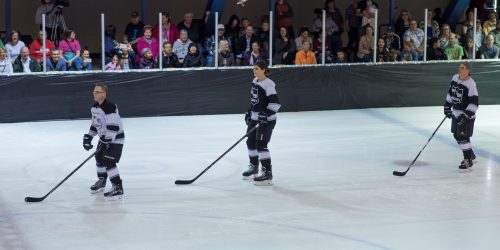 Kettering Ice Arena
Located inside the Kettering Recreation Complex, the Kettering Ice Arena is proud to host youth and adults involved in figure skating, ice hockey, ice skating lessons and leisure skating. The Kettering Ice Arena also has rental skates, lockers and a heated seating area for spectators. At various times throughout the week, we host open skates, freestyle sessions for figure skaters, private and group skate lessons and stick time.
From time to time, the Kettering Ice Arena hosts special events, specialty skates or tournaments. These events may alter our normal schedule.
Stick Time
Stick Time is provided for Hockey players to come out and practice shooting, stick handling and hockey drills. This is not a scrimmage or pick up hockey game setting. Full hockey gear is required. The Kettering Ice Arena Does not provide hockey equipment.
View and download the October Stick Time Calendar (PDF)
Freestyle Skates
Freestyle ice is designated practice ice for figure skaters to practice their skills, such as jumps and spins, on their own or with an approved City of Kettering private skating lesson coach. (Please note that freestyle ice times are for figure skating practice only and are not open skate sessions. The public open skate calendar is listed above.)
Ice Arena Daily Admission Rates

| | | |
| --- | --- | --- |
| Admission | Resident | Non-Resident |
| All Ages | $4 | $8 |
| CIL Member | $3.50 | $7.50 |

| | | |
| --- | --- | --- |
| Equipment Rental | Resident | Non-resident |
| Skates | $3 | $3 |
Season Pass Pricing

Passes may be used for Adult Skate, Public Open Skate and Youth & Home School Public Skate, and are valid August 23, 2021 through May 2022. Miscellaneous Drop-In admission (see above) applies for Stick Time and Freestyle.

| | | |
| --- | --- | --- |
| Ice Arena Pass | Resident | Non-Resident |
| Youth (17 and under) | $60 | $90 |
| Adult | $82 | $112 |
| CIL Member | $64 | $94 |
| Family (2 Adults, 4 Youth) | $186 | $270 |
---
Kettering Ice Arena
Questions on Hours, Pricing or Other Information
Contact the Kettering Recreation Complex at 937-296-2587
---