The Charles I. Lathrem Senior Center (CIL), part of the City of Kettering Parks, Recreation and Cultural Arts Department (PRCA), offers a wealth of opportunities for activity, education, connection and fun for active adults ages 55+.
Need some help with your taxes this year? Our AARP Income Tax Preparation Assistance Appointment Scheduling Begins Tuesday, January 10, 2023 at 8 a.m. Learn more
Learn something new at an engaging enrichment class!
  Stay healthy with fitness and wellness programs and screenings.
Enjoy the companionship of friends, old and new, with a game of pool or cards.
 Visit our library and check out a book or puzzle.
Stay connected and have fun at a social or party event.
  Get out on the town on a monthly Tasty Tours lunch or dinner trip
  And so much more!
Lathrem Senior Center Cards & Games Schedule Effective January 14, 2022
| | | | | | |
| --- | --- | --- | --- | --- | --- |
| Sunday | Monday | Tuesday | Wednesday | Thursday | Friday |
| Double Deck Pinochle 1-4 p.m. | Euchre 1-4 p.m. | Social Bridge 1-4 p.m. | Bingo 1-3 p.m. | Canadian Bid Euchre 1-4 p.m. | Double Deck Pinochle 1-4 p.m. |
| | | 500 1-4 p.m. | Hand & Foot 1-4 p.m. | Double Deck Pinochle 1-4 p.m. | Social Bridge 1-4 p.m. |
| | | | Canadian Bid Euchre 5-8 p.m. | Social Bridge 1-4 p.m. | |
Fee:       FREE/CIL member; $2/resident; $4/non-resident
Located on the campus of the Kettering Recreation Complex (KRC), members also have access to the attached swimming pool, fitness room, gymnasium, walking track and ice arena for discounted fees.
Still looking for a reason to join? According to recent research conducted by the National Council on Aging, older adults who belong to senior centers learn to manage and delay the onset of chronic disease and experience measurable improvement in their physical, social, spiritual, emotional and economic well-being. The majority of them also report receiving helpful information, lifelong learning and acquiring new skills that contribute to their continued independence.
Stay active. Stay connected. Join us today!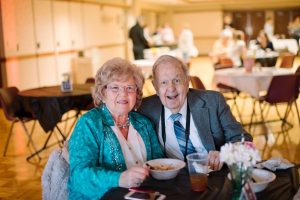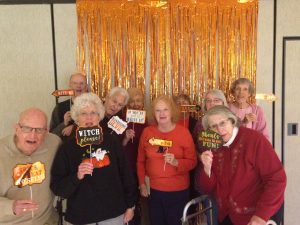 Membership Information
A membership at the CIL is valid for one year from date of purchase.
1-Year Membership Fees
Kettering Residents: $34
Non-Residents: $51
6-month Seasonal Membership Fees Perfect for Snowbirds!
Kettering Residents: $19
Non-Residents: $29
Membership includes:
discounted rates on all CIL and PRCA recreation programs and passes;
access to the KFWC and KRC walking tracks;
the ability to register on the same day that Kettering resident registration opens; regardless of residency status;
a subscription to the Lathrem Letter newsletter;
membership at CIL rates for spouses under the age of 55.
To learn more about the great opportunities awaiting you at the CIL, please stop by and visit us.
CIL Building Hours
Monday - Thursday 8 a.m. - 8 p.m.
Friday 8 a.m. - 4 p.m.
Saturday 9 a.m. - 12 p.m.
Sunday 12:30 - 4 p.m.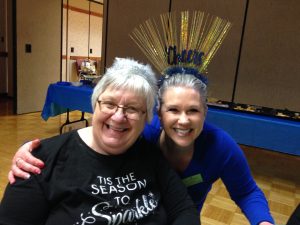 Lathrem Letter
The Lathrem Letter provides event and program information for the CIL and is published periodically throughout the year. View the Spring 2023 newsletter.  Programs are also listed in the PlayKettering Activities Guide.
Senior Transportation Services Program
The CIL provides this service for Kettering residents ages 60 and over with sedans and wheelchair-accessible buses. Transportation is provided to medical appointments, grocery shopping, CIL programs, hair salons, banks and pharmacies. Learn more.
Senior Advisory Board
The Senior Advisory Board meets periodically at the CIL and exists to guide the CIL staff in enriching and improving the quality of life of Kettering Seniors. Members are currently being recruited. Learn more.
Kettering Senior Show Choir and Joyful Musicians
The Kettering Senior Show Choir is a volunteer program under the City of Kettering, Ohio, and sponsored by the Charles Lathrem Senior Center for the purpose of enriching the lives of its senior volunteers through singing four-part harmony Broadway Show or Christmas Music choral concerts to entertain independent, assisted living, and nursing care residents as well as other Dayton area organizations.
Not quite up to a formal chorus, but still interested in singing and having fun? The Joyful Musicians program may be just the ticket. Focused on easy to sing melodies, the group enjoys practicing together and occasionally singing for area organizations.  Learn more about Music programs at the CIL.
Nutrition Program
Coordinated by the Dayton Senior Resource Connection, a nutritious meal is offered Monday – Friday at noon for anyone age 60 or over. Membership in the CIL or Kettering residency is not required to participate. Call 937-296-3268 for more information. *Our senior nutrition program is not being offered at this time.
---
Questions?  Please call:
Front Desk: 937-296-2480
Transportation: 937-296-2483
Inclement Weather:  This information will be posted on playkettering.org and on our PlayKettering App (available in iTunes and Google Play stores)