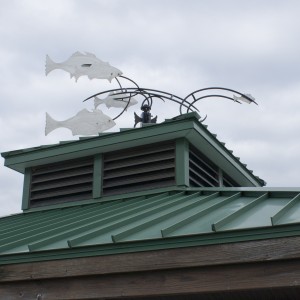 Fish Weather Vane, 1999
Steel
Location: Delco Park
Hamilton Dixon has created forged steel sculpture throughout the Dayton area and is established as
one of the most significant sculptors in our region through his numerous private and public
commissions.
Dixon began welding metal on an off shore oil rig in the 1980s, and continued to learn metal working
techniques at the Turley Forge School in Santa Fe, New Mexico. He relocated to Dayton in the early
1990s and has since created three-dimensional artworks at major landmarks in the region, including at
the Dayton Art Institute, the Dayton International Airport, the University of Dayton, and more. His
practice includes functional works, sculpture and jewelry.