23rd Annual The View Juried Landscape Exhibition
May 30 – July 7
Reception, Thursday, June 1, 6 – 8pm
The View
 is Rosewood Gallery's annual, juried group landscape exhibition. All media are considered, and the artwork exhibited deals with outdoor themes, land imagery, the environment or world issues. Admission is free. Check out a 
recent review
 by Pamela Dillon of the Dayton Daily News.
This a juried exhibition for artists living in Ohio.  This year, 82 artists submitted 238 pieces,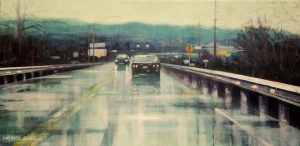 from which the juror, Andrea Benedict Starkey, chose 47 artworks representing 37 artists. Starkey also selected the winners of awards totaling $1,100.Participating artists include George Armstrong, Beautiful Kilometer, DJ Berard, Patricia Boone, Douglas Brand, Virginia Burroughs, Bruce Campbell, Anita Dawson, Amy Deal, Phillip Erbaugh, Winifred Fiedler, Douglas Fiely, Bill Franz, Doug Harlow, Don Henry, David E. Horton, Martin Hunter, Kelly Joslin, Richard Jurus, Mary Baker Koch, Sean Leavell, Craig Lloyd, Richard Malogorski, Tracy McElfresh, Kevin McNeeley, Kathy A. Moore, Carroll Schleppi, Donald A. Schuster, Patrick Sims, Andy Snow, Gina Stevenson, David Stichweh, Barb Weinert-McBee, Mary Beth Whitley, Don Williams, Ronald Wilson, and Margaret E. Wittmer.Hours for the exhibition are:
Monday – Thursday 9 a.m. – 9 p.m.
Friday 9 a.m. – 6 p.m.
Saturday 9 a.m. – 3 p.m.
Rosewood Gallery is sponsored by the City of Kettering Parks, Recreation and Cultural Arts Department, with support from the Kettering Arts Council and the Ohio Arts Council. The Gallery is located in the Rosewood Arts Centre, 2655 Olson Drive in Kettering. For more information, call (937) 296-0294 or visit our website: playkettering.org/gallery.
Image: Patrick Sims, Crossing North Fork, 2017, acrylic, 10 x 20 in.