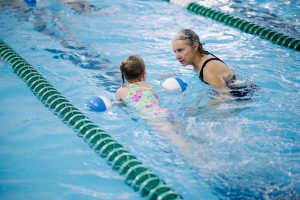 We offer Learn to Swim classes year round! The Kettering Parks, Recreation and Cultural Arts Department is proud to offer American Red Cross Swim programs for people of all ages and abilities. All classes are held at the Kettering Recreation Complex main pool.
The swimming and water safety program helps people of all ages enjoy the water safely and act effectively in an emergency situation.
Courses are fun, interactive and lead participants to incorporate swimming and water safety into their lives, whether they make swimming a part of a lifetime fitness plan, swim or dive competitively or even train to become Water Safety Instructors.
Parent and Child Aquatic Programs
Developed for children 6 months to 3 years, Parent and Child Aquatics helps young children get ready to swim by emphasizing fun in the water. Parents and children participate in several guided practice sessions that help kids learn elementary swimming skills, including water entry, bubble blowing, front kicking, back floating, underwater exploration and more.
Preschool Aquatic Programs
Children ages 4 and 5 learn water safety, survival skills and essential swimming concepts in a safe and fun environment. Skills are age-appropriate, allowing students to achieve success on a regular basis.
Learn to Swim Programs
The American Red Cross six-level Learn-to-Swim program is unlike anything offered by other learn to swim programs. The program is designed for children over 6 years all the way up to adults, and students progress through the levels at their own pace, mastering the skills in one level before advancing to the next. Each level of our Learn-to-Swim class includes training in basic water safety and helping others in an emergency, in addition to stroke development.
Level 1: Introduction to Water Skills
Level 2: Fundamental Aquatic Skills
Level 3: Stroke Development
Level 4: Stroke Improvement
Level 5: Stroke Refinement
Participants must receive a certificate of completion or approval from the Aquatics Instruction Coordinator before moving on to the next level. Each participant will receive an American Red Cross Achievement Booklet. Bring your booklet to class and your instructor will complete the skills check off pages for you!
Please be aware that sometimes it takes more than one set of lessons to master the skills required to move up to the next level. If you are unsure of which level to sign your child up for please email KetteringPRCA@ketteringoh.org and mention that you want to schedule a free swim test for your child.

The American Red Cross offers a free mobile app to help parents and caregivers of young people learning to swim. The app is designed as a companion to the Red Cross Learn-to-Swim lessons and preschool aquatics programs, and provides water safety information to adults and children. It is ideal for adults or children who want easy and accessible information on water safety and drowning prevention.
The app can be found at redcross.org/prepare/mobile-apps (click swim app) or downloaded directly from the Apple or Google Play app stores (search: swim American Red Cross).