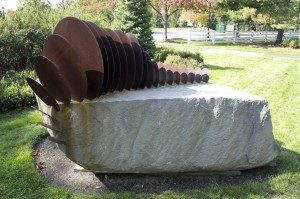 Erika Inger (Austria and Italy)
The Interior Animal, 2002
Indiana Limestone and Steel
Location: Polen Farm
Erika Inger's work The Interior Animal is a rough-cut block of stone, untouched from the quarry except for the graduating metal discs forming a backbone shape over the stone. The variation of sizes of the metal discs form a musical tone if fanned by hand.
Erika Inger was born in Tscherms and currently lives and works in Vienna and Lana, South Tyrol, Italy. She has studied art at the Academy of Bildenden Kunste Ravenna in Stuttgart, Austria. Her studies have included work in Africa, India and Italy. Erika has participated in international artists symposia since 1987 in Austria and Italy. Among her public artwork, Erika Inger has permanent work in Italy, Austria and South Korea.