Jes McMillan (Dayton, OH)
Bee Ambitious, 2019
Porcelain ceramic tiles, concrete
Location: Haverstick neighborhood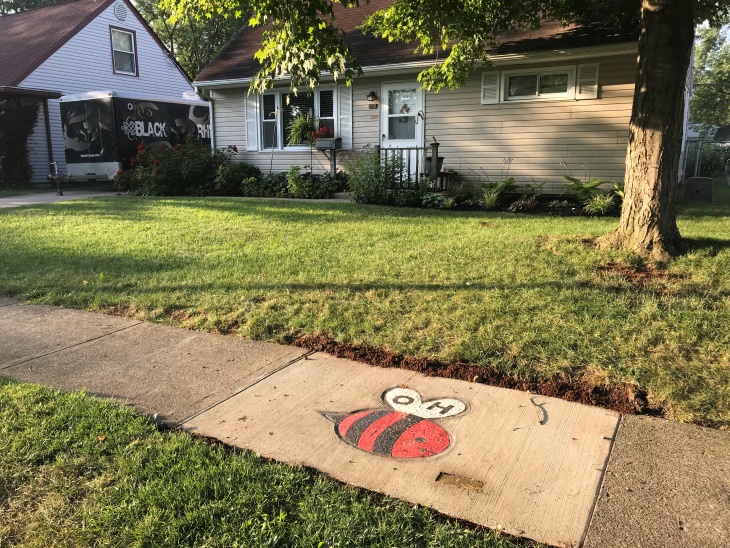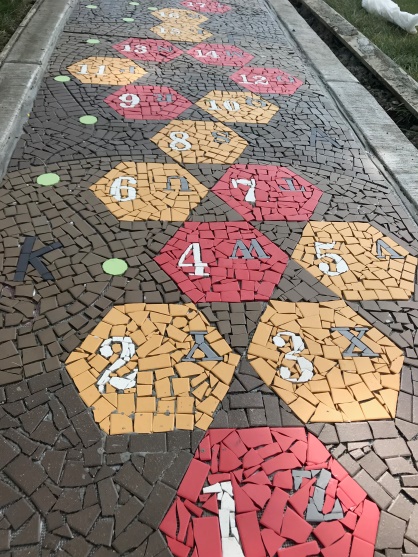 Jes McMillan, founder of the Mosaic Institute of Greater Dayton, created a series of permanent sidewalk games for the Haverstick neighborhood of Kettering. McMillan saw an opportunity to engage children in outdoor recreation through her art and address the lack of a public park within the neighborhood. Installed in the summer of 2019, the public artwork "Bee Ambitious" is a collaboration with Haverstick residents, students from Beavertown Elementary and Kettering Middle School, and Kettering families and artists.
For details on the mosaic locations and sidewalk games, including game directions and word scramble clues, visit www.playkettering.org/bee-games.
Acknowledgements
Support for this project is made possible by CitySites, the Community Foundation for Kettering and the Ohio Arts Council. ArtLocal is implemented in partnership with Cities of Service (COS).  Special thanks to the Haverstick artist committee; Kettering's Cities of Service team and the Art in Public Places committee. Our appreciation to the City of Kettering staff including Chad Ingle, Todd Livesay, Tom Luckett, the Parks, Recreation and Cultural Arts department, and Mayor Donald Patterson and the Kettering City Council.  We are also thankful to the greater community for helping this project happen, including David Zimmerman, Kim Haverstick, Rachael Foster, Amelia Petreman, Ileana Del Campo-Gray, and Haverstick residents Wil and Beverly Samson, Andrew and Megan Kraemer, Mike Hill, Carissa Hostetler, Judy Reitz, Ashley Alexander Morris, Stan Perry, Tamara and Christopher Ball, and Debbie Smith.