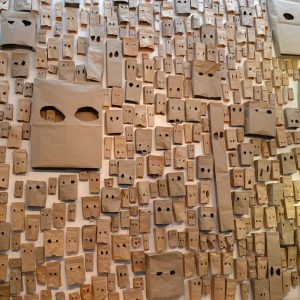 Nicholaus Arnold, No One Was Having a Very Good Time
July 17 – August 18
Reception: Thursday, July 20, 6-8pm
Both the receptions and exhibitions are free and open to the public.
Dayton artist Nicholaus Arnold's studio work, usually humorous and seemingly lackadaisical in nature, takes a more solemn turn in this exhibition titled No One Was Having a Very Good Time. This series of found object and hand crafted works is the culmination of Arnold's response to several months spent caring for, and ultimately saying goodbye to, his elderly grandfather. "The objects together summarize the experiences and confusion of what I was going through during the care of my grandpa, and lend a sense of approachability to the situation," Arnold says of this series. "The works themselves are created with a sense of analysis and depress emotions to allow the viewer to interpret the complicated nature of a death of a close family member."
Arnold, who has exhibited his artwork extensively in Dayton and the surrounding areas as well as nation-wide, holds a Master of Fine Arts degree in printmaking  from Syracuse University, a Bachelor of Fine Arts degree, also in printmaking from Wright State University, and an Associate of Arts degree in fine art photography from Sinclair Community College. He currently serves as Adjunct Instructor of Printmaking and Photography at the University of Dayton and is a founder of Blue House Gallery and Studios in Dayton.