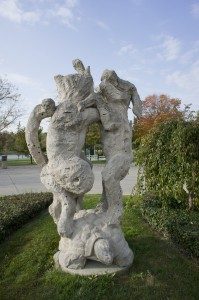 Dale Johnson
Whack, Whack, Paddy Whack, 2002
Indiana Limestone
Location: Kettering Recreation Complex
Dale Johnson's "Whack, Whack, Paddy Whack ," was created as a part of 2002's Kettering Rocks! stone sculpture symposium. Assisted  by Jack Oliver, this playful ten-foot structure depicts the tension between a cat, a dog and a child, all standing on a turtle's back.
Dale Johnson lives and works in Columbus, Ohio, and oversees the stone shop Old World Stone Carving. He received a Bachelor of Fine Arts Degree at the California College of Arts and Crafts. He has also studied arts at the University of California in Berkeley, Pilchuck Glass School in Washington State and the University of Minnesota. Johnson has been commissioned to complete work in stone for the Thurber House in Columbus, Dublin/Coffman High School in Dublin, Sullivan/Bruck Architects in Columbus, the Cities of Dublin and Columbus. His work can also be seen in New York City, Las Vegas, Cleveland, Cincinnati, Indianapolis and Hanover, Indiana.