Rosewood Gallery presents Juan-Si Gonzalez, Displacement: Collective Practice to Recover Memory (in conjunction with FotoFocus Biennial 2018)
On view: October 15 – November 16
Opening reception: Thursday, October 18, 2018, 6-8pm
Gallery Tour and Conversation with the artist: Wednesday, November 7 at 7pm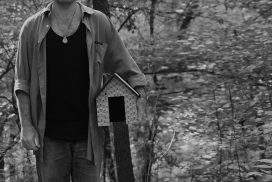 Rosewood Gallery in Kettering, Ohio is pleased to announce the exhibition Displacement: Collective Practice to Recover Memory, an installation of photography-based art by Juan-Sí González. The exhibition runs from October 15 through November 16, 2018 with an opening reception on Thursday, October 18 from 6 – 8pm. Both the reception and exhibition are free and open to the public. Support for this FotoFocus Biennial 2018 exhibition was provided by FotoFocus. Additional support was provided by the City of Kettering Parks, Recreation & Cultural Arts Department and the Ohio Arts Council.
Displacement: Collective Practice to Recover Memory is a site-specific multimedia installation created in collaboration with Rosewood Arts Centre, The City of Kettering and local residents. This collaboration was a process of research and a collective practice in reviewing together our visual memory using individual and family photographs and the historical archives of the cities of Kettering and Dayton.
In his artist statement, González wrote, "The condition of massive global migrations has changed our mental landscape and the ideas we have about place. These dislocations, as much mental and physical as geographic, have transformed ways of life in both places of origin and in the new places of migratory settlement. In this installation, the idea of territoriality or lack thereof, of belonging or not, does not allude to a particular culture, but to the symbolic spaces of common reference of disparate cultures. This installation will explore through the use of personal and collective archives the histories that today condition and shape the territory of Kettering and the greater Dayton area."
Juan Si González was born in Santiago de Cuba. He is an interdisciplinary artist. In 1987, he co-founded "Group Art-De" (standing for art and rights) and began doing interactive performances in the streets of Habana and underground videos to talk about social issues in Cuba. When he immigrated to Miami in 1993, he began building site-specific mixed media installations and working in large-scale photographic series. He has lived in Ohio since 2003, during which time he has been awarded three Ohio Arts Council Individual Excellence Artist Fellowships.

FotoFocus Biennial 2018 spans over 80 museums, galleries, and universities across Greater Cincinnati, Northern Kentucky, Columbus, and Dayton, Ohio; and features over 250 artists, curators, and educators. Each Biennial is structured around a unifying theme; for 2018 that theme is Open Archive. Open Archive emphasizes the centrality of photography and lens-based art to modernism, and it examines our fundamental need to preserve photographs and to tell stories through their collection, organization and interpretation.