10 a.m. – LIVE Raku Firing
Witness the fiery excitement of a live Raku firing! Rosewood instructor Shelly Burden leads this alternative firing process that produces unique and lustrous finishes to ceramic pieces.
12 p.m. Excursions with WYSO's Niki Dakota
Featuring the music of Amber Hargett and Charlie & Amanda Jackson
1:30 p.m. – Kaleidoscope Art Projects with Brooke – Coffee Filter Butterflies
Light up your windows at home with some colorful pollinators. Join Brooke in creating some whimsical and colorful butterfly friends.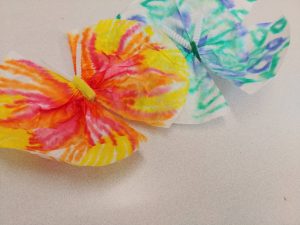 3 p.m. demo – Leonard Williams, Watercolor
Watch watercolor instructor, Leonard Williams shows off his amazing techniques involving landscapes, and specifically water.