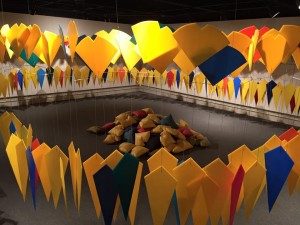 September 21 – October 16
Reception: September 20, 2 – 4pm
Sculptor and architect Terry Welker, who lives and works in Kettering, exhibits an experiential installation of kinetic and interactive sculpture entitled The Consent.
Artist Statement:
Making mobiles comes from my passion for architecture, poetic space and meaningful places. Building on the tradition of Alexander Calder, I work to understand and extend the language of mobiles by animating form, space and surface with motion.
Working with abstractions, without the constraints of literal interpretation, many of my forms come from my memory of a shape rather than direct adaptation. I also see the process of creation as an intentional act of making that comes from experimentation, trial and error letting form come from the nature of materials and tools. Seeking simplicity and elegant strength in every composition, I use curves, arcs and lines as a continuous sub-theme as if to draw in three dimensions.
The unique character of mobiles reveals the inherent challenge of gravity and the mystery of delicate balance. By pushing the limits of form and space with these forces I work to orchestrate "near misses" and "soft collisions." The unpredictable and accidental nature of these movements allows the observer to move beyond simple viewing and become unconsciously engaged in the enjoyable act of watching.
Artist Interview:
What is unique about your process and how does this define your practice?
Making kinetic art depends on gravity and dynamic forces. Mathematically predictable but impractical from a creative standpoint, so I do very little drawing and simply model in three dimensions as quickly as possible. It's a lot more efficient to use my intuition with a trial & error process. Drawing is used as a recording process.
Experimentation is also a cornerstone of my work. I'm always surveying for new materials, tools and processes. These eventually work their way into new works and new series.
Lastly, I'm an architect so my passion for placemaking is central to my thesis.
What influences your work or your creative process?
I'm intrigued with memory, archetypal forms, symbols and dreams. I also consider myself a formalist infatuated with color but this stems from my memory of form and color more than direct adaptation.  I try to be an astute observer of nature as an essential origin of form and color so I can recall them as potential quasi-symbols. In the end my aim is to create work and places that enable people to "get lost" in their observation, daydream and "be in the moment of staring" or evoke a memory.
I have to admit that I'm more influenced by things outside of the art world than inside it. Family, friends, music, poetry, pop culture and especially the natural world.  Ideas don't usually come from staring at or commenting on art but from things outside of it.
What lessons have you learned from other artists?
Anyone making a mobile owes a debt to Alexander Calder. While there are plenty of books on Calder and museums with his work there is little about his process and techniques of construction so that must be learned the hard way: observation. I appreciate that his work bridges from figurative, fun toys to large abstract public art. 
These are personal preferences but I study the color and forms of a number of 20th Century painters and sculptors: Joseph Albers, Klimt, Donald Judd, John Chamberlain, Richard Serra, George Rickey, Harry Bertoia, Louise Nevelson, Alberto Giocometti, Franz Kline, Henry Moore, Brancusi to name a few but I'm also drawn to more contemporary sculpture of artists like Sarah Sze. Architecturally, I still study architects such as Kahn, Corbusier, McIntosh, Gaudi, Scarpa and Aalto.