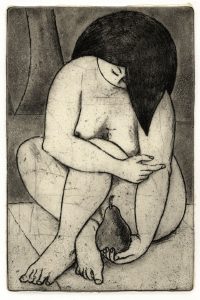 January 16 – February 24
Reception: Thursday, January 19, 6 – 8 pm.
Works on Paper is a juried exhibition for artists living within a 40-mile radius of Dayton, Ohio.
This year, 91 artists from Dayton and the surrounding areas submitted 237 pieces, from which the juror, Elizabeth Carney, Assistant Curator at the Akron Art Museum, chose 40 artworks, representing 35 artists.
Carney wrote, "Paper is a varied and beautiful material with a long history. The artworks in this year's 'Works on Paper' exhibition each communicate an intentional and studied approach to not only image-making, but also object-making. We think of paper as two-dimensional, but it in fact has depth and texture, no matter how fine. The selected artists make use of the nuances of their papers of choice, having crafting cohesive artworks with unique voices."
Carney also selected the winners of the United Art and Education Awards, totaling $1,100. Award winners are:
First Place: John Hankiewicz, Fruit 1
Second Place: Michele BonDurant, Exposed to Loneliness
Third Place: Doug McLarty, Dragon
Honorable Mentions: Sean Wilkinson, Library #13; Molly Christian, Pouty Girl
Participating artists include Amy Kollar Anderson, Pat Antonick, Michele BonDurant, Matthew R. Burgy, Bruce Campbell, Molly Christian, Joseph Chunko, Dan Cleary, Mary F. Clifford, Clara Coleman, Dorothea A. Crowley, Douglas R. Fiely, Ron Geibert, Kyleen Greene, John Hankiewicz, Dan Hayes, Katie Heine, Kelly Joslin, Sydney Joslin-Knapp, Tim Langenderfer, Doug McLarty, Betty Murray, Jaime Pacheco, Daniel Powers, Heather Lea Reid, Pat Robinow, Billy Simms, Erin Smith-Glenn, Andrea Starkey, Edward Steffanni, Doug Taylor, Stephanie Tyson, Mary Beth Whitley, Sean Wilkinson, and Margaret E. Wittmer.