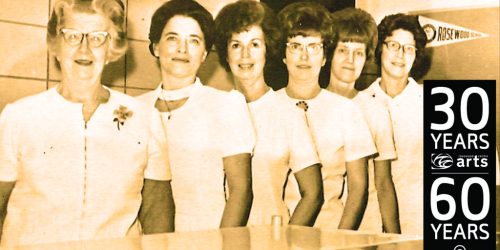 Suburbanscapes Kick-off and Rosewood's Birthday Party!
Thursday, May 7, 5:30 – 7:30 pm  |  Rosewood Arts Centre
5:45 – 6 pm |  Introduction and Remarks
Welcome by Mary Beth Thaman, Director of Parks, Recreation and Cultural Arts
Remarks by Mayor Don Patterson, City of Kettering
Remarks by Richard Dilgard, Rosewood Elementary Principal, 1963 – 1983
6:15  pm   | Rosewood Arts Centre Tours and Meet and Greet with Principal Dilgard
7 pm  |  Powered by Pecha Kucha Presentations
Presented in partnership with AIA Dayton
Matt Sauer: Common Traits of Mid-Century Architecture
Patrick Hillier: Architecture and Design: In the Kettering, World and Our Imaginations during the Mid Century
Ron Hundt: The Legend of RE – How Two Local Institutions Came of Age at 60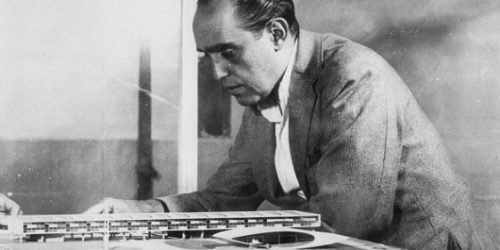 Oscar Niemeyer: A Vida É Um Sopro (2010)
Film Screening in Partnership with AIA Dayton
Wednesday, May 20, 7:30 pm  |  Rosewood Arts Centre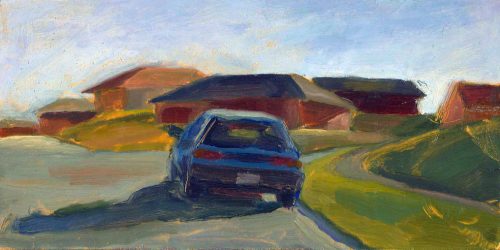 Suburbia Plein Air Painting Class with Penny Park
Saturday and Sunday, June 27 and 28 |  Southdale Park
Penny Park, MFA, Associate Professor of Painting and Drawing at Wright State University, will lead a special workshop on June 27 and 28. Using oil, acrylic or watercolor paints, participants will explore the colors, forms, lighting and architecture of a picturesque post-WW II Kettering neighborhood. This unique opportunity offers participants the chance to sharpen their observational painting skills as well as learn about the history, development and mid-century modern design of the selected suburbanscape.
Image: Penny Park, "Huber Homes and Honda," oil on panel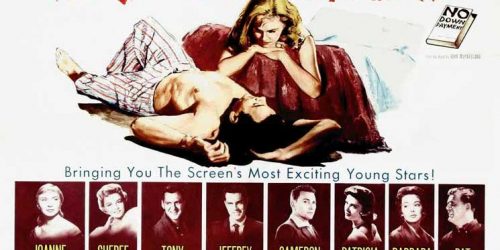 Film Screening and Conversation: No Down Payment (1957)
Thursday, July 23, 6 – 9 pm  |  Porter Residence, Kettering
Martin Ritt's 1957 film is an unflinching dramatization of the new suburban life in which many World War II veterans and their wives search for meaning. In the midst of financial strain, substance abuse, racism, and unfulfilled dreams, these individuals try to find themselves; all within the new idyllic American suburbia. Starring Joanne Woodward, Sheree North, Tony Randall, Jeffrey Hunter and Cameron Mitchell. Directed by Martin Ritt. The film screening was moderated by Abigail Sorensen, Masters of Humanities Candidate, Wright State University, with panelists Julianne Weinzimmer, Associate Professor of Sociology, Wright State University, and Andrew Strombeck, Associate Professor of English, Wright State University.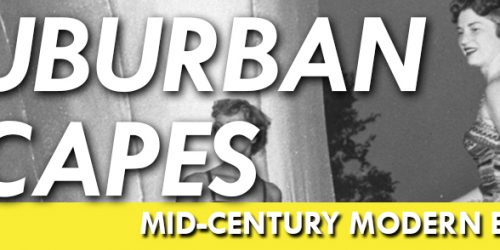 Suburbanscapes and Mid Century Modern Expo
Saturday, September 12, 12 – 5 pm  |  Rosewood Arts Centre
Do you live in a house built between the 1940s and 1970s or just love mid-century modern? Suburbanscapes celebrates the art, architecture and design following World War II in Kettering and beyond! Featuring dynamic speakers, interactive activities, and expertise from a wide-range of artists, architects, historians, and enthusiasts, this one-day event celebrates everything from the ranch home to the Eames chair to the hula hoop.
SCHEDULE
12 – 1 pm  |  OHIO MODERN
Barbara Powers of Ohio History Connection will uncover Ohio's recent architectural past (think Mad Men era) with a particular focus on the Dayton region!

What you'll learn
*architectural styles from the 1940s – 1970s
*trends in materials
*notable mid-century modern Ohio buildings
1 – 2:30 pm  |  MID CENTURY MODERN CLINIC
Like Antiques Roadshow, bring your mid-century modern furniture and photographs of your house to learn more about it from a MCM expert and enthusiast! Our guests include Terry Fox of Atomic Fox Mid-Century Modern Antiques and Teri Lussier of The Home Group Realty Co!  Please note that guest specialists will not make formal appraisals.
What you'll learn
*details about your property or object
*best care for your property or object
*resources for continuing to understand your property or object
1 – 2 pm  |  ARCHITECTURAL PHOTOGRAPHY
What makes a great architectural photograph? Learn the process and techniques that go into photographing buildings from acclaimed photographer Ken Schory as he presents Making the Invisible Visible.
What you'll learn
*photography techniques
*photography and artistic process
*architectural representation through a camera lens
2:30 – 4 pm  |  IAN STRANGE, KEYNOTE SPEAKER
Australian artist Ian Strange investigates the home as a social and psychological construct, including with his series "Suburban." Strange's installations/interventions have been exhibited internationally including at the the National Gallery of Victoria, Australia and Katowice, Poland.

What you'll learn
*the artistic process of large-scale interventions using existing architecture
*creating public artworks
*working with and within a community
*international perspective on suburbia
4 – 5 pm  |  POWERED BY PECHAKUCHA
Join us in a round of Powered by PechaKucha talks where the presentations are lively and on a variety of incredible MCM topics! "Powered by PechaKucha" events are one-off events that are separate from regular city-based PechaKucha Nights, and are usually held as part of festivals and conferences, but can also act as standalone events. These events include presentations that use the PechaKucha 20 images x 20 seconds format. Find out more at PechaKucha.org.
Presenters  
*Terry Welker, AIA Dayton: Mid-Century Kettering (or "Attack of the 50 Foot Woman")
*Andrew Strombeck, Wright State University: Popular Culture of the 1940s – 1970s
*Paul Muller, AIA Cincinnati: Modernism and the Rauh House
*Christina Pereyma, artist: The Hobart Houses of Troy
*Alex Heckman, Dayton History: WWII on the Home front in Southwest Ohio
*Janet Bednarek, University of Dayton: Sprawl and the American Dream (?)
What you'll learn
*both general and in-depth presentations on MCM and suburbia
*visual representations of the MCM era
*stories from people in our community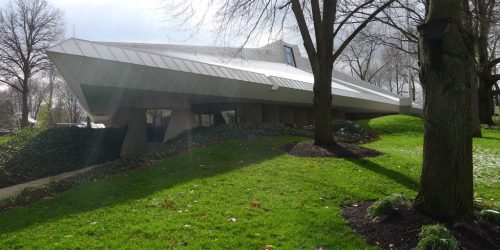 Kettering Mid-Century Modern Architecture Tours
Thursday, June 25, 6 – 8 pm
Sunday, August 23, 11 am – 1 pm
Saturday, September 26, 11 am – 1 pm
Learn about the development of a suburb as we tour Kettering from north to south, east to west.  Led by Terry Welker, Chief Building Inspector of the City of Kettering, artist, architect and community advocate, participants gained a new perspective on our post-WWII built environment!
Dayton Regional STEM School Architecture Exhibition
June – September |  Rosewood Theatre
An exhibition of artwork and designs created by Dayton Regional STEM School Introduction to Architecture students, under the guidance of Integrated Arts Instructor Jenny Montgomery, featured work created during the Spring 2015 semester through a partnership with Rosewood Arts Centre and the City of Kettering.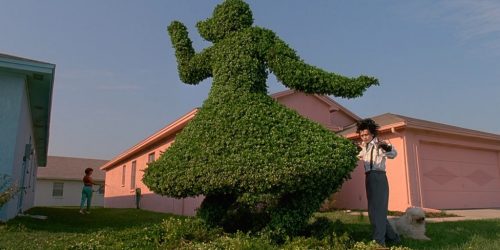 Film Screening and Conversation: Edward Scissorhands (1990)
105 minutes*
Thursday, October 22, 6 – 9 pm
Tim Burton's popular 1990 film, Edward Scissorhands, tells the storybook tale of a young man suddenly flung into a whole new world of pastel houses and pristinely manicured lawns. While he attempts to find his place within this new, confusing environment, we realize that this suburban haven is not welcoming to everyone and perhaps his gothic castle wasn't the frightening place we thought it was after all.
With a focus on suburban life and architecture, this program was moderated by Abigail Sorensen, Masters of Humanities Candidate, Wright State University and include speakers Nicole Richter, PhD, Associate Professor of Motion Pictures, Wright State University, and Ben Jacks, Associate Professor of Architecture at Miami University.
Snapshots of Kettering: Selections from the Kettering-Moraine Museum Collection at Dayton History Exhibition
May – September 2015  |  Rosewood Spotlight Gallery
Once known as Van Buren Township, Kettering became a village in 1952 and finally a city in 1955. The Kettering-Moraine Museum and Historical Society, a volunteer organization dedicated to preserving the history of Kettering and Moraine, operated for over four decades and collected thousands of photographs, memorabilia, documents, paintings and more, and have since been incorporated into the Dayton History archives.   The images and items exhibited here include documentation of life at the cusp of this change, including the demolition and reimagining of buildings and roadways and the development of plats, or cities within cities, a new strategy to accommodate the huge population growth of the baby boom era.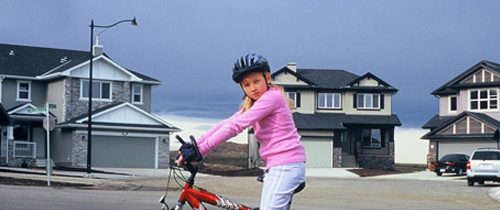 Film Screening and Conversation: Radiant City (2006), 85 minutes*
Wednesday, November 18, 6 – 9 pm
Indie filmmakers Jim Brown and Gary Burns show us the personal and public consequences of suburban sprawl on one Canadian family. This 2006 film presents the past, present, and future of new suburban developments with irony, wit, and dark humor. Why would you want to live anywhere else?
The film screening will be moderated by Abigail Sorensen, Masters of Humanities Candidate, Wright State University, with panelists Patrick Donnelly, Professor of Sociology, University of Dayton, and Sergio Sanabria, Associate Professor of Architecture, Miami University.
Suburbanscapes Closing Reception
Saturday, December 5, 11 am– 3 pm
This year's A Rosewood Holiday Arts Festival will include the closing reception for our yearlong program series, Suburbanscapes: Art Beyond the Metropolis. We'll debut a very special commemorative film, recognize our wonderful founders and celebrate, 1985-style!