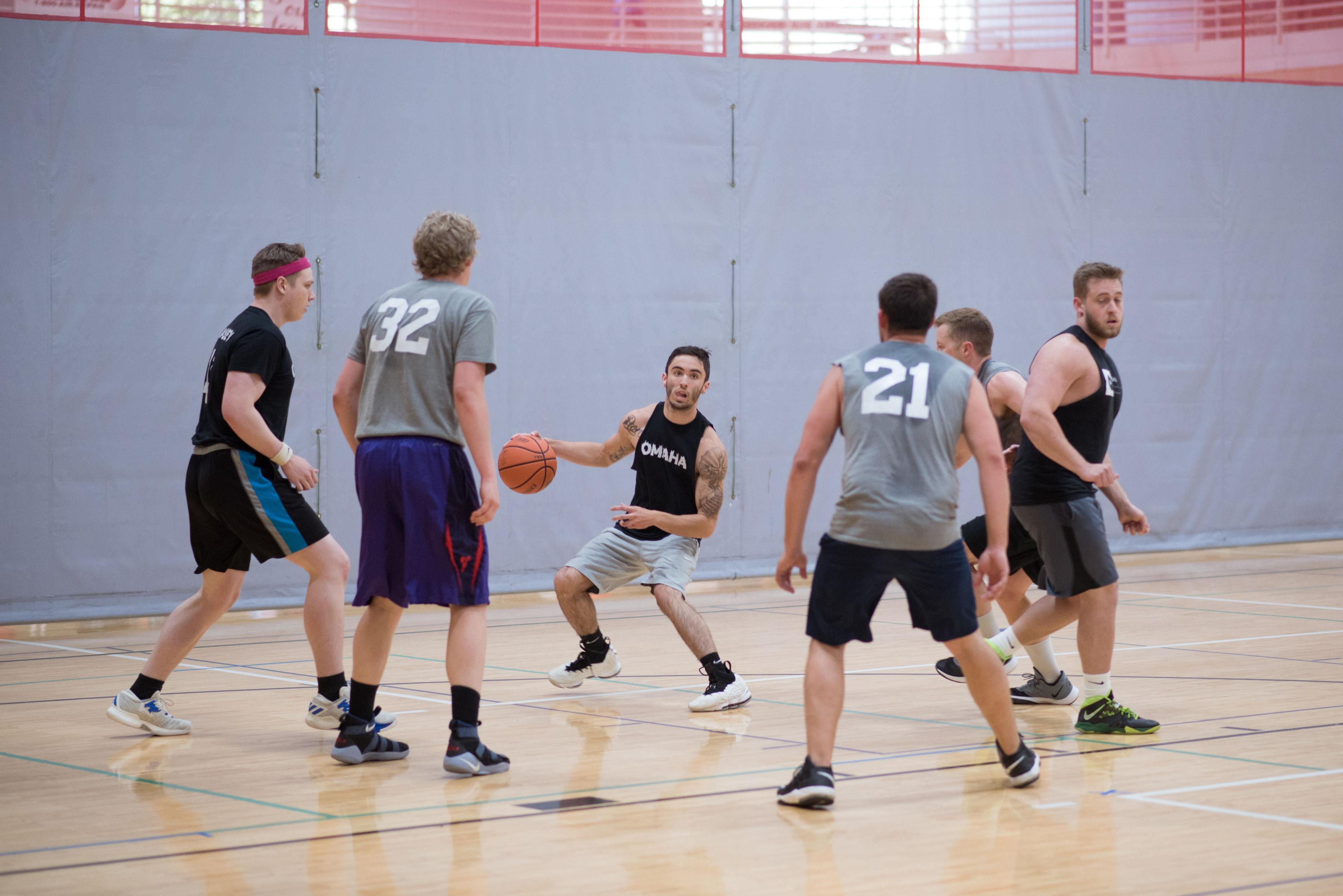 We talk a lot about the benefits of team sports for kids, but staying active and participating in a leisure activity with friends is just as important for adults. According to research by the Harvard University School of Public Health, adult sports leagues can reduce the risk of heart disease, high blood pressure, certain cancers and stroke. They may also help to reduce stress, boost self-confidence and can improve cognitive function.
The main reason adults don't participate in sports is a lack of time (no surprise there), lack of fitness and lack of interest. As adult priorities and schedules take over, many people simply don't consider participating in sports beyond high-school or college age. But with so many physical, mental and emotional benefits, it's time to put sports back on your radar.
John Beyer's Beyer Plumbing basketball team has played in the Kettering Recreation Complex league for around fourteen years. "Playing sports with friends is something I've done since I was a child. We would get together after school and play basketball, baseball or football at somebody's house," Beyer explained. "An adult rec league was just the natural progression as we have aged. We still love the physical activity and competition."
Andrew Hall and his friends on team Carpet House enjoy playing basketball and softball together, he said. "We decided to form a basketball team because it is a great way to spend time with each other as we progress in our lives. We played softball together, but enjoyed being able to play basketball year round."
Both teams cite the bond they've formed with their teammates as one of the most important aspects of the experience. "I enjoy the competition, the physical activity, and the camaraderie with my teammates. Most of us have families that keep us busy, so basketball night is our one night that we kind of have to ourselves. We go out after our games for food, drinks and to watch sports. As we have gotten older, the after-game experience has become what it's all about," Beyer said.
"We really enjoy the bond that we have formed during our time absolutely dominating the competition. Our friendship off the court is reflected in our stellar play on the court," Hall said. "Our favorite memory is winning back to back titles! Our team played for years without winning a title. However, we prevailed and lifted the trophy together! And then did it again."
So, why play at the KRC? "A lot of us are from Kettering originally. However, if you look, it is the best quality and organized league in the area," Hall said. "[PRCA staff does] a great job at communicating and making it an enjoyable experience."
Adult sports leagues are one of the best ways out there to stay physically active while having fun, keeping up your social life and taking time to PLAY! Don't let these needs fall by the wayside – taking care of yourself is paramount, and if you have kids, playing sports sets a good example of sportsmanship and staying fit.
"I've always played sports with friends, either on school teams or organized by ourselves. It has done many great things for me over the years," Beyer explained. "It's kept me physically active and I've built great relationships. And when I am having a stressful day or week, Thursday night rolls around, and I can forget about the stresses in life for a while. It's good therapy."
The Kettering Recreation Complex offers Adult Basketball for Recreational, Mid-Competitive and Competitive teams. Softball and Volleyball are also offered at various times throughout the year. Learn more about adult sports leagues in Kettering.