Jes McMillan (Dayton, OH)
Bee Ambitious, 2019
Concrete & porcelain
11 Locations in the Haverstick Neighborhood
Discover a neighborhood through sidewalk games with the public artwork Bee Ambitious!
Placed in 11 locations around the Haverstick neighborhood, Bee Ambitious includes a broken beehive represented in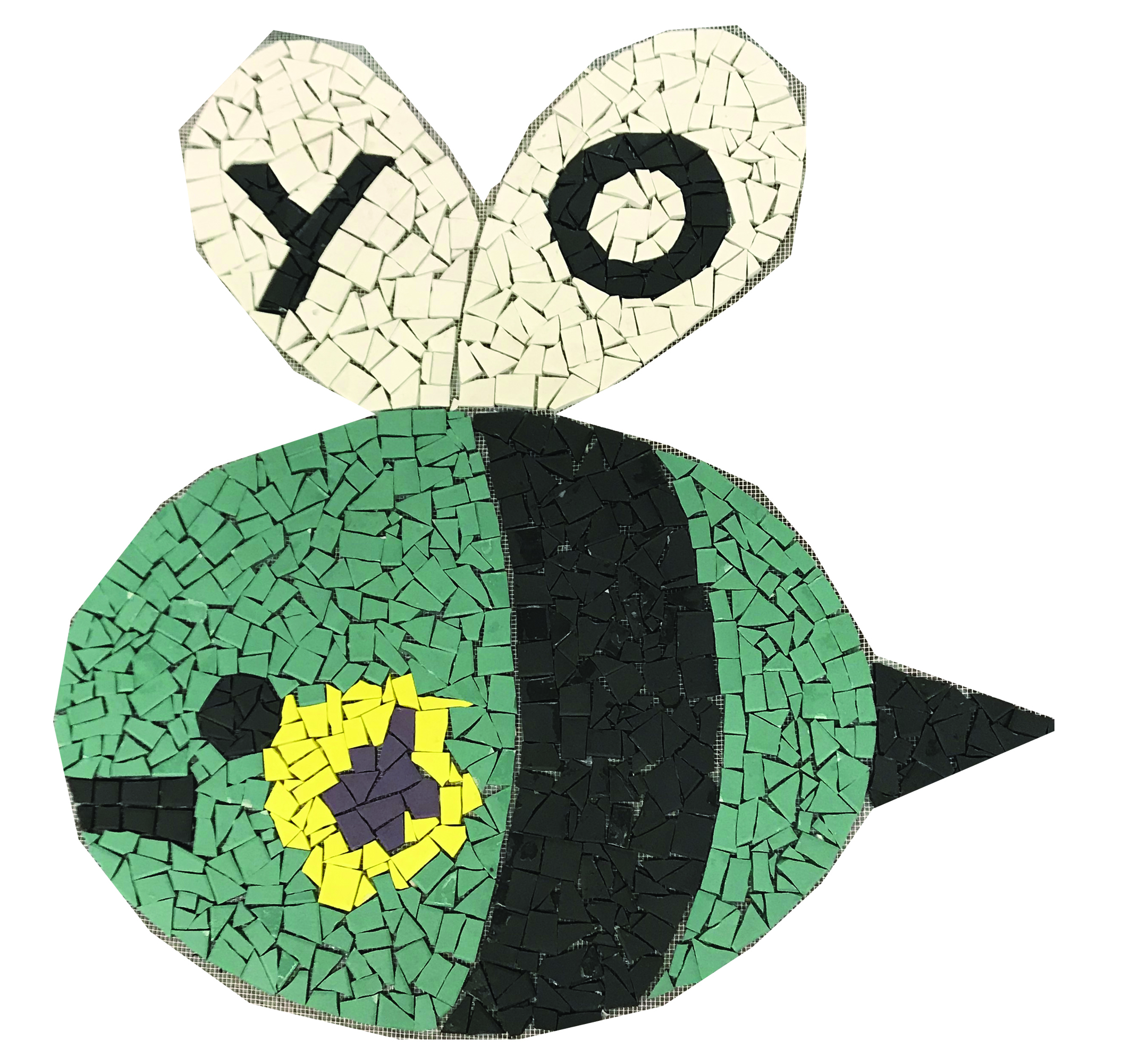 a 29-foot mosaic on Mendota Court, and 10 mosaic bees scattered along Tabor Avenue, Reardon Drive, Colton Drive, Gay Drive, Wilmington Pike, and Forrer Boulevard.
The bees hold clues to a word scramble, with two to three letters found in their wings, and several more letters in the game board. In total, there are nine games that can be played in the artwork!

Below are directions for the sidewalk games, as well as a clue to the word scramble! The games are located primarily in the bee hive on Mendota Court:
Word scramble
Hopscotch by numbers
Hopscotch by letters
Advanced hopscotch
Long jump
Baby bee hop
Tic tac toe
Checkers
Hidden hearts
Word Scramble
Bee Ambitious was inspired by the aviation heritage of this neighborhood, which is located next to the former Gentile Air Force Station, a part of the US Air Force!  Letters for the word scramble are in the wings of each of the 10 bees located around the neighborhood, as well as in the beehive on Mendota Court.
L ___  ___      y  ___  ___  ___        h  ___  ___  ___  ___      a  ___  ___
d  ___  ___  ___  ___  ___      t  ___  ___  ___       f  ___  ___  ___  ___  ___!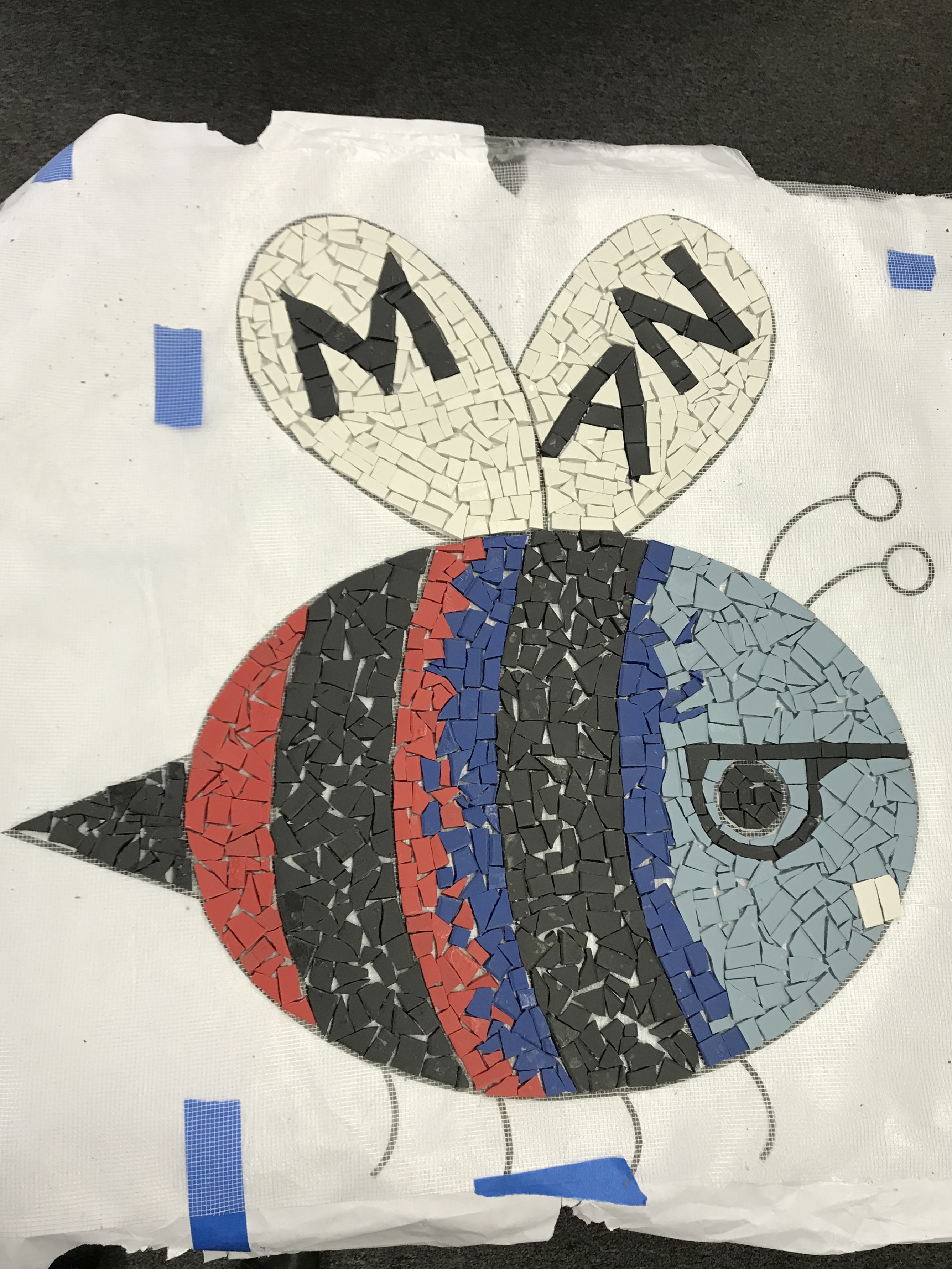 Hopscotch by numbers
You can play solo or with friends!  Grab an item that marks your spot, like a stone or bottle cap. Put your marker on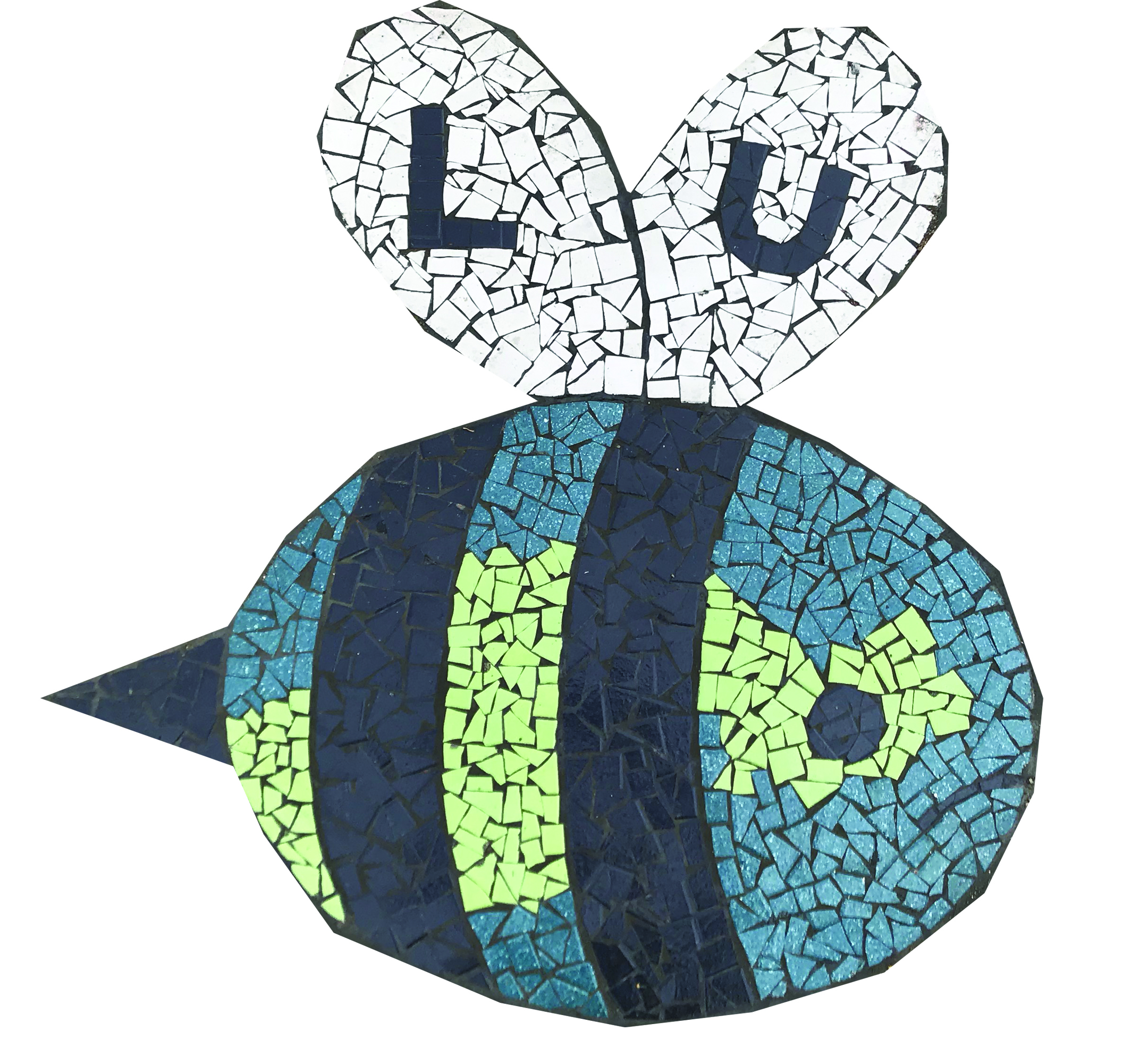 the first hexagon with the number 1, and hop over to the other hexagons with numbers, hopping through these all the way up to 26!  All hopping is done on one foot, unless there are two hexagons side by side, but you have to land both feet on the two hexagons at the same time!  If you step on a line, you lose your turn.  Return from 26 back to 2, pick up your marker, and hop over the 1 hexagon back to the starting point. Move your marker to the hexagon with the number 2, repeating the process as you did before, this time hopping over the 2 hexagon!
Hopscotch by letters
Follow the directions listed under Hopscotch by numbers, but instead follow the letters on the hexagon board - Start on the letter A, and follow the gray letters!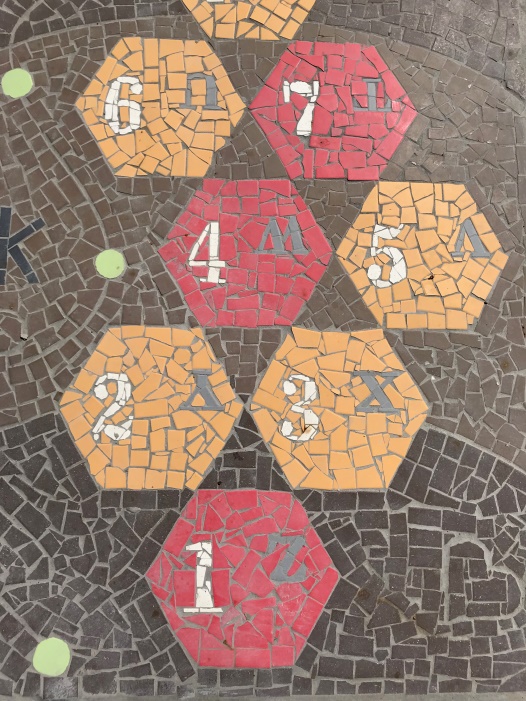 Advanced hopscotch
Follow the directions listed under Hopscotch by numbers, but instead follow the gray letters and the white numbers ONLY on the red hexagons! ALL hopping for advanced hopscotch is done one one foot only.
Long jump
Standing at either end of the beehive, decide which foot you will take off with – you will want to land on the opposite foot!  Use the top or bottom of the beehive mosaic as your start line – you do not want to cross this line when you make your jump! Jump as far as you can, and mark your landing spot along with the closest black lines located along the south side of the beehive. Whoever jumps to the furthest black line from the starting point wins!
Baby bee hop
Hop along the green dots that swirl around the beehive, and find your way up to the baby bee! The baby bee hop is done on one foot only.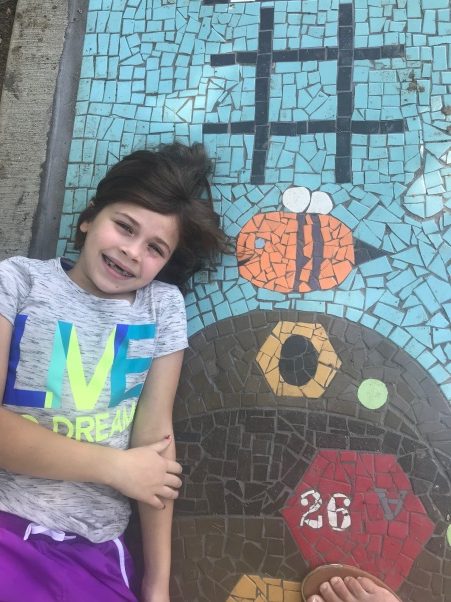 Tic tac toe
Find a friend, and the challenge of tic tac toe is on!  Find a set of 10 tokens, like 5 stones and 5 bottle caps, to represent you and your friend's game pieces. The first player will place their representative token on the board, alternating with the second player's representative token placement, until either one player has three in a row, horizontally, vertically, or diagonally; or all nine squares are filled. If a player is able to draw three of their Xs or three of their Os in a row, then that player wins.
Checkers
Find a friend, and challenge them to a game of checkers!  Find a set of 24 tokens, like 12 stones and 12 bottle caps,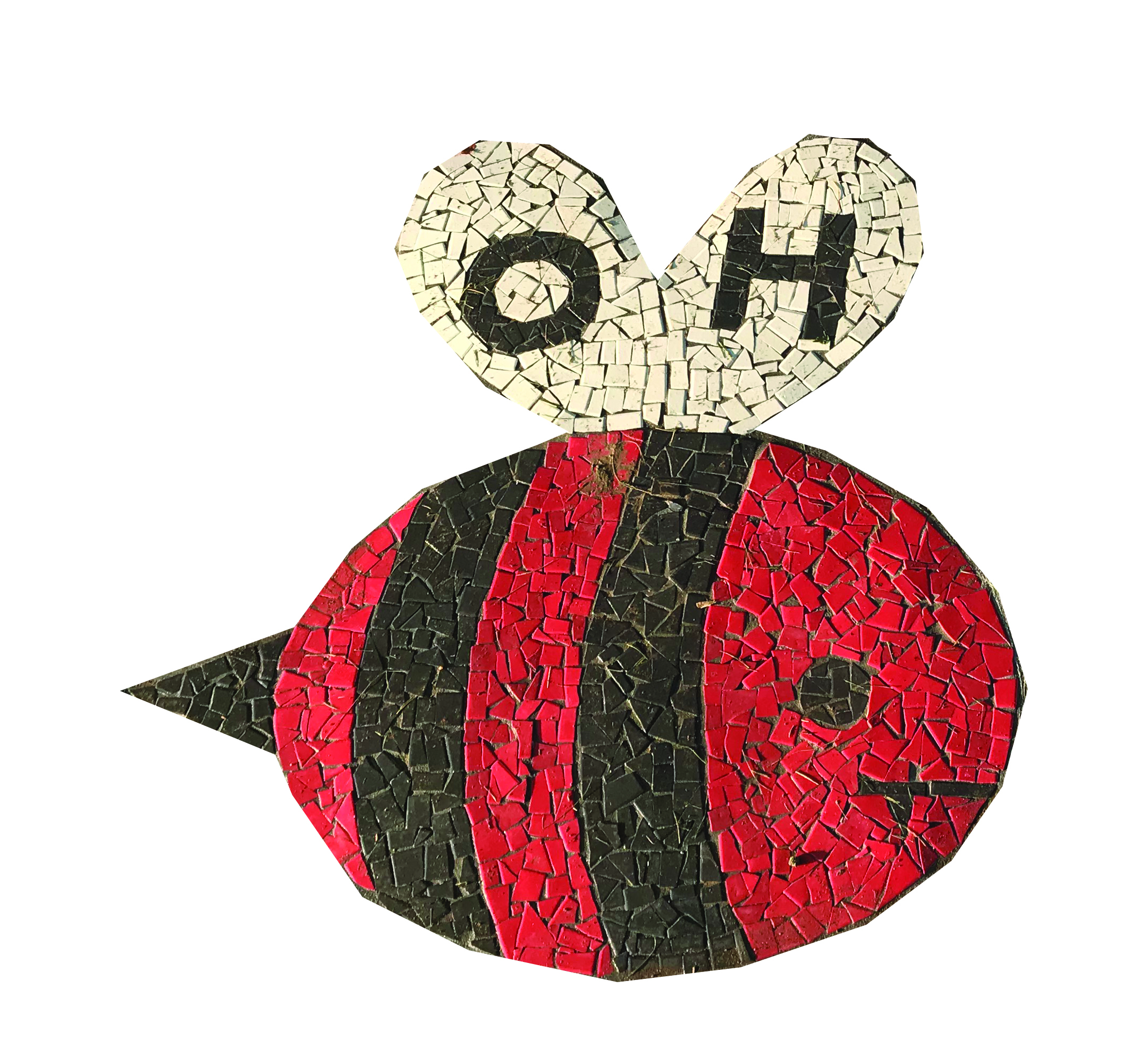 to represent you and your friend's game pieces.  Place the tokens on every other black square on one side, and every other white square on the other side, staggering them over three rows. Each player takes their turn by moving their token, which can be moved diagonally either in a forward direction towards the other player to the next black or white square, respectively. If your token ends up next to your friends token, with an empty space on the other side, you must jump your token across theirs to the empty space, and remove their token from the board.  Multiple jumps are allowed if they are lined up in a forward direction. The game is won when one of the players is out of tokens or can't move, even if they still have tokens on the board!
Hidden hearts
Find all ten hidden hearts embedded in the beehive!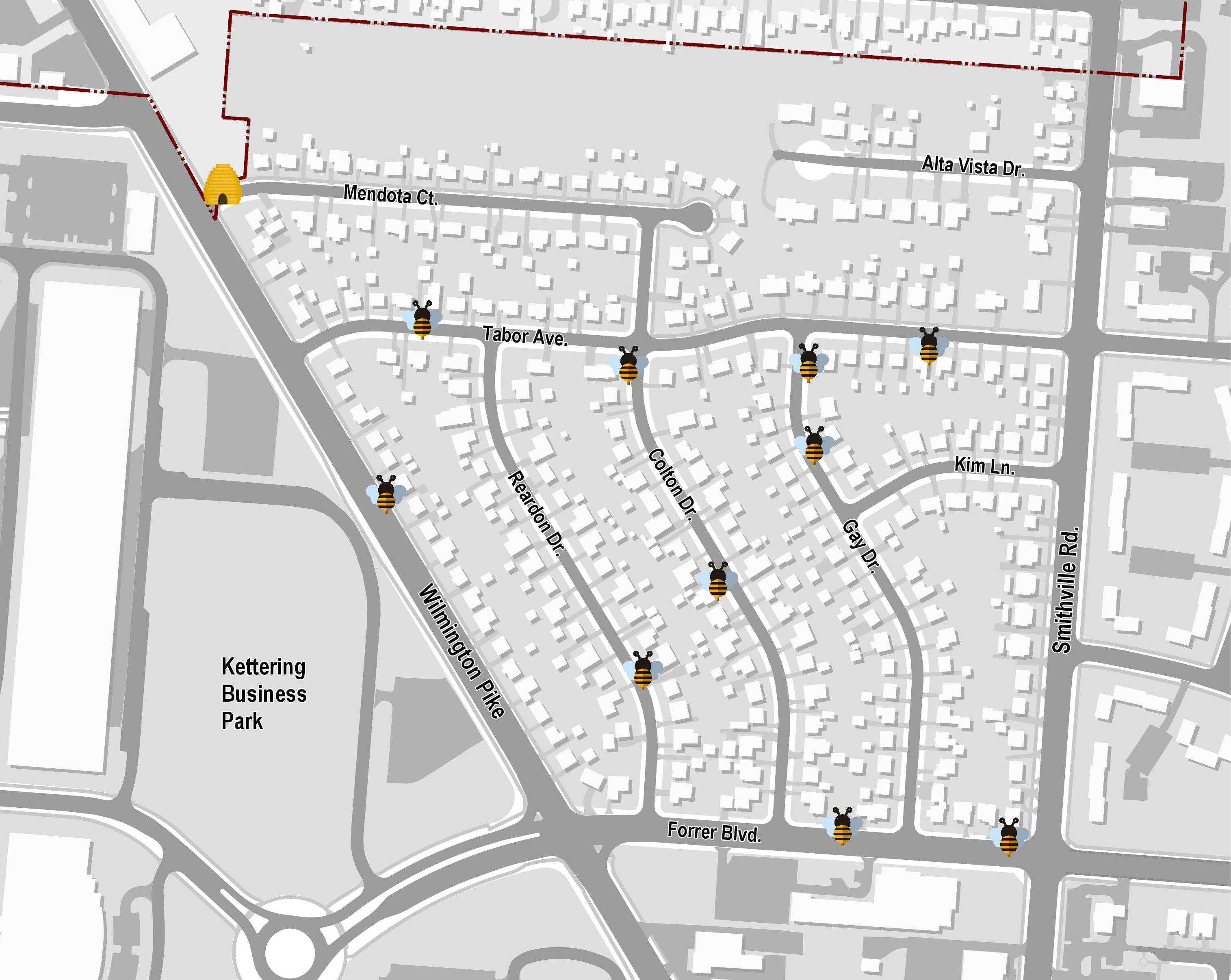 The artwork was dedicated on Saturday, September 21, 2019. To view the full photo album from this event, visit our Facebook page. Photos by Knack Creative.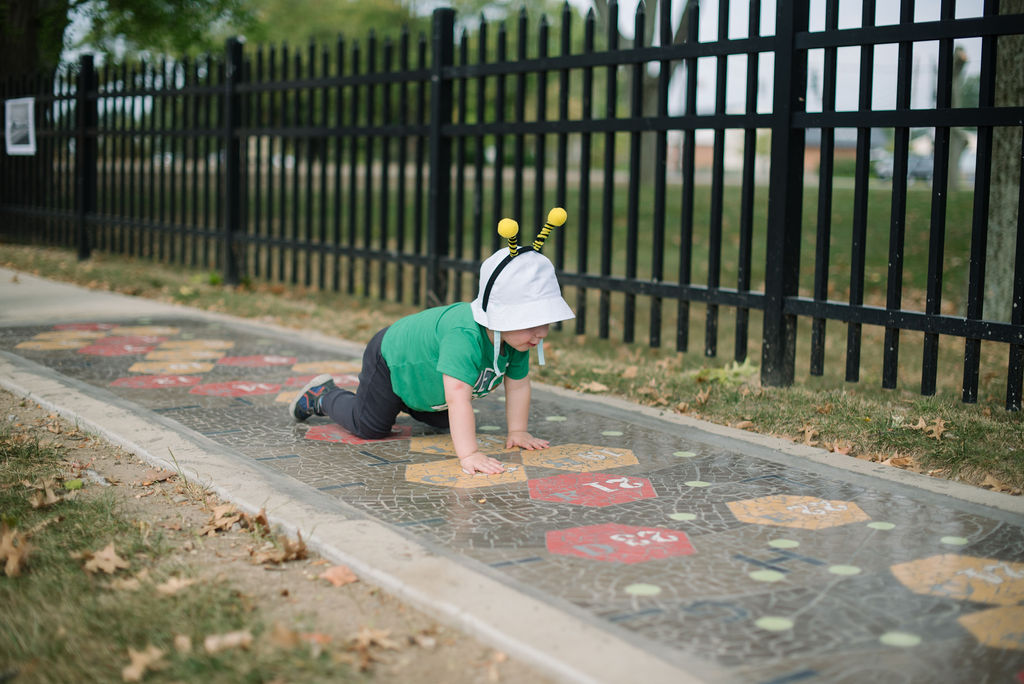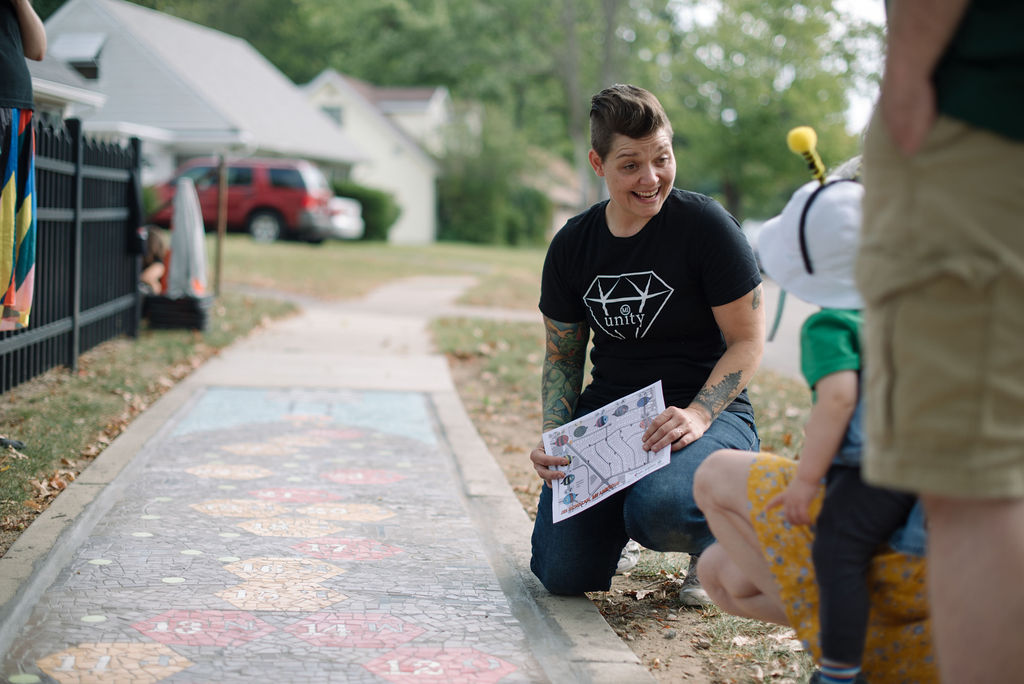 About the artwork
In 2018, Kettering Mayor Donald Patterson selected the Haverstick neighborhood of north central Kettering as the Cities of Service program area. This neighborhood, developed in the 1950s across from the current Kettering Business Park, sits between Forrer Boulevard, Wilmington Pike, Mendota Court and Smithville Road.  Volunteers and city staff hosted a series of events in the summer and fall to celebrate the neighborhood, and Kettering's CitySites Public Art Program commissioned a permanent public artwork in conjunction with the Mayor's initiative.
CitySites selected Jes McMillan, founder of the Mosaic Institute of Greater Dayton. McMillan saw an opportunity to engage children in outdoor recreation through her art and address the lack of a public park within the neighborhood. With Haverstick residents, McMillan designed a series of permanent sidewalk games.  Installed in the spring of 2019, the public artwork "Bee Ambitious" is a collaboration with Haverstick residents, Kettering families and school children.  During the fall of 2018, and winter of 2019, McMillan worked with students from Beavertown Elementary and Kettering Middle School to create the mosaics, along with families and artists at several community mosaic days at Rosewood Arts Centre.
"Bee Ambitious" includes a broken beehive represented in a 29 foot mosaic hopscotch and game board on Mendota Court, with ten mosaic bees scattered along Tabor Avenue, Reardon Drive, Colton Drive, Gary Drive, Wilmington Pike, and Forrer Boulevard.  The bees hold clues to a word scramble, with two to three letters found in their wings, and several more letters in the game board.
"I wanted to make the bees to be all different colors, to have some fun with diversity," McMillan stated. "They are all different and have different personalities… one has an open mouth, one is mad, the orange one is surprised, some have double stripes.  In the hopscotch, the designs are fun and imaginative, just like these bees.  I want the kids to love them."
ArtLocal is an initiative of the City of Kettering's Cultural Arts division. Through Rosewood Arts Centre, which provides arts education opportunities, and CitySites, a percent for art program, ArtLocal is an artist-led, collaborative public art program based in Kettering's neighborhoods.
CitySites is a percent for art program recognizing artistic excellence, accessibility to the arts for all people, and the positive impact creativity has on our community and quality of life in the City of Kettering. With over 25 artworks throughout Kettering, CitySites continues to enhance our environment, inspire our residents and celebrate our legacy as a premier city to call home.
Learn more about Kettering's CitySites public art programs at www.playkettering.org/citysites and ArtLocal at www.playkettering.org/artlocal.
About the artist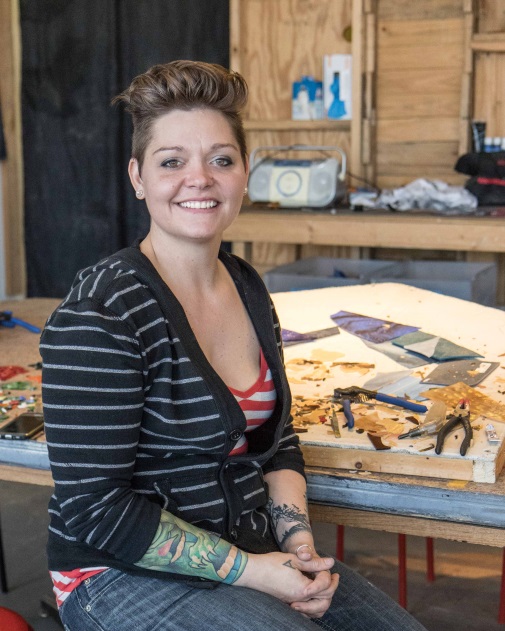 Jes McMillan (Dayton, OH) has been creating mosaics for over twenty years. In 2015, she founded the Mosaic Institute of Greater Dayton, whose mission is to inspire, empower and unify the community through art. Recent projects include the commemorative sidewalk mosaics in Miamisburg, and projects with the Jewish Federation of Greater Dayton and the Montgomery County Courts Probation. McMillan received degrees in Industrial Design and Applied Arts from Point Park University and The Art Institute of Pittsburgh.
Acknowledgements
Support for this project is made possible by CitySites, the Community Foundation for Kettering and the Ohio Arts Council. ArtLocal is implemented in partnership with Cities of Service (COS), a City of Kettering program dedicated to innovative ways to harness the power of volunteers and address critical city needs.  This project was managed by Shayna V. McConville, Division Manager of Cultural Arts with the City of Kettering. Special thanks to the Haverstick artist committee: Anna Briedenbach, Andy Dailey, Andrew Kraemer, Wil Samson, Tom Robillard and Mary Lou Randolph; Kettering's Cities of Service team and the Art in Public Places committees. Our appreciation to the City of Kettering staff including Chad Ingle, Todd Livesay, Tom Luckett, the Parks, Recreation and Cultural Arts department, and Mayor Donald Patterson and the Kettering City Council.  We are also thankful to the greater community for helping this project happen, including David Zimmerman, Kim Haverstick, Rachael Foster, Amelia Petreman, Ileana Del Campo-Gray, and Haverstick residents Wil and Beverly Samson, Andrew and Megan Kraemer, Mike Hill, Carissa Hostetler, Judy Reitz, Ashley Alexander Morris, Stan Perry, Tamara and Christopher Ball, and Debbie Smith.