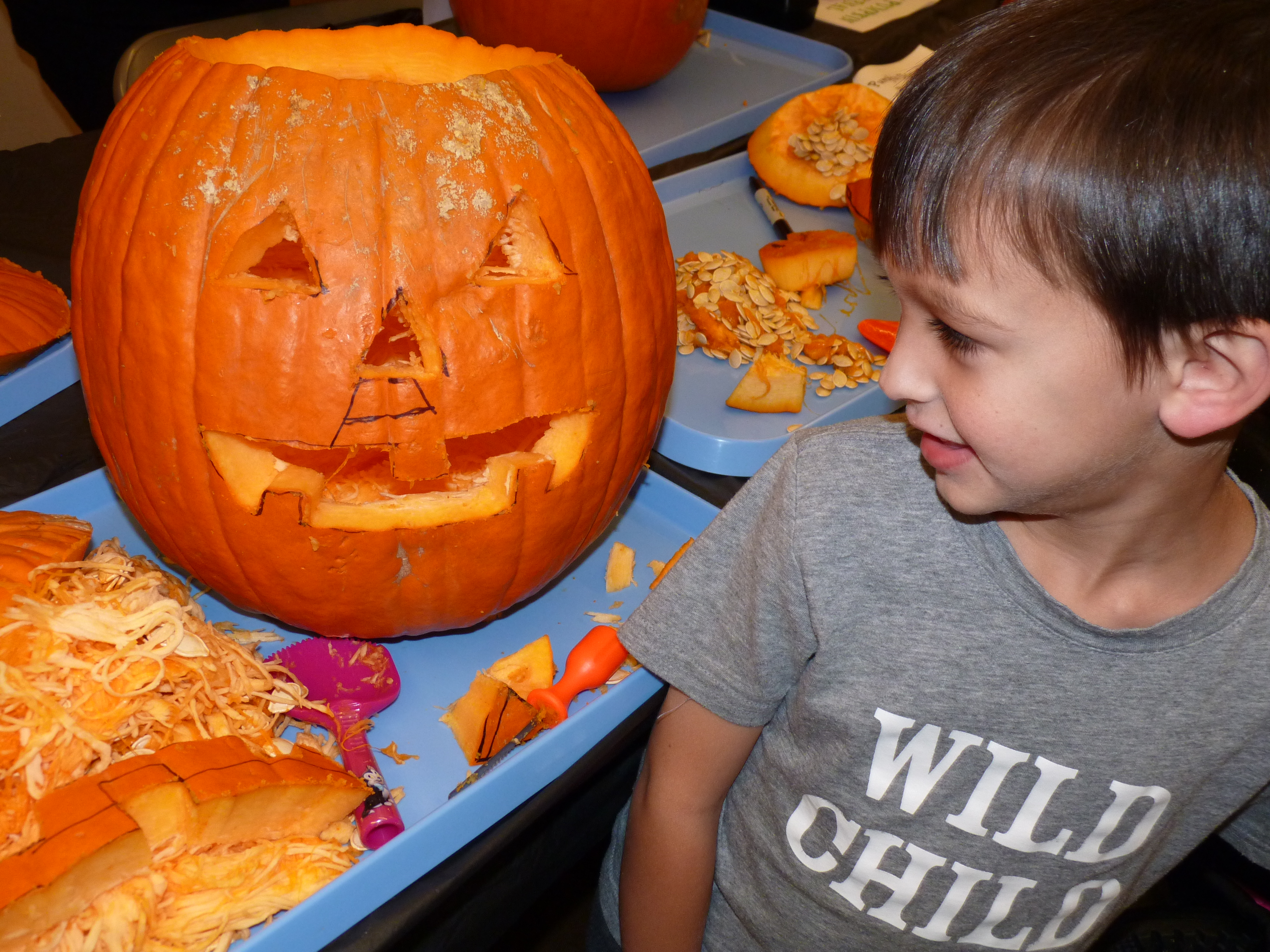 Get ready, get set for our Kettering Jack-O-Lantern Glow, a community-wide event happening on October 30. All you need to do to participate is something you were probably planning on doing already – carve a pumpkin, add a light and display it in front of your home! With all of Kettering walking and driving around town to check out the displays, it's time to step up your carving game. We just so happen to have an award-winning pumpkin carver on our staff – Andy Dailey, our Cultural Arts Program Supervisor! Here are Andy's tips for carving your best jack-o-lantern ever:
How to choose a pumpkin
Look for a pumpkin whose natural shape complements what you want to do. Find a pumpkin with a large moist green stem. The stem is important to the longevity of the pumpkin once it has been carved. Be aware of blemishes or abnormalities on the surface of a pumpkin. Those spots can either be good inspiration and get worked into the carving, or can be bad and should be avoided. I recommend purchasing a pumpkin from a pumpkin patch over a box store or supermarket display. Store displays have pumpkins pre-selected. A pumpkin patch always has a larger variety of pumpkin shapes and sizes.
How to carve it
1. Think creatively. Don't just poke holes through the pumpkin. Look at the form and use the inherent qualities of the pumpkin to your advantage.
2. I use clay carving tools, utility and X-acto knives, wood and linoleum gouges instead of tools that are labeled as 'pumpkin carving tools.' The net result of carving is a sculpture, so it makes sense to use sculpture tools. Use whatever suits the type of cuts you want to make.
3. Try using an image or character that is not immediately related to Halloween. The unexpected pumpkins always seem to strike a chord with people.
4. Learn or research some sculpture carving techniques from other media. There is no rule against using clay carving techniques if they also work on a pumpkin. Think broadly, do whatever works.
5. Give yourself enough time to plan and execute your carving. These can be fairly time consuming and are often 8-10 hour projects from start to finish. Plan ahead and have some patience.
6. Have fun. Don't let the process discourage you. It's just a pumpkin!
The Kettering Jack-O-Lantern Glow is scheduled for Saturday, October 30 , 2021 from 7 – 10 p.m.