11:00am - 3:00pm
Habitat Environmental Center
3036 Bellflower Street, Kettering , OH 45429
Add to calendar 2022-05-07 11:00:00 2022-05-07 15:00:00 +00:00 Art on the Playground

Enjoy creative, hands-on art activities this spring at Art on the Playground, an award-winning, interactive art festival for kids of all ages. The event is free and all are welcome!

Art on the Playground features a range of hands-on, make-and-take art activities. From clay projects to creating your own beaded jewelry and pinhole camera experiences for the older kids, our youth-oriented artists will help everyone make their very own masterpieces to take home!

Entertainment includes live performances by the Southdale Schulwerk-ORFF Ensemble and the Miami Valley Dance Company. Food vendors include Dogs for Dogs and Gary Tibbs Italian Ice.

Schedule of Performances and Events

Southdale Schulwerk-ORFF Ensemble: 11:45 a.m.
Miami Valley Dance Company: 1:30 p.m.
T-shirt Launch: 2:30 p.m.

Art on the Playground is organized by Rosewood Arts Center and hosted at the Habitat Environmental Center in Kettering. The event is sponsored in part by the Kettering Arts Council.

The event will take place rain or shine.  In case of rain, the art activities will take place inside the Habitat Environmental Center.

3036 Bellflower Street, Kettering , OH 45429
---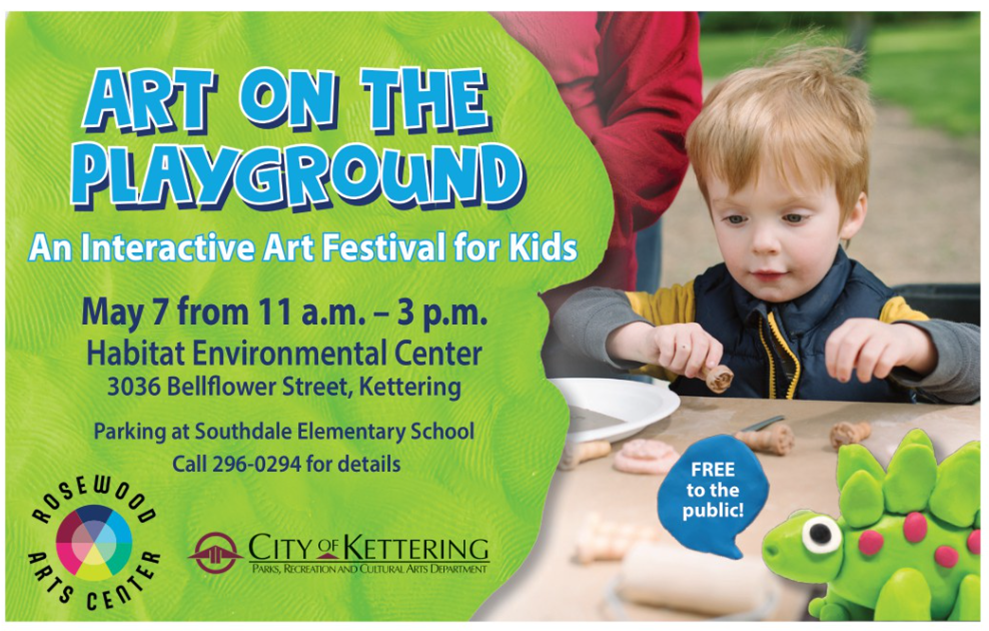 Enjoy creative, hands-on art activities this spring at Art on the Playground, an award-winning, interactive art festival for kids of all ages. The event is free and all are welcome!
Art on the Playground features a range of hands-on, make-and-take art activities. From clay projects to creating your own beaded jewelry and pinhole camera experiences for the older kids, our youth-oriented artists will help everyone make their very own masterpieces to take home!
Entertainment includes live performances by the Southdale Schulwerk-ORFF Ensemble and the Miami Valley Dance Company. Food vendors include Dogs for Dogs and Gary Tibbs Italian Ice.
Schedule of Performances and Events
Southdale Schulwerk-ORFF Ensemble: 11:45 a.m.
Miami Valley Dance Company: 1:30 p.m.
T-shirt Launch: 2:30 p.m.
Art on the Playground is organized by Rosewood Arts Center and hosted at the Habitat Environmental Center in Kettering. The event is sponsored in part by the Kettering Arts Council.
The event will take place rain or shine.  In case of rain, the art activities will take place inside the Habitat Environmental Center.