11:00am - 1:00pm
Kettering Recreation Complex
2900 Glengarry Drive, Kettering, OH 45420
Add to calendar 2019-10-26 11:00:00 2019-10-26 13:00:00 +00:00 Wag-O-Ween Happy Howllllllloween! We want to celebrate with you and your furry friend. Join us for an afternoon filled with trick-or-treating set up for your dog, participate in the Walk and Wag course and the day wouldn't be complete without participating in the pet costume contest! The first 200 participants will receive a complimentary "doggy" bag. Once the event begins, use the goodie bags to Walk and Wag on our "Tricks for Treats" path! Event will be held outside. If weather does not cooperate, we will move the event inside.Schedule of Events11 a.m. Event Begins:• Register your dog for the costume contest.• Play in our off-leash play zone and try out our agility course!• Get your picture in the photo booth.• Check out our dog vendors.• Visit the DIY dog craft station11:15 a.m. Walk and Wag: Take a stroll through Indian Riffle Park together and show us your "tricks" for our treats!Noon Introduction of Adoptable Pets12:30 p.m. Costume Contest: Prizes will be awarded for Best Duo (owner and dog), Best BIG Dog, Best SMALL Dog and Most Creative.Event will be RAIN or SHINE and held indoors if inclement weather arises. 2900 Glengarry Drive, Kettering, OH 45420
---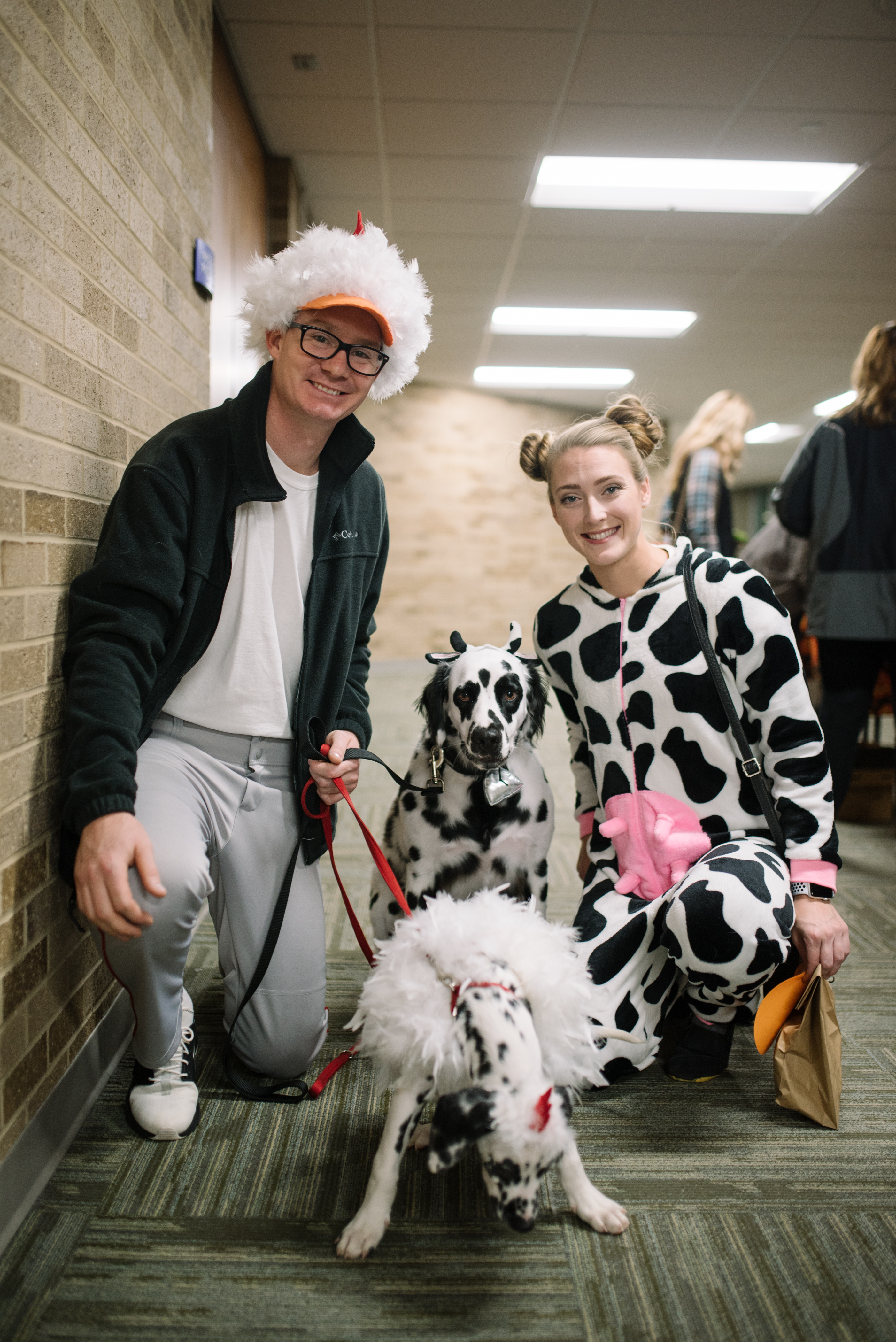 Happy Howllllllloween! We want to celebrate with you and your furry friend. Join us for an afternoon filled with trick-or-treating set up for your dog, participate in the Walk and Wag course and the day wouldn't be complete without participating in the pet costume contest! The first 200 participants will receive a complimentary "doggy" bag. Once the event begins, use the goodie bags to Walk and Wag on our "Tricks for Treats" path! Event will be held outside. If weather does not cooperate, we will move the event inside.
Schedule of Events
11 a.m. Event Begins:
• Register your dog for the costume contest.
• Play in our off-leash play zone and try out our agility course!
• Get your picture in the photo booth.
• Check out our dog vendors.
• Visit the DIY dog craft station
11:15 a.m. Walk and Wag: Take a stroll through Indian Riffle Park together and show us your "tricks" for our treats!
Noon Introduction of Adoptable Pets
12:30 p.m. Costume Contest: Prizes will be awarded for Best Duo (owner and dog), Best BIG Dog, Best SMALL Dog and Most Creative.
Event will be RAIN or SHINE and held indoors if inclement weather arises.